Will Khloé Kardashian and Tristan Thompson get married now that they have a newborn? His alleged cheating may have changed things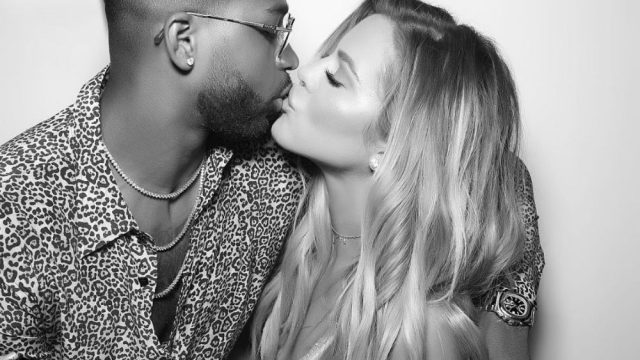 It's still a little hard to believe that Khloé Kardashian just gave birth on April 12th. News about her pregnancy broke in September 2017, and we got official confirmation that the star is expecting her first child with boyfriend Tristan Thompson in December. Now, an alleged cheating scandal involving Thomspon has put a lot into question. Since we now know that they're new parents, everyone is wondering the same thing: will Khloé and Tristan get married?
Khloé and Tristan started dating back in August 2016, when basketball player and Kardashian friend Brandon Jennings set them up on a blind date. They connected immediately, and in September 2016 there were already vacation photos of the two together in Mexico. Since then, they haven't been shy about sharing their relationship on social media. In January 2017, Khloé wrote about Tristan in a sweet blog post on her website, saying, "At this moment, a few days into 2017, I feel incredibly clear and probably the happiest I've been in years."
Obviously, Tristan's unfolding cheating scandal changes things. But it's not surprising, now that baby girl Thompson is here, that fans might still wonder if Khloé and Tristan are going to get married.
Even before the pregnancy, they were getting asked about their future plans constantly, and Khloé has touched on the topic more than once. In April 2017, she told ES Magazine that she has "never been in this type of love" and "yes, [she] would" marry Tristan if he asked.
In August 2017, she did an interview with Mail on Sunday's YOU magazine and said,
"I'm in the best relationship I've ever been in and it doesn't take a ring for me to feel that way. My boyfriend is very protective of me. Feeling loved and validated and secure is a huge thing. Tristan is protective of my entire family, which is beautiful."
On December 20th, 2017, Khloé finally confirmed the pregnancy rumors with a sweet black-and-white shot of her pregnant belly featuring Tristan's hands over hers.
Once that announcement happened, the question of marriage has been coming up even more. Khloé recently did an interview on Ellen, during which she was asked if the two would be getting married. She said, "I hope so, but I'm not in a rush for any of that. I'm just very happy with how things are going."
With the story about Tristan's alleged serial cheating still unfolding, we're not sure if wedding bells are in the future for these two. Khloé has said on Keeping Up With the Kardashians that she's in no rush because she's been through a marriage (and one that turned problematic) before. Neither one seems to want to jump into anything, especially right now. That said, who knows what could happen? We'll definitely be keeping an eye on them.