The "Will & Grace" revival trailer is here — and honey, get us a martini!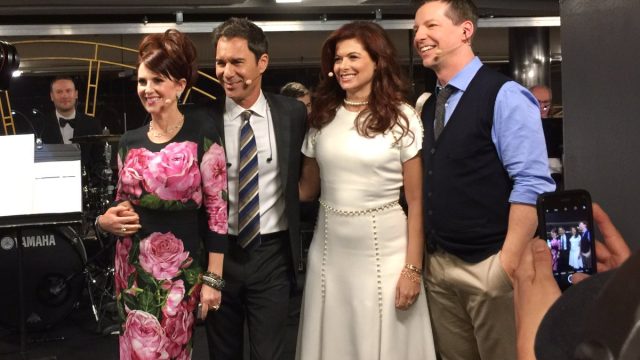 Hold onto your designer blouses and sweater vests! The Will & Grace revival trailer is out and we're just a little overwhelmed! So, à la Karen Walker, please bring us something to take the edge off!
It's been over ten years since the finale episode of Will & Grace aired after eight wonderful and hilarious seasons. It went off the air, but was never forgotten (to be honest, we still thrive on Will & Grace reruns). Needless to say that when we were notified that Will & Grace was returning to NBC for a 2017 revival, we got a little — actually very — excited.
We can barely put into words how this trailer made us feel upon first, second, and sixth watch. It's overwhelming, to say the least! https://www.youtube.com/watch?v=TY10pANm4eM
The cast has been sharing the NBC promotional photos for the 12-episode return season, leaving a lot to our imagination. Megan Mullally clued us in that the season would air starting in September. Entertainment Weekly confirmed that the show comes back this fall, Thursdays at 8 p.m. EST.
You better believe our calendars are marked!
https://www.instagram.com/p/BT1Xw26F7Fe
Three days ago, the official Instagram account for the Will & Grace return shared a behind-the-scenes outtake from the trailer shoot, stirring the pot of excitement.
This morning, Eric McCormack, Sean Hayes, Debra Messing, and Megan Mullally attended the NBC Upfront Week Presentation Palooza at Radio City Music Hall to promote the relaunch of NBC's Thursday "Must See TV" brand. The cast performed their musical number from the trailer and also tweeted out a myriad of backstage pics.
It's all happening, people!
This reunion is already too nostalgic to take in during one sitting! We need to get some air!
We are seriously bowing to the television god,s thanking them for bringing Will & Grace back into our lives. Now the countdown to the Season 9 premiere begins!