A "Will & Grace" revival is officially happening, and it sounds like a dream come true
It's official: you'll no longer have to turn back time to watch episodes of Will & Grace, as a 10-episode revival has just been ordered by NBC for the 2017-2018 season.
SCREAM.
Though its been off the air since 2006, rumors of a full-blown revival for the beloved series initially swirled back in October, when its lead quartet — Will (Eric McCormack), Grace (Debra Messing), Karen (Megan Mullally), and Jack (Sean Hayes) — reunited for a sketch urging Americans to vote in the 2016 election. The sketch was a viral success, and revival rumors were finally confirmed on Wednesday, January 18th during NBC's panel at the Television Critics Association press tour.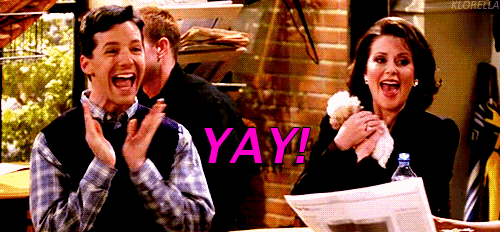 "We're thrilled that one of the smartest, funniest, and most defining comedies in NBC history is coming back," said NBC Entertainment Chairman Robert Greenblatt. "This groundbreaking series for everything from gay rights to social and political commentary — all disguised as a high-speed train of witty pop culture — is coming back where it belongs."
EW reports that original series creators Max Mutchnick and David Kohan will continue to act as showrunners and executive producers, while director James Burrows — who directed every episode of the show during its initial eight-year run, which is insane — is also on board to direct and executive produce.
"Dave and I are absolutely thrilled about the opportunity to write what Will, Grace, Jack, and Karen are thinking about in 2017," Mutchnick said.
For what it's worth (a lot), it seems like they're pretty psyched, too.
"We started talking with Mutchnick and Kohan about producing new episodes right after they shot the secret reunion show back in September," President of NBC Entertainment, Jennifer Salke, said. "And the fact that all four of the original stars were excited about getting back into production is a testament to the joyful experience they had doing nearly 200 episodes for eight seasons. Few things cut through the clutter these days, especially in comedy, and Will & Grace is one of the best."
The original series' finale, which aired on May 18, 2006, famously featured a flash-forward to Will and Grace's children getting married to each other after college, with Karen and Jack living together in harmony with Rosario.
Whether or not the revival will stick with this ending or scrap it altogether — after all, the "single(ish) New Yorkers hanging out together in the apartment" formula worked pretty well for the series back when — was not confirmed at the panel, but as EW notes, the election special seemingly ignored the finale altogether.