The cast of "Will & Grace" reunited and it has us screaming COMEBACK
While people freak out every other week about the possibility of a Friends reunion, there's anther long running sitcom that we've totally missed from our screens: Will & Grace.
Airing on NBC for eight years, Will & Grace centered around the (often co-dependent) relationship between Grace Adler, played by Debra Messing, and her gay best friend Will Truman, played by Eric McCormack. Also featured were the duos foil pair in the shape of Jack, played by Sean Hayes, and Karen, played by Megan Mullally, who were notorious for drinking too much, saying outrageous things, and getting into heaps of trouble.
Would you believe that it's been 10(!) years since Will & Grace ended? Where HAS all the time gone? Well, if you're Karen probably in an alcohol blackout.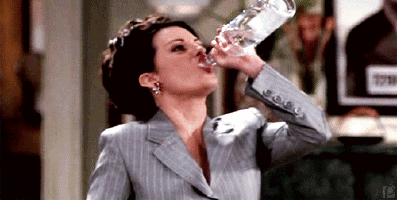 Of course such a momentous occasion couldn't go uncelebrated and all four cast members of Will & Grace all got together over the weekend for the first time in years and it has us screaming COMEBACK.
Meeting up at Megan Mullally's husband's show, all four cast members shared this adorable selfie and it's full of nostalgia.
Omg, it's almost like NO TIME HAS PASSED AT ALL!
That wasn't the only cute AF picture that was shared, however.
https://www.instagram.com/p/BKxKPlNhDbN
"You smell the same! @EricMccormack," Debra Messing wrote on Instagram and omg we're crying.
It's always SO nice to see people who obviously became a work family come back together and witness the love they still have for each other.
However, could there be more to this meet-up than meets the eye?
Taking to Twitter, each (former) cast member shared some pretty cryptic tweets…
Okay, we're *totally* freaking out right now! What do you think Debra meant by "I feel like something BIG is going to happen tomorrow?"
Do you think that, possibly, the show could be coming back? Or maybe there's a special episode being made to celebrate the show's momentous anniversary?
In 2016, anything is possible. The advent of streaming services means that many of our favorite shows are coming back or getting picked up again after being cancelled.
Back in 2014, Eric McCormack denied claims that the show was coming back. Speaking to Digital Spy he said that the whole rumor was started by just one Australian website. Despite this, a representative for NBC didn't deny that something could happen in the future.
"I can't speak for 'ever,' they said at the time, "but there are no talks right now."
We think that 10 years after the show finished would be the PERFECT time for a comeback, if one is on the cards. In fact, wouldn't a six-park mini-series on Netflix totally be amazing? Oh, how we long for the return of this!