Supposedly, NBC has ordered new episodes of "Will & Grace," and so far 2017 is MUCH better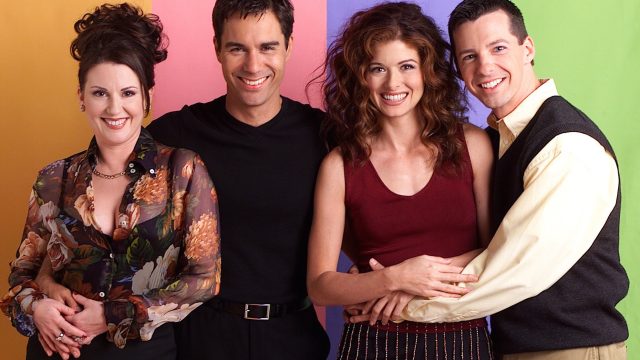 While we won't suggest setting off streamers or dropping balloons just yet, go ahead and take a big swig of wine. It sure looks like 2017 is going to be off to a very good start, because it this news is true, our beloved the Will & Grace revival is happening, and SOON.
During the fall, the whole Will & Grace gang — including Will and Grace, and also Karen and Jack, played perfectly by Eric McCormack, Debra Messing, Megan Mullally and Sean Hayes — reunited to film a special one-off 10 minute reunion for the upcoming presidential election. We just about lost our minds over it, and NBC was listening. This lil' reunion sparked talk that the show was coming back for a TRUE television reunion, and now, it appears as if everything is slowly falling into place for that to happen.
Leslie Jordan (who played Beverly Leslie on the show) happened to do a radio interview where he spilled the fact that this Will & Grace revival is very much A REAL THING.
"It's back, Jordan explained. "Here's the way it works: [NBC] has ordered 10 [episodes]. It'll be for next season, so they'll go in in July.
Translation: NBC is really moving forward with Will & Grace, and they'll shoot the episodes over the summer, to premiere in the fall of 2017.
When asked if this was really happening or not, Jordan firmly replied, "Absolutely."
OMG. The rumor all along was that the reunion would be for a quick 10 episode season to check back in with Will, Grace, Karen, and Jack, and what Jordan says confirms all of this. While NBC has not confirmed this is happening, they have also not denied this is happening. 2017 is already looking SO much better.