Why you should be watching "Vikings"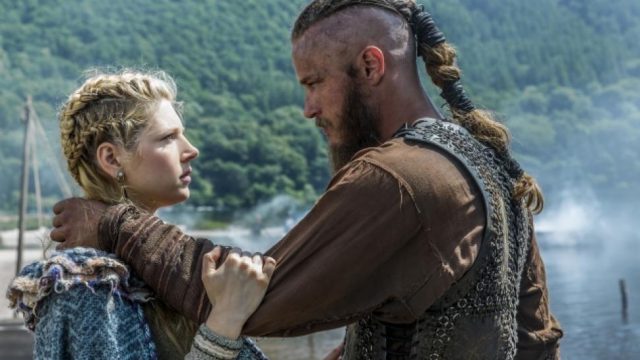 Vikings, pagan gods, warriors, monks, and Western politics, all combined with a dash of heroic ethos. It's an insurmountable feat to take elements of Norse history and mold it into digestible history-lite entertainment. The History Channel has done the job with their first scripted TV drama Vikings—and the new season premiered this week!
All credit goes to screenwriter, the brains behind the show,  Michael Hirst — whose repertoire includes gems such as Elizabeth, The Tudors, and The Borgias. An historical drama doesn't limit artistic freedom, as Hirst told The Hollywood Reporter, "I've found that using historical material and being rooted in historical material is liberating because I always think to myself, "Well, this actually happened, and this is fantastic!""
Vikings centers around the semi-legendary Norse character of Ragnar Lothbrok. Lothbrok (Travis Fimmel) is a farmer living in the fictional rural Kattegat, Scandinavia in the 790s AD. Ragnar is married to the fierce shieldmaiden Lagertha (Katheryn Winnick). The village is ruled by Earl Haraldson (Gabriel Byrne ), a totalitarian ruler, and his lady Macbeth wife Siggy (Jessalyn Gilsig). Ragnar's friend Floki (Gustaf Skarsgård), has secretly built a longship, so Ragnar can assemble a crew and start his own raids. Ragnar gets support from his ambitious brother Rollo (Clive Standen). On one of their first Viking raids on the British Isles, Ragnar kidnaps the Christian monk Athelstan (George Blagden), who later serves as the audience's eyes and ears within the Viking culture. Vikings is a beautiful and compelling history-lite drama, and we're telling you why it should be your next binge:
The Norse legends are so intriguing
It's all about authentic details. While a good portion of Vikings is fictional, many storylines and characters are based on recorded events and Norse legends. The show doesn't hide from religion and explores the Roman-Catholic faith in Europe and the pagan Norse gods — often portrayed in hallucinatory interactions between God and men. You'll see the clash between conservatism vs. modernization, early forms of navigation, infuriating characters, and in the free Viking culture there are instances of uninhibited sexuality. Vikings is a compelling fictional show rooted in fact.
The lush scenery is impressive
The show is filmed in Ireland and there are long shots of the most breathtaking scenery. Vikings has unfairly been described in the media as "Game of Thrones lite". Sure, the production value is not on the same level, but that really doesn't diminish the value of the show. The show has lush green landscapes and gorgeous, meticulously detailed outdoor sets.
The strong warriors are women (duh)
The first impression for many is that the show is male-dominated. Nevertheless, the women are well-written and not put on a pedestal. The Viking women can do anything, and they all have their own specific motivation for their actions. Ragnar's better half Lagertha is a mother, farmer, and uncompromising warrior in her own right. Vikings gives us female characters that are as nuanced and complex as their male counterparts.
The action is crazy thrilling
The Viking culture was seemingly based on raiding for gold and further expanding their land. The show's strength is when the storyline revolves around the political and economic structure of their society. The drama reaches new heights when lies, corruption, struggle for power and male ego clash. What's new?
The cast is totally amazing
Vikings has an outstanding cast with equally messy, complex characters. Fimmel really shines as the charismatic and shrewd warrior Ragnar, Skarsgård is sublime as the quirky, religious boat maker Floki, Siggy has a remarkable trajectory throughout the seasons, and there's the authentic love/hate rivalry between Ragnar and his brother Rollo. In season 2 ep 4, Rollo states: "My brother forgave me, something I thought impossible. When I searched my heart, I discovered that I always loved him. That I'd grown to hate myself."  Sigh. It's all part of the magnetism of Vikings.
Vikings is an ax-wielding, history-lite, fun show. Start your binge-watch this weekend!