Why weren't men asked about #TimesUp on the Golden Globes red carpet?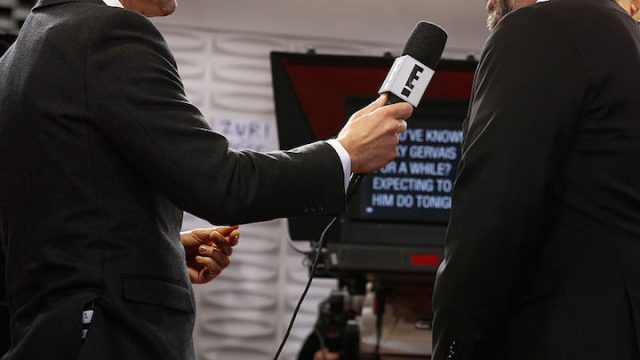 The star of the 2018 Golden Globes red carpet on Sunday night wasn't fashion, but protest, as celebrities donned the color black in support of the #MeToo and #TimesUp movements — but it appeared that mostly actresses and their women activist dates were being questioned about #TimesUp, sexism, and harassment.
Actresses like America Ferrera and Natalie Portman discussed the importance of women uniting to fight for equality. Michelle Williams and her date, #MeToo founder Tarana Burke, discussed the movement with red carpet interviewer Ryan Seacrest. Shailene Woodley, joined by indigenous activist Calina Lawrence, talked about the intersection of #TimesUp and other social movements.
But Twitter users took note of the fact that actors like brothers James and Dave Franco and Armie Hammer discussed everything but the night's protest on the red carpet; few members of the press actually questioned men about their participation.
Meanwhile, Al Roker appeared to be one of the few journalists who asked actors like Sam Rockwell anything about #TimesUp and the all-black protest, and Seth Meyers addressed the movement in his monologue.
It may be too much to ask that an industry known for exclusivity shines a spotlight on social issues and holds all members of the industry accountable. Some Hollywood men may have worn all-black and "Time's Up," pins as a show of solidarity, but the support seemed to end there when some actors chose not to utilize their platforms — or weren't even asked about the social movements at all.
It was a reminder that women often serve as the gatekeepers of social justice.
Women, and women of color especially, are disproportionately victims of injustice. When victimized, they are expected to not only recount their stories, but to educate others — usually men.
false
Celebrities like Viola Davis and Oprah Winfrey used their platforms, both on the red carpet and during the awards ceremony, to acknowledge their status as survivors and reiterate the need for change in the entertainment industry and beyond. Other celebrities' participation appeared to be more of a performative display of solidarity, like Justin Timberlake, who faced backlash over the fact that he wore a pin but stars in Woody Allen's latest film (despite Allen's long-standing history of sexual misconduct accusations.) And as Twitter user @rachie_claire points out, actors who were awarded because of their creative roles in abuse narratives still didn't mention the movement:
https://twitter.com/udfredirect/status/950223779678089217
Pins and visual signs of support are not enough to overhaul the historic trend of mistreating and dehumanizing women in any industry.
When countless men of prominence fail to use their privilege to speak out and hold other men accountable, as they did during this year's Golden Globes, then the burden falls on the shoulders of women. If time is up on sexism and sexual harassment going unchecked, then time is also up on silence and complicity. It's about time that men start doing more in the fight for social justice.