A dermatologist explains why Kylie Jenner's new walnut face scrub can be bad for skin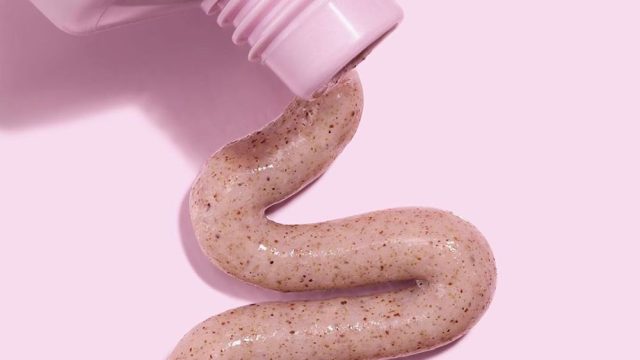 If you haven't heard the news, "self-made" beauty mogul Kylie Jenner is launching a new skin care brand called Kylie Skin. To celebrate the upcoming release, Jenner posted a series of short Instagram videos talking about how much she loves each of the six products in her line. However, fans saw right through the crisp millennial pink branding to criticize one particular product: the Walnut Face Scrub.
https://www.instagram.com/p/Bxc0TXEhzb9
Everyone and their mothers hopped onto Twitter to roast the walnut scrub, pointing out how dangerous an ingredient walnut can be for your skin.
The Twitterverse also found similarities between Jenner's Walnut Face Scrub and the controversial Apricot Scrub by St. Ives.
https://twitter.com/udfredirect/status/1128358942340464640
In late 2016, St. Ives was sued in a class-action lawsuit spearheaded by Kaylee Browning and Sarah Basile, who claimed that the Apricot Scrub was "unfit to be sold or used as a facial scrub." The beautyverse was split, with some users and dermatologists claiming that the walnut powder in the scrub was too abrasive for the face, while others remained dedicated to the classic beauty product. (Gigi Hadid called it a fave in 2018, and it went on to win Allure Readers' Choice awards in both 2017 and 2018.)
https://www.instagram.com/p/BxcyfxuBoSJ
In the introductory video for the product, Kylie claims that the Walnut Scrub in question "is gentle enough to be used every day," yet she admits to only using it two to three times per week. With this in mind, we reached out to Dr. Deanne Mraz Robinson, an award-winning, board-certified dermatologist, to see if Jenner's exfoliation tips were valid.
"Over-exfoliation can lead to irritation, dryness, and compromise of the skin barrier," Dr. Robinson explains, while suggesting to only exfoliate one to two times per week.
https://www.instagram.com/p/Bxc0IOCh2W8
Regarding the ingredient that apparently no one wants on their face, walnut powder, Dr. Robinson says:
"The issue is the size and consistency of the particle that is being generated from either source. If large or jagged [walnut] particles are used, microtears or abrasions can occur to the skin, resulting in injury."
Additionally, many critics believe Jenner's claim that the Walnut Scrub is the secret to her healthy, glowing skin is deceptive, and that it's more likely the result of expensive celebrity facials and skin treatments (and, you know, being young). false
Jenner has a responsibility to her fans to make sure she's putting out safe products and properly instructing consumers on how to apply the product. Within the 37-second video, her fans seem to think that she already came up short on that responsibility.
Of course, Jenner and her eponymous line are no stranger to controversy, and although she's been called out and criticized for various offenses over the years, it hasn't seemed to hurt her business. Kylie Skin drops on May 22nd, so we'll all have to see how the Walnut Face Scrub fares then.