Victoria Beckham Revealed the Real Reason She Left the Spice Girls in a Letter to Her Future Self
We're *still* distraught over this, TBH.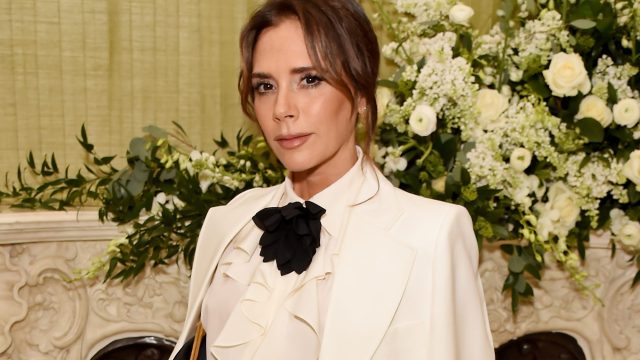 In a candid new letter to her future self for British Vogue published yesterday, January 11th, Victoria Beckham opened up about why she left the Spice Girls and opted not to join them for their 2019 U.K. reunion tour. Though our '90s-loving hearts will always hold out hope that we'll get a new Spice Girls album and tour featuring all five ladies, it seems one fellow British music icon helped Beckham to realize that it "was time to step away from being a Spice Girl."
The beauty and fashion mogul shared that in 2008, during the Spice Girls' first reunion tour, she saw her friend Elton John in concert in Las Vegas. As Beckham shared in British Vogue, it was John's passion for music that made her realize her own. "Remember years ago, watching your dear friend Elton John on stage in Las Vegas. He performed 'Tiny Dancer,' as if it were the first time, and you realised this was like oxygen for him."
She revealed that it was a "life-changing moment," adding, "while singing and dancing was fun for you, it wasn't your passion. That day, you started your quest to uncover your own dreams. It was time to step away from being a Spice Girl."
Though her time with the legendary pop group seemingly holds a special place in her heart, it seems Beckham knew that it was time to put her microphone away to focus on her namesake fashion brand, as well as starting her eponymous beauty brand. She added, "For the first time, you were venturing out on your own, and it was terrifying. It was scary to close a chapter that defined you."
Continuing her letter to herself, she added, "I know you are still reinventing yourself, taking on new challenges, and ignoring the naysayers. You always look beyond the conventional wisdom to pave your own path. First, you found this passion in fashion, and most recently, beauty. What comes next? I'm dying to know."
Beckham was no doubt a quintessentially posh part of the original lineup, and she did join them to reunite both on tour in 2007 and to perform at the Summer Olympics in 2012, but we fully understand why she prefers to focus on her fashion and beauty businesses. We're just glad that she remains close pals with her fellow bandmates, and that she keeps Spice Girls nostalgia alive and well for her daughter, Harper. As she told Vogue Australia in 2018, the pair enjoy singing and dancing to the group's music, and Spice World is always on "heavy rotation" in the Beckham household. (Same, TBH!)
Though she might not join them on tour again, she's always keeping her little Gucci dresses front and center. In 2019, she told Ellen DeGeneres, "I'll always be a Spice Girl. I'll always be Posh Spice, always." And that's enough for us to spice up our lives and keep the magic of the Spice Girls in our hearts forever.