Prince Harry revealed why Prince Charles walked Meghan Markle down the aisle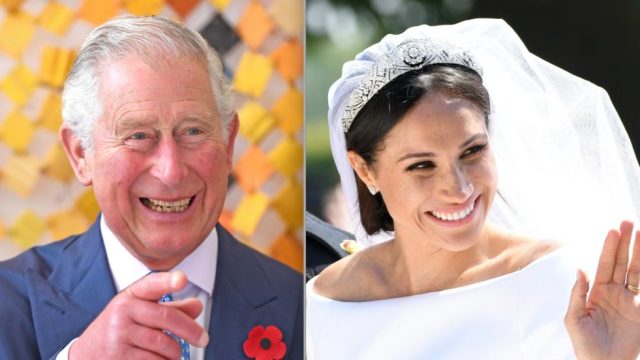 Before they officially tied the knot in May, there was much speculation about who would walk Meghan Markle down the aisle at the royal wedding, especially after the palace announced that Markle's dad would not be attending. In perhaps two of the most poignant moments of the ceremony, Markle first walked herself down the aisle before then being joined by her now father-in-law, Prince Charles (further proving that the Duchess of Sussex celebrates both tradition and her feminist identity).
In a new BBC documentary, Prince, Son and Heir: Charles at 70, Prince Harry opened up about the decision to have Prince Charles walk Markle down the aisle, revealing that he personally asked his father to step in. According to People.com, Harry said, "I asked him to and I think he knew it was coming and he immediately said, 'Yes, of course, I'll do whatever Meghan needs and I'm here to support you,'" adding, "For him that's a fantastic opportunity to step up and be that support, and you know, he's our father, so of course he's gonna be there for us."
As viewers at home saw, Harry whispered a quick "thank you" to his dad during the wedding. In the doc, Charles' wife, Camilla Parker Bowles, said, "I think that was very touching. Sitting where I was, you couldn't hear what he said. But afterwards, watching it on the television, I think it was a very…it was a lovely gesture."
Harry continued to explain his gratitude, adding, "I've been brought up well. You've gotta say 'thank you.' Just because he's my father doesn't mean I can just sort of go, 'Okay, that's all, I'll take it from here.' I was very grateful for him to be able to do that."
Another sweet moment? When Charles took hold of Doria Ragland's hand in the ceremony (aka Markle's mom). Parker Bowles said, "Seeing my husband actually take the bride's mother by the hand to sign the registry, it's something that moved everybody." She added, "It's the things he does behind the scenes that people don't know about. I don't think people realize quite how kind he is."
Prince, Son and Heir: Charles at 70 airs in the U.K. on November 8th, just ahead of his 70th birthday on the 14th.