Why people are really unhappy with this ASOS outfit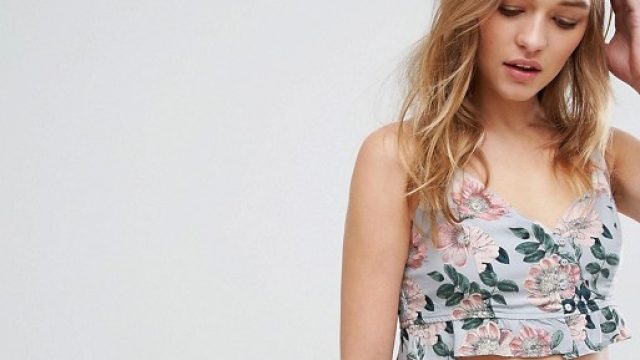 We love the styles (and prices!) that ASOS offers, but we're not so in love with the sizing the clothing website was displaying for one item. One shopper realized the sizing on a pair of shorts on ASOS's U.K. site looked a little off. Twitter user @GrrlGhost noted these floral high-waisted shorts from Pull&Bear had some unconventional sizing. The large size was listed as a U.K. 10 — which is size 6 in the U.S. — and the internet was not happy about it.
After discovering that a U.K. 10 was considered a large, @GrrlGhost expressed her outrage by tweeting a screengrab of her shopping experience and writing, "U wot m8." (For the Americans out there, Urban Dictionary says her message means, "You what mate?" in England.)
https://twitter.com/udfredirect/status/864825390711414785
Since a size 6 in the U.S. is NOT considered a large — especially considering that a recent study showed that most women in the U.S. wear between a size 16 and 18 — people on the internet claimed that these companies were guilty of body shaming and promoting an unhealthy body image.
https://twitter.com/udfredirect/status/864841086321266688
https://twitter.com/udfredirect/status/864860422419230720
false false
Yet, @GrrlGhost noticed the large became a size U.K. 12 the next day — which is still only a U.S. size 8, but at least we're getting there. And we confirmed that the sizing of the Pull&Bear shorts on the U.K. ASOS website was updated.
https://twitter.com/udfredirect/status/865300339708264448
ASOS's customer service Twitter account responded saying it had been a technical error on its website.
https://twitter.com/udfredirect/status/865313927646904321
According to HuffPost, ASOS and Pull&Bear responded quickly to the controversy over the sizing. Pull&Bear said a size U.K. 10 is not a large in their brand, with a spokesperson telling the Huffington Post:
"The sizing listed did not correspond to those on Pull&Bear's own platform."
As finding clothing in your correct size is difficult enough, we understand why ASOS shoppers were upset, but we appreciate the company owning up to their mistake and fixing the issue quickly. Now, let's focus this anger on the real issue: How clothing companies need to change how they categorize their small, medium, and large sizing to represent real people's bodies.