Why MTV's "Sweet/Vicious" needs to be renewed for a second season — especially now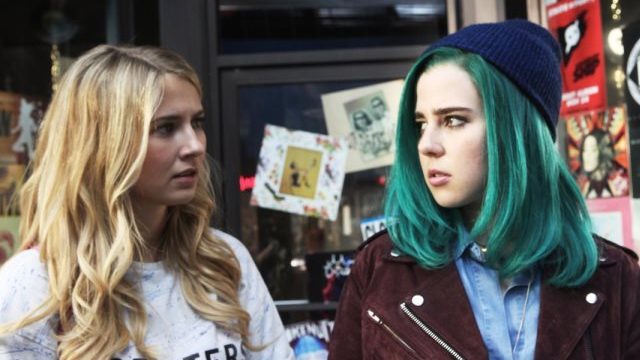 Stories of sexual assault are in the news constantly, and seemingly nothing is done about it. A new Title IX lawsuit against Baylor University alleges that 52 acts of rape occurred between 2011-2014, Brock Turner basically received a slap on the wrist, a man who was recorded saying "grab them by the pussy" got elected PRESIDENT.
It makes me sick.
That's why I applaud this little (should be way bigger!) MTV show Sweet/Vicious.
Sweet/Vicious is a dark comedy that centers around two main characters, Jules Thomas and Ophelia Mayer. It very recently completed its first season, and viewers are anxiously waiting to hear that it has been renewed for Season 2.
Jules, played by Eliza Bennett, is the bubbly sorority girl next door whose world was completely changed after her best friend's boyfriend rapes her. She becomes a sorority girl by day and a secret vigilante by night. Taylor Dearden plays the tech-savvy, green-haired, weed dealin' Ophelia. Jules and Ophelia have one of the craziest friendship meet-cutes I've ever seen (I'm not going to give it away. Watch the first episode and you'll see!), but their epic friendship doesn't begin until they have an immediate bonding moment while singing along to Wicked's "Defying Gravity."
https://www.youtube.com/watch?v=3ktWCk8g1kY?feature=oembed
In creating the show, Jennifer Kaytin Robinson told Fangirlish that she "wanted to make something that could mean something and could be empowering and could show that young people are super complex – and that it's okay to be complex, it's okay to feel lost, it's okay to feel all of those things when you're young.
According to RAINN (Rape, Abuse & Incest National Network), 1 out of every 6 women has been the victim of sexual violence or attempted sexual violence.
So these are stories that need to be told.
A photo posted by Jennifer Kaytin Robinson (@jennkaytin) on Jun 9, 2016 at 3:29pm PDT
Sweet/Vicious shows survivors and women helping other women. They take matters into their own hands.
Jules and Ophelia fight the good fight by taking down accused rapists and threatening them to never harm a girl again — or they'll be back to finish what they started. Sweet/Vicious depicts ladies who are NOT damsels in distress. They are taking a stand against sexual assault and bringing justice to their college campus.
Jules becomes a vigilante after sitting in on a survivor support group and hearing a girl say, "I want to make him [her rapist] feel like fear is running through his whole body."
It gets real with extremely heavy topics, showing the struggles and emotions that survivors face. How can you ever feel safe again? How can you ever feel like yourself again? Especially when colleges and the authorities don't help.
With her tenacity, Ophelia helps bring Jules back to life.
The show has been compared to Veronica Mars, Kick-Ass, and Jessica Jones, but it definitely holds its own. It's intense. It's heartbreaking and heart racing. It shows a friendship growing rapidly while other friendships are tested. We see real friends who call you out on your bullshit and make you better, and ladies who would do anything for each other.
It shows an awesome example of a positive female friendship.
This picture was taken in October 2015 on the last night of the pilot shoot for #SweetVicious. To everyone who embraced this show: thank you. It has been the honor of my life working with the producers, writers, cast and crew to make these ten episodes of television. These stories are important and I hope it's inspired people to tell their stories. Because they matter and you matter and if you take anything away from tonight's finale let it be this: "Nothing can break you unless you give it permission. I've loved every second of this journey. Thank you.

A photo posted by Jennifer Kaytin Robinson (@jennkaytin) on Jan 24, 2017 at 9:35am PST
While speaking about Jules and Ophelia's friendship, Jenn tells Fangirlish, "It's not about physical love, it's a very deep, profound love because they found a home in each other. For the first time in both of their lives, they're seen for who they are without judgment and are loved wholly for it. That is the central love story in the show.
The comedy is also spot on. It's weird laughing at a television show that depicts such heavy, real life moments, but that's life — and sometimes, you have to laugh how to get through it. You have to stick together. You have to fight for one another. You have to laugh and hug one another.
I'm not saying I support violence. I am saying something needs to be done.
Colleges need to listen. Courtrooms need to convict and stop letting off boys men who are rich or white or college athletes or are "just kids, so they don't understand." It's time that the entire conversation around rape culture is changed.
With all the terrible and stupid things going on in the world, and rights that people fought so hard for being threatened, it's nice to have a show that fights for what is right.
This show needs a second season.
Ahem, MTV, get on it. Do not let this show get buried in the TV show graveyard. Watch the whole first season on MTV.com!
If you or someone you know has been sexually assaulted, get help by visiting RAINN. Also, learn more on End Rape on Campus (EROC). You can take the pledge at It's On Us to keep others safe from sexual assault and be a part of the solution.