Why it's so important not to forget the crisis still happening in Puerto Rico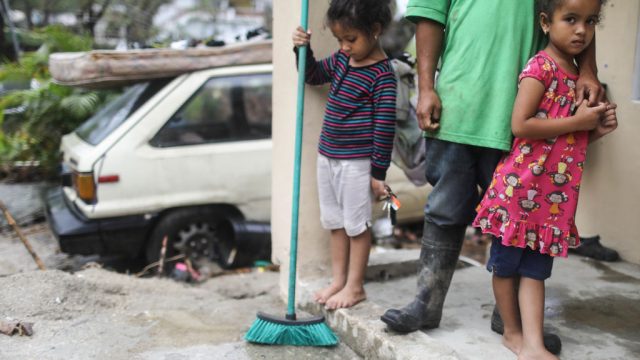 It's been over a month since Hurricane Maria pummeled through Puerto Rico, and most of the island is still without clean water or electricity. The Trump administration's response to the disaster was lackluster at best, and sadly, now that the president has stopped tweeting about it and bickering with legislators from the island, stories about Puerto Rico in the wake of the storm aren't dominating headlines as much as they once were. But it's so important to not forget that the crisis is still happening in Puerto Rico, and that it's likely not going to get better any time soon. It's going to take a lot more than prayers and tweets to rebuild the island completely.
Puerto Rico got it bad this hurricane season. First, Hurricane Irma, which was a Category 5 storm, hit the north of the island (and other Caribbean islands) and left 1 million people without electricity. So even before Maria hit, there were 60,000 people without electricity, according to CNN.
When the smaller but more severe Hurricane Maria hit the island, it was at its peak. Jeff Weber, a meteorologist with the National Center for Atmospheric Research, told Vox, "It was as if a 50- to 60-mile-wide tornado raged across Puerto Rico, like a buzz saw. It's almost as strong as a hurricane can get in a direct hit."
Hurricane Maria was small, but it knocked out the entire island.
The storm took out about 80 percent of the island's power lines, according to Associated Press. Just last week, 86 percent of the 1.57 million electricity customers were still without power. Some people have generators, and more are being distributed by relief agencies, but it's going to take months before everyone has power again.
Fuel is also a problem, according to a statement from Army Lt. Gen. Jeffrey S. Buchanan, who is in charge of things on the ground in Puerto Rico. Although some stations are back up and running, 20 percent of gas stations are still closed, which means families have trouble powering their generators if they do have them.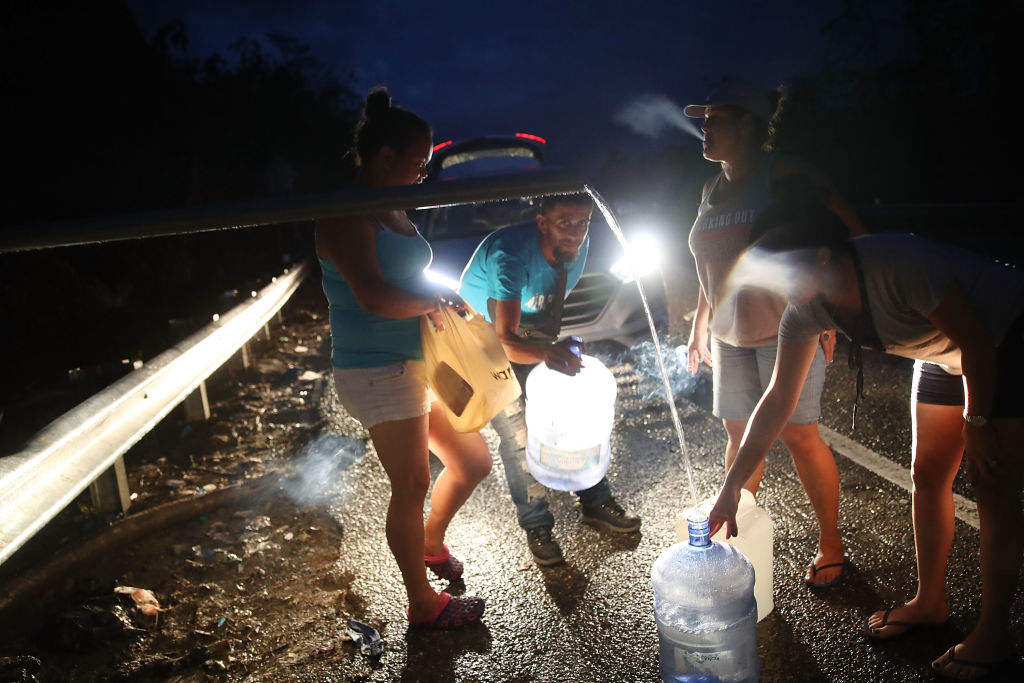 You also need electricity to process and pump water to people's houses, and there have been numerous reports of people drinking out of contaminated creeks and other unsafe water sources. As of last week, about 70 percent of residents had running water, but there's still a boil advisory for the whole island, which means you can't even brush your teeth without having to go through a tedious process.
According to the office of Gov. Ricardo Rossello, the island is pledging to get 95 percent of the power back up and running by the end of the year. That's about two more months. Can you imagine not having had clean water or air conditioning in 90 degree temperatures for an entire month only to hear that it could be like that until after the holidays? People are bathing and washing clothes in the rivers.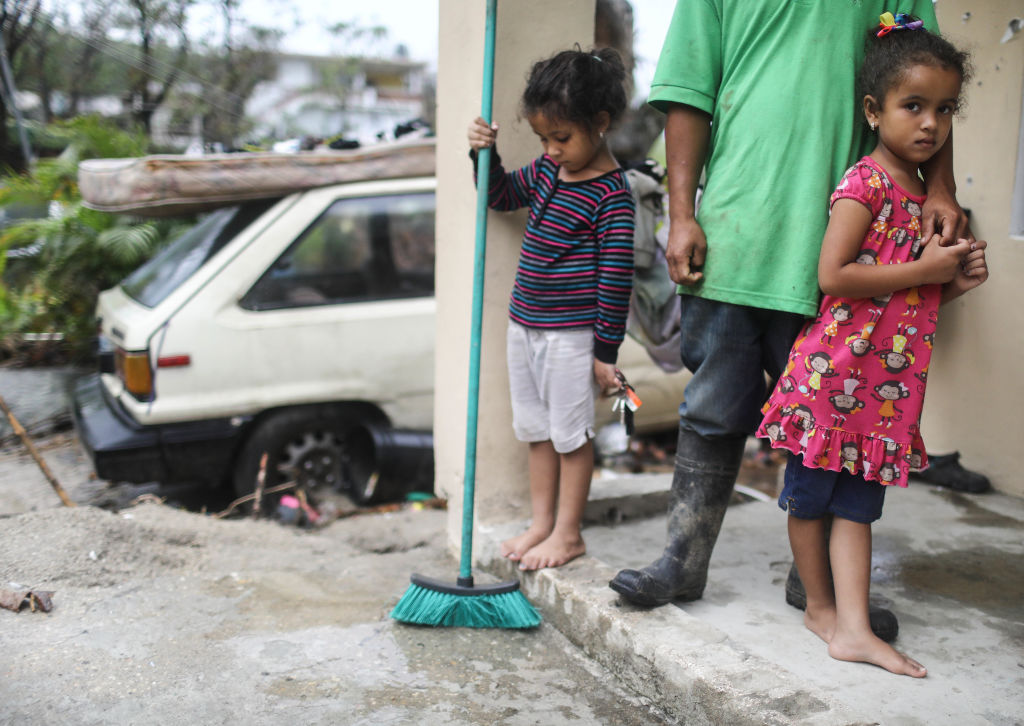 Why is it going to take so long to get the power on in Puerto Rico?
It's a really complicated process, and Puerto Rico's power situation wasn't doing do well before the storm hit either. In July, PREPA, the electric company on the island, declared bankruptcy. There's been an ongoing shortage of workers on the island as talented young people leave the island in search of work amidst a debt crisis. Puerto Rico was not in great shape before Irma and Maria hit, making it all the more vulnerable to damage.
The U.S. Army Corps of Engineers (USACE) is on the island, armed with $577 million from the Federal Emergency Management Agency (FEMA) leading the charge. USACE representative Jeffrey Hawk told Bustle, "Within two short weeks, USACE has essentially set up a mini-district with engineers, contracting reps, program managers, admin, support staff, quality assurance specialists, etc." They reportedly have 62,000 utility poles and "enough wire to connect New York to Beijing," according to Hawk.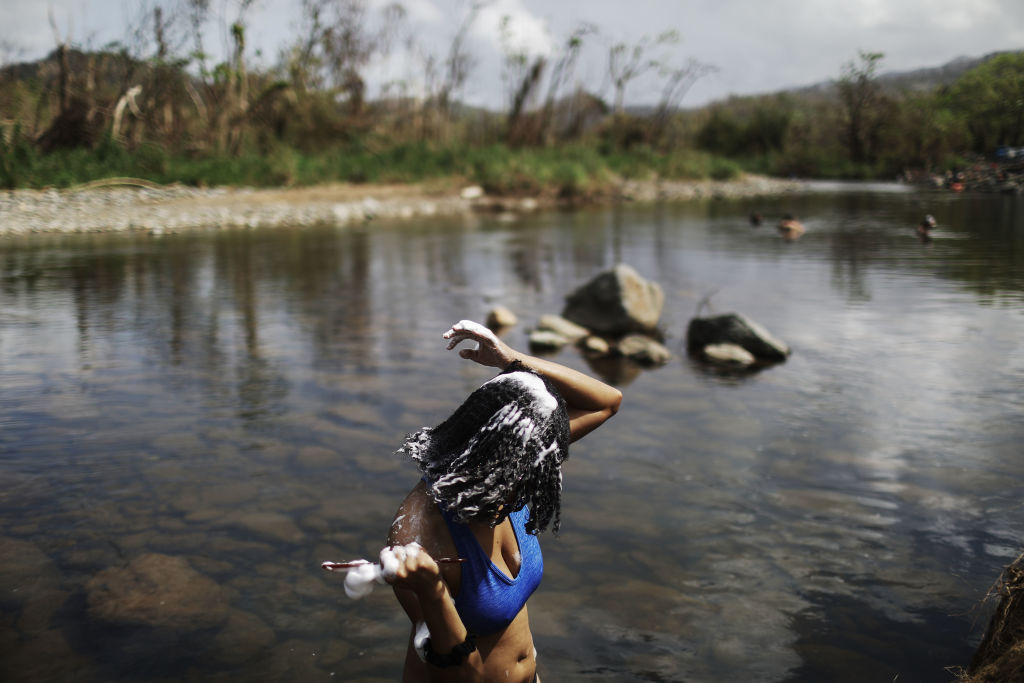 In addition to that, Congress just passed a $36.5 billion aid package that will provide relief to Puerto Rico, although not all of that is going directly to the island.  It's also way less than the estimated $85 billion that experts think will be needed to fully rebuild and recover.
The Trump administration has said that their response to the storm has been a  solid "10," as if this were some sort of diving competition and not a matter of 3.4 million American citizens without electricity, clean water, or safe hospitals and schools. They're without the most basic resources right now. And the president himself hasn't exactly been reassuring about the relief efforts. Seriously: In the initial wake of the storm, the president didn't even seem to understand that Puerto Rico is part of America.
Trump battled with San Juan mayor Carmen Yulín Cruz on Twitter and implied, with thinly veiled racism, that Puerto Ricans were too lazy or indifferent to rebuild their own homes or power grid. He mimicked a Puerto Rican accent and threw paper towels into a crowd during his visit. He's not exactly the kind of guy to instill a load of confidence or goodwill in the wake of a crisis, especially when it's happening somewhere he doesn't appear to care about.
So in absence of actual resources, the people of Puerto Rico are also left without much confidence that things will get better soon, which might sound silly, but it is so necessary to rebuilding and moving forward for people who have already lost basically everything.
And that's not all: Trump has even sort of threatened to take away help for the island. Earlier this month, he tweeted that FEMA and other government agencies couldn't stay on the island "forever," when that is actually not the case. The government could keep FEMA and the USACE and whatever other agency they want in the Caribbean for as long as necessary.
https://twitter.com/udfredirect/status/918432809282342912
It's all about allocating resources where they deem to be most useful and the Trump administration, along with every single Republican in Congress who voted "no" on the relief bill last week, has made it very clear where their priorities lie, and that's apparently not in Puerto Rico.
BTW, if Puerto Rico were a state, it would be the 5th largest in terms of population.
Can you imagine if 80 percent of Connecticut didn't have power until 2018? Or if your grandmother needed medical treatment that she couldn't get because the hospital generators kept crapping out? Or if you're a kid who just wants to go school? What would be different about the conversation the administration and legislators are having around disaster relief if it were occurring on the mainland U.S.?
Puerto Rico is essentially at the mercy of Congress and the president's Twitter beefs right now, which is terrifying.  It's even more appalling that the island can't even vote for their own relief packages. Yup — although Puerto Ricans are American citizens and vote in primaries, they don't have any electoral votes for presidential races or a vote in Congress. (Jenniffer González-Colón is the resident commissioner of Puerto Rico, which basically means she is a non-voting Congress member.)
So it's up to us over here on the mainland to keep caring about Puerto Rico and to pay attention to the rebuilding and relief efforts down there, since the only thing that's become super clear in the wake of the storm is that this economic and political system doesn't work for Puerto Rico.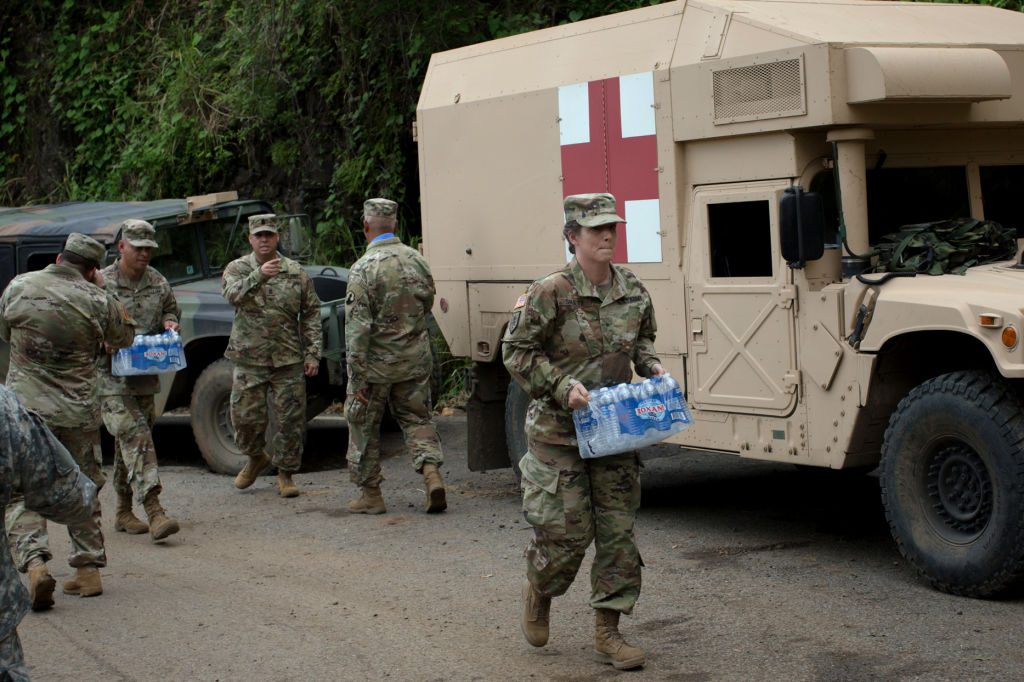 Remind your representatives that you're watching what happens to Americans in the wake of a devastating hurricane and that you care about the people in Puerto Rico getting power and clean water. You can also donate or volunteer with charities on the ground in Puerto Rico, such as Save the Children, which has provided hygiene kits to families as well as emotional support and child care.
It's depressing AF that charities have to step in to help Americans in the wake of a disaster, but until there's a greater sense of urgency in the government to help Puerto Rico rebuild as quickly as possible, that's all you can do. Don't sleep on Puerto Rico — in the coming months, there are all sorts of ways this relief effort could be bungled by the administration — and many of its residents don't even have access to the internet to keep up on what's happening. We have to have their backs.