Why I took wedding photos a year after I got married
My wedding day – 12/13/14 – was one of the greatest days of my life. So many ideas I had in my head about what I wanted in a partner and out of life in general culminated when I said "I do" (or, rather, "Absolutely I do" a la Jim Halpert – yes, that really happened). My now-husband and I were finally ready to move forward as a two-person team, and knowing we were a family now made everything on the horizon that much more exciting to think about tackling together.
So when we got our pictures back from this beautiful day we shared with our closest friends and family, I pretty much expected to feel just one emotion: joy. And I did feel joy as I looked through the stunning photos. There was our first look, which turned out to be our favorite part of the entire day. I smiled as I saw gorgeous pictures of us getting ready, emotional shots of our parents and siblings, and the best moments from our ceremony – all captured on film perfectly.
But the one thing I hadn't expected to feel was regret. I am one of those women who dreamed about her wedding day her entire life, and when I looked through these amazing 2,000+ photos, I knew deep down that something was missing. It didn't take me too long figure out that that something was formal portraits of myself and my husband – just the two of us together, as well as separately – and for the time between me realizing that and me deciding that another photo session might be a good idea, my regret was strong. There were almost no formal photos of us, alone, posing for the camera. And all I could think about was how it was my fault, because I'd never told our (ridiculously talented) photographer that those photos were important to me.
It didn't take me long to start crying real tears not only from the feeling of regret, but from the accompanying guilt that soon set in as well. Questions raced through my mind, including but not limited to, "Will the photographer be offended if I tell her?" "Will she think I hated the photos she got?" (100% untrue.) "Am I a vain jerk for wanting formal photos of myself and my husband?" And the worst question: "If I'm not 100% happy with my photo set, does that mean I'm placing importance on the wrong thing? WAS MY WEDDING DAY A SHAM!?"
Luckily, I worked up the courage to tell both my husband and my photographer how I felt, and they were both extremely supportive. My photographer offered to take more photos of us in our wedding-day outfits if we wanted them, at no charge. My heart broke when she actually apologized­ – something completely unnecessary, as this was something I knew, given her style, I should've made clear in advance that I'd wanted. My husband hugged me and told me I wasn't being vain – that he knew it was important to me to get those types of photos, and that he'd be more than happy to do another session. He even assured me it'd give him an excuse to wear his new suit, which was gray just like his wedding-day tux but actually fit him much better.
Their support helped, but it didn't fix the guilt completely. A friend of mine, whom I know truly meant no harm, asked me when I was "re-taking" my wedding photos – twice. She actually asked it that way again months after I'd gently told her, "Actually, we're not 're-taking' anything, we're just taking some more formal shots around the venue grounds." I'd be lying if I said hearing the phrase "re-taking" – twice – didn't re-open every insecure wound I'd had based on those initial guilt-fueled questions that had raced through my mind. But luckily, I eventually realized that the only people whose opinions mattered were mine and my husband's.
So on Jan. 10, 2016 – one year and 29 days after we said "(Absolutely) I do" – I did my own hair and makeup, my husband picked up the bouquet and boutonniere we'd ordered again from our florist, and we re-visited our beautiful wedding venue. And you know what? We ended up having the most fun, relaxed afternoon with our photographer, whom I also now consider a friend. We took more posed shots around the grounds of the venue without having to worry about keeping to a schedule, and we are so happy with the results I could cry with joy.
Looking at these photos paired with the original, irreplaceable ones from our wedding, I can confidently say that not only do I have the moments from our greatest day captured, but also that there are photos of me that I can show my children and grandchildren one day and they can proudly say, "This was my (grand)mother in her wedding gown. Wasn't she beautiful?"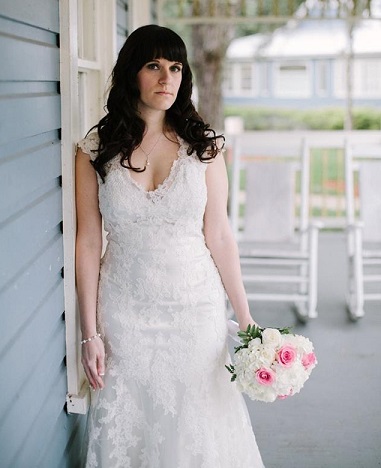 And I don't feel bad anymore. Because every girl who wants to feel frozen in time on her wedding day deserves to feel that way. And we don't have to explain that to anyone.