As a plus-size woman, I'm done shopping at brick-and-mortar stores for good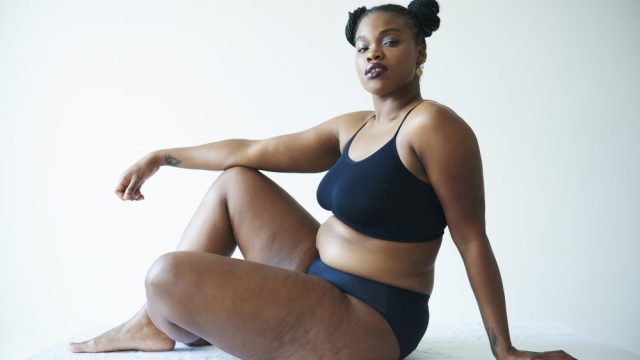 I'm 22, a fresh college grad with promising interviews lined up in New York, the city of my 13 Going on 30 fantasies. I thumb through the tired old options in my closet, and nothing feels right. It's too late to order something online, so I'll just run to the mall a few days before my flight. Maybe there'll be one of those rare sales where you find something really cute in the clearance section. The stress dies down and I take some time to prepare for my interviews. I tuck the thought of clothes shopping into tomorrow's to-do list. Stress relieved, clothes acquired, maximum confidence reached, interview in the bag, and I live happily ever after, right?
Shopping at a brick-and-mortar clothing store for an interview, or for any other occasion, should be the final, confidence-boosting step of preparing for an event. If you're a plus-size woman, shopping for clothes at a brick-and-mortar clothing store is like playing Russian Roulette with a series of micro-humiliations. "We don't have this in a bigger size, sorry," says the sales associate. "You can try that bra in a different color, then we'll have to mail you the one you want in your size," says another, as if your size was a complete inconvenience.
https://www.instagram.com/p/Bw5nvy7lSPE
In 2018, Racked reported that 68% of American women are a size 14 or above. Brick-and-mortar stores have a physical limit on the amount of real estate they can dedicate to offering plus sizes on their sales floor. I would argue that part of the reason clothing stores aren't surviving the retail apocalypse is because brick-and-mortar stores are not prioritizing clothes for 68% of their consumer base.
With the decline in IRL sales and big department stores, retail tactics have become increasingly experiential, requiring stores to carry less inventory and focus more on cultivating a vibe that we might want to post about on our Instagram stories. The purpose of this shift is for the retail experience to provide a showroom with a brand's complete offerings, giving buyers the option of instant gratification of shopping in-store or the luxury of ordering the product online and having it delivered to your doorstep. Brands are now factoring online sales into the DNA of the brick-and-mortar store.
https://www.instagram.com/p/BylUEAiB5E_
Take, for example, next-gen brand Everlane. They are making waves in the industry with radical transparency in their manufacturing and pricing process. Everlane's IRL pop-ups have been successful because their minimal aesthetic remains consistently irresistible, merging an online shopping experience with the touch of their fabrics and the precision of the clothes' fit. Their tops and dresses stop promptly at size 16 while their jeans stop at size 33.
https://www.instagram.com/p/BqvJHUYFDGO
Theoretically, a hybrid online/brick-and-mortar pop-up model like Everlane's should have unlimited space to host a number of sizes, since they don't face the same real estate limitations that traditional brick-and-mortar stores are still facing. Even then, plus-size women don't have access to Everlane's really dope mission statement and versatile, modern clothing.
Time and time again, if plus-size women want things done right, we have to do it ourselves. Luckily, if you live in New York or Seattle, plus-size women can access a one-of-a-kind, modern brick-and-mortar shopping experience from Universal Standard. Their brick-and-mortar locations offer styling services, whether you need a quick consultation for a special occasion or a complete wardrobe overhaul. Universal Standard's website makes it ridiculously easy to book an appointment with a stylist online, and have a perfectly pleasurable shopping experience where everything in the store does come in your size.
https://www.instagram.com/p/BytiQE0B-i_
While Universal Standard is setting a precedent for the type of IRL shopping experiences plus-size women deserve, I still have zero faith in most brick-and-mortar retail stores. I'm toeing the line between sizes 14 and 16/2X and 3X at different stores, and shopping is a high-stress mission. I'm sure women on the larger end of the plus-size spectrum—not to mention those who occupy intersections of race, queerness, physical ability, and mental illness—experience even more discomfort. If a store has to pay rent, especially for New York real estate, I assume that their buyers and retail planners haven't looked out for me. Here's hoping that the next generation of retail prioritizes inclusivity as much as it does experiential upgrades.