Whoopi Goldberg is launching a line of ugly Christmas sweaters, and we need them in our lives
Ever since Whoopi Goldberg became a co-host on The View back in 2007, she's become something of an unlikely fashion icon, thanks to her casual style and her penchant for wearing quirky, themed shoes. She makes no bones about the fact that she's not a heels and dresses kinda girl. It's a refreshing change from the standard daytime TV look, and it's what makes her so uniquely Whoopi…which is always a good thing.
Longtime fans of The View will know that Whoopi loves to break out a Christmas sweater or two around the holidays, so it shouldn't come as much of a surprise that she's launching her very own line of ugly Christmas sweaters this year… except they're actually totally adorable, and we're gonna need to get them all ASAP.
Whoopi's line of Christmas sweaters will launch at Lord & Taylor in late October, giving us plenty of time to get them as gifts for our besties, while also snagging one for ourselves, of course. According to Women's Wear Daily, the line will feature 11 different sweaters, and each has a name and a story to tell.
Some of the awesome sweaters include "Bite Me," which features one gingerbread man taking a bite out of another; "Santa Love" which has two Santas about to kiss, and "The Arm-Me," which features an octopus menorah.
In an interview with Vogue, the budding designer dished on how her Christmas sweater line came about. She says, "I love what we call an "ugly Christmas sweater." I have been wearing them over the years on the show." After a discussion with a work partner, she dreamed up the line, and was thrilled when Lord & Taylor expressed interest.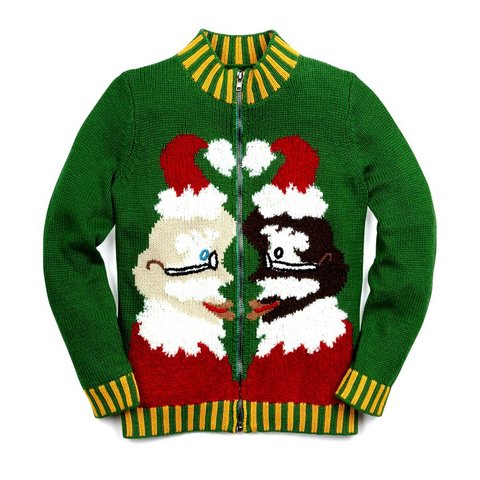 However, despite a trend in the past several years of people wearing the sweaters in an ironic way, Whoopi insists she wants it to be in good fun.
"You can't call them 'ugly.' Mine are kind of 'funny Christmas sweaters' or 'Christmas sweaters with a twist.' They are actually quite wonderful, and they feel good. I have a lot of sweaters that I have bought from lots of different people over the years, but it seems that after two, three years the sweater quality has gone down for me, so I was kvetching about that. I think that's what initiated it. But I love good sweaters, fun sweaters, and holiday sweaters, so I've tried my hand at it.
Whoopi also intends to include all celebrations, adding, "There will be a Kwanzaa sweater next year, a Ramadan sweater. I just want to cover everything. The holidays, regardless of what you believe—it should be a day, a week, a month of let's all be together. Silly sweaters can unite us and what is better than that?"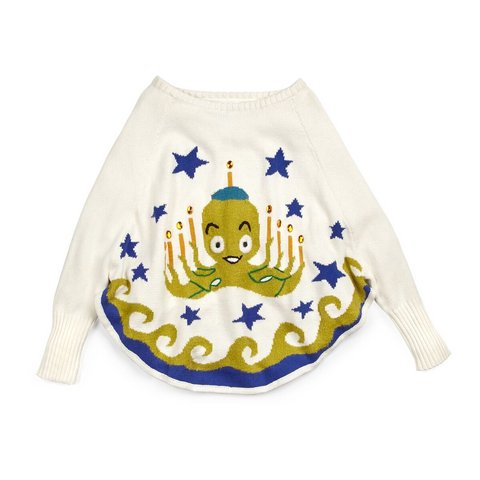 The unisex, cashmere-blend sweaters will retail for $139, according to WWD, making them the perfect holiday gift.