Sister Act 3 might really be happening—with Whoopi Goldberg and Tiffany Haddish no less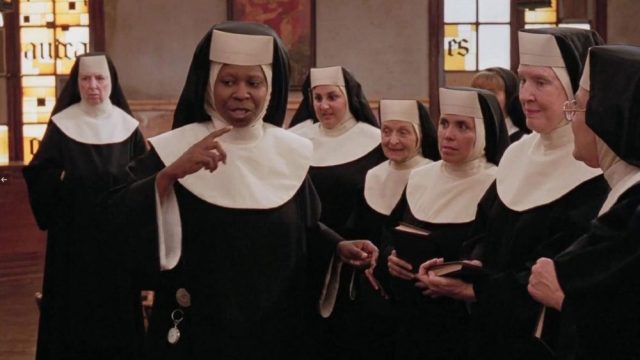 It's been more than 25 years since we last saw Whoopi Goldberg's most iconic character, Deloris Van Cartier, on screen—and we've been waiting for another Sister Act sequel ever since. Well, the wait may finally be over, because actor and director Tyler Perry is totally into making Sister Act 3 happen.
Perry and Goldberg teased the possibility during an appearance on Watch What Happens Live With Andy Cohen last night, November 1st, after the host commented that comedian Tiffany Haddish is a big fan of Goldberg's 1986 flick Jumpin' Jack Flash. This prompted Cohen to ask the actress if she'd ever consider doing a sequel with her.
"No, because that's not the sequel I want to do! Goldberg replied, going on to say she wants to do another Sister Act.
When asked why it hasn't happened yet, Goldberg revealed that Disney doesn't want to do it. However, Perry, who brought Goldberg and Haddish together to play mother and daughter in his new comedy Nobody's Fool, has other plans.
"The two of them in Sister Act, that should happen. Let's make it happen, he insisted.
Check out Goldberg and Perry's full interview below:
https://www.youtube.com/watch?v=5UzkyLai4D0?feature=oembed
In case you need a refresher, the original 1992 film centered on a nightclub singer (Goldberg) who's forced to join the witness protection program…in a nunnery. In the 1993 sequel, she returns to the nunnery to teach music to a group of disadvantaged teens. There's no word yet on possible storylines for a third installment, but a Sister Act involving Goldberg and Haddish sounds like a dream come true. In the "After Show" segment, Perry even revealed that he's thinking about buying the rights to the film.
"Together, we'll go get it," he told Goldberg.
https://www.youtube.com/watch?v=3FP5dEiVacQ?feature=oembed
The fact that there's even a chance a third Sister Act is a possibility has us literally doing this:
In the meantime, we'll keep ALL our fingers crossed.