A beauty site mixed up Whoopi Goldberg and Oprah at the Oscars, and nobody was pleased about it
Last night, beauty website Total Beauty joined a slew of other people who were live-tweeting the Oscars. All was well and good…Until Total Beauty mixed up Whoopi Goldberg and Oprah on their feed, and people were not happy about it, understandably.
In a tweet that has since been deleted, the site confused Oprah Winfrey and Whoopi Goldberg, though their only aim was to comment on Goldberg's chest tattoo: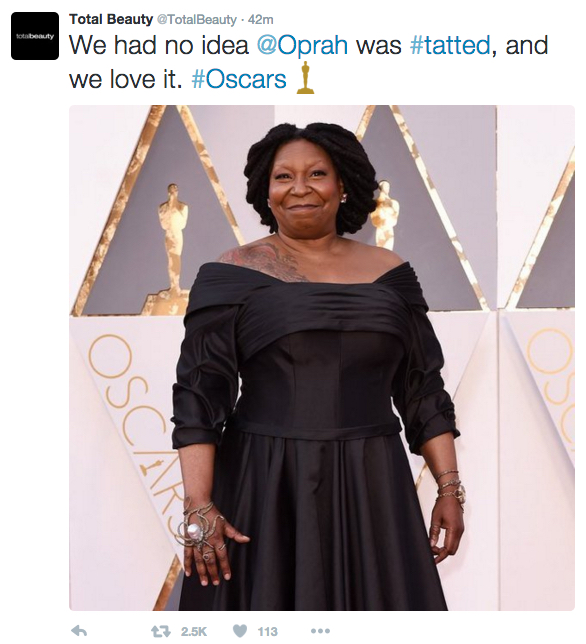 Both Oprah and Whoopi have since responded to this snafu. Gayle King Instagrammed a photo of her BFF Oprah shrugging at the camera and looking perplexed. In her hand was a phone displaying a picture of Whoopi. The caption: "We all love @whoopigoldberg but we don't all look alike Jeeeze!"
As for Whoopi, she spoke out on The View, stating, "I feel pretty good if you're comparing me to Oprah" and "It happens. People make mistakes all the time … Come on, it was an honest mistake. We both look good! Oprah and I."
Though they've deleted the original tweet, Total Beauty has since issued an apology and they're even offering to donate $10,000 to Whoopi and Oprah's charity of choice:
Even so, the Twitterverse is not letting their mistake go unnoticed:
What do you think? Did Total Beauty just make an honest mistake?