Who is the father of Kylie Jenner's Baby? Travis Scott is a big-time rapper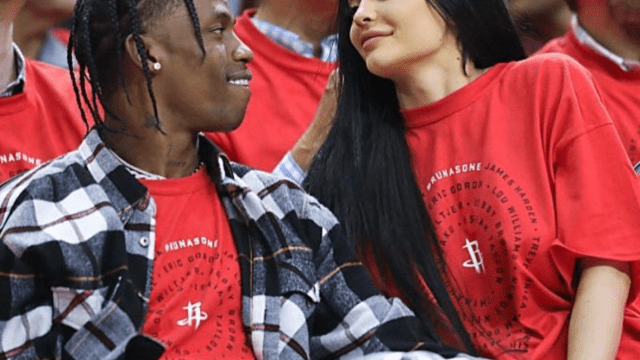 Oh, baby. On Super Bowl Sunday of all days, Kylie Jenner confirmed both her pregnancy and the birth of her baby girl. So who is the father of Kylie Jenner's baby? Travis Scott toured with Kendrick Lamar for the latter's Damn. tour all last summer, and he's been nominated for three Grammys. Scott, 25, received his most recent Grammy nomination for his collaboration with SZA on the song "Love Galore." You can bet he will be a big name in the music industry for a long time to come (and maybe he and Kanye will even collaborate in the future, since their kids are cousins now).
It might seem like Jenner and Scott's relationship moved quickly, but that's just because the couple kept their relationship under wraps for a long time. Even though they started getting cozy together at Coachella in April 2017, it wasn't until early June when they got matching butterfly tattoos that people realized how serious the two were together. Around that same time, people started speculating that the two had gotten married, but Jenner's friends denied that rumor.
In September 2017 when TMZ announced Jenner's pregnancy, super-sleuths looked back through Scott's Twitter and found a tweet that seemed a little suspicious.
Pregnancy watchers thought that Scott's happiest day of his life might have been the day he found out that Jenner was pregnant. That theory could actually be correct, considering that the baby was born roughly eight and-a-half months later, on Feb. 1.
The couple has had many sweet moments together including Scott's surprise party he threw for Jenner's 20th birthday.
Jenner announced the arrival of her daughter in a sweet Instagram that she posted three days after giving birth.
"I'm sorry for keeping you in the dark through all the assumptions," Jenner's statement said.
https://www.instagram.com/p/BeycUmgFTWb
It turns out, the pregnancy rumors were completely true. In the sweet video that Jenner shared along with her birth announcement, sweet moments between she and Scott show the couple's sweet relationship. https://www.youtube.com/watch?v=
It seems like Scott and Jenner have a special bond. The nine months leading up to their daughter's birth apparently had lots of exciting moments for the couple — and plenty of burgers.
That really is adorable, and we Jenner, Scott, and their new bundle of joy all the best.