Who is Rita Moreno? What you need to know about the legendary Oscar-winning actress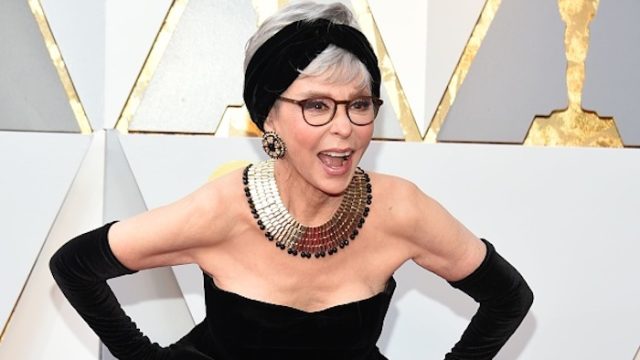 Out of all the stars on the Oscars 2018 red carpet, few are as accomplished and iconic as 1962 Oscar winner Rita Moreno. The multi-talented actress, singer, and dancer brought home the Best Supporting Actress trophy for her performance as Anita in West Side Story — and 56 years later, Moreno is wearing the same dress that she wore that night.
For many people, an Oscar win would be the biggest accomplishment of a lifetime — but not so for Moreno. She is one of just 12 artists to win all four of America's most prestigious entertainment awards. In addition to her Academy Award, Moreno's collection of trophies includes an Emmy, a Grammy, and a Tony Award (collectively known as an EGOT). Furthermore, Moreno is the only Latinx performer with an EGOT on her resume.
Moreno and her mother moved from Puerto Rico to New York City when she was six years old, and she got her start in theater. It wasn't long before she was cast in supporting roles in two movies you may have heard of: Singing in the Rain and The King and I. But Moreno's most memorable break-out moment came when she won Best Supporting Actress for her portrayal of Anita in West Side Story at the age of 30.
https://twitter.com/udfredirect/status/970444691006197760
Moreno has been outspoken about the stereotypical roles she was given, even after her Oscar win. She had hoped the award would mark a turning point in her career, but unfortunately, the stereotypes continued.
"Ha, ha. I showed them. I didn't make another movie for seven years after winning the Oscar.... Before West Side Story, I was always offered the stereotypical Latina roles," Moreno told The Miami Herald in 2008. "The Conchitas and Lolitas in westerns. I was always barefoot. It was humiliating, embarrassing stuff. But I did it because there was nothing else. After West Side Story, it was pretty much the same thing. A lot of gang stories."
Nevertheless, she persisted — and received more prestigious accolades over the years. In addition to Moreno's EGOT, she was also honored with the Library of Congress Living Legends award in 2000, the Presidential Medal of Freedom in 2004, the National Medal of the Arts in 2009, the Screen Actors Guild Life Achievement Award in 2014, and the Kennedy Center Honors Lifetime Artistic Achievement Award in 2014.
As we honor this year's talented group of performers, let's not forget about the incredible women who paved the way, like Rita Moreno (and you can currently watch her on Netflix's One Day at a Time!).