Who is MIT professor Neri Oxman, Brad Pitt's rumored new lady friend?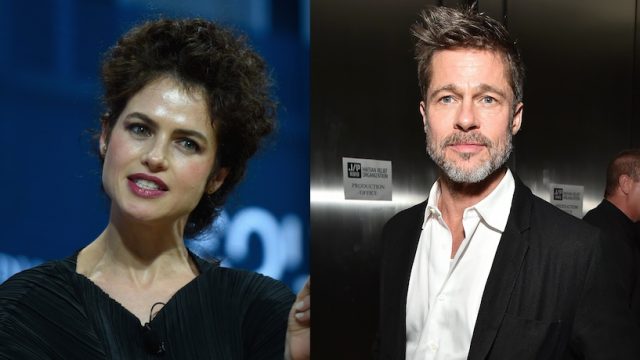 If you're as pop culture-obsessed as we are, then you may have already heard whispers that Brad Pitt has spent some time on the MIT campus in Boston, specifically to meet up with Neri Oxman, Associate Professor of Media Arts and Sciences. As you undoubtedly will also recall, Pitt split from wife, actress and activist Angelina Jolie, in 2016 after 12 years of partnership.
And while there is absolutely no actual confirmation that anything romantic is happening between Pitt and Oxman (though a "source" told Us Weekly that "Brad is absolutely smitten by her. Their chemistry is off the charts"), many are currently asking: Who is Neri Oxman?
And our answer: How much time do you have? The 42-year-old MIT professor is so accomplished that we almost don't know where to begin. But let's start with her faculty bio, which states she's an "architect and designer" who not only teaches, but "founded and directs the Mediated Matter research group." It also states that, "Oxman coined the term, and pioneered the field of, Material Ecology. […] In this approach, products and buildings are biologically informed and digitally engineered by, with, and for, Nature." false
Oxman obtained her Ph.D. from MIT and received her previous degrees in Israel, where she was born and raised. She was named one of FASCOMAPNY's "most creative people" and SEED Magazine's "Revolutionary Mind" in 2008 (to name literally just a couple of her myriad prestigious honors). She reportedly attended medical school for two years, but left to pursue her passion for design.
Oh, and she once did this TEDTalk:
https://www.youtube.com/watch?v=CVa_IZVzUoc?start=81&feature=oembed
Her designs, which often bridge the gap between science and art, have been featured in places like New York's MOMA, San Francisco's Museum of Modern Art, and the Boston Museum of Fine Arts. Below is a video of her describing a chaise lounge she and her team created that mimics the feeling of sitting in a womb (whoa):
https://www.youtube.com/watch?v=Uz7LpDR-Gew?feature=oembed
In a 2011 interview with Haaretz, Oxman opened up about her approach to work, saying, "I want my work to speak for itself. I engage in super-hard work and work 20 hours a day. Nobody cuts me any slack. What guides me is the joy of living, the joy of creating. I know how to celebrate victory and success, but also how to take a risk and fail gloriously." She also noted that being a woman in a male-dominated field can bring about unwelcome scrutiny and harsher judgement. "It always requires me to work harder and to present my ideas in the most professional way possible," she said.
While not much is known about the nature of Oxman's link to Pitt, we do know that Pitt is notoriously passionate about architecture and design, so a friendship between the pair would make sense. In fact, a source told Page Six that, "Brad and Neri instantly hit it off because they share the same passion for architecture, design and art. This is best described as a professional friendship."
Basically, while we really don't know if there's any actual legitimacy to the romance rumors currently brewing, we do know that Neri Oxman is one badass and accomplished woman in STEM. Cheers to that.