This company submitted a 15-page proposal for a white wine emoji, and we get it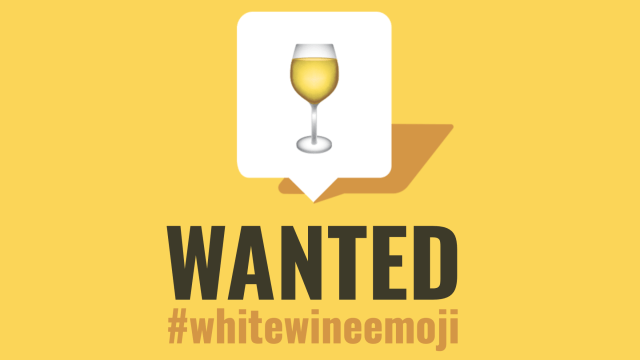 For so many of us, emojis are a crucial part of expressing ourselves, whether we're writing a text or figuring out the perfect caption for our latest Instagram photo. But how can we properly get our thoughts and feelings across if the emojis we need don't exist?! If you've ever been frustrated that you can only share a red wine emoji even if you're drinking white, don't fear — there are people out there working to right this wrong.
Kendall-Jackson winery has launched a white wine emoji campaign (complete with a website) that accompanies a 15-page proposal to the Unicode Consortium, explaining why a white wine emoji is necessary.
Apparently, this is the first time a proposal for this emoji has ever been presented to Unicode, the world's emoji gatekeepers, which is kind of unbelievable to us. You're saying that it took until now for someone to demand an emoji that accurately expresses when you're drinking a nice Sauvignon Blanc or Chardonnay? You've got to be kidding.
But if Kendall-Jackson gets its way, it won't be long until we can finally share an emoji that corresponds to the wine we're actually drinking.
"What's missing isn't the world's passion for white wine. It's simply the world's symbol for white wine," notes the Kendall-Jackson campaign site. "Kendall-Jackson winery, together with the global wine community, invite you to join us as we rally support for the world's first white wine emoji. This won't change the world, but it will free you from using the red wine emoji when what you really want is your favorite glass of Chardonnay, Sauvignon Blanc, or Pinot Grigio. The best things in life go beyond words."
So. True. And the site notes that more information is coming August 2nd, which is next week. Our fingers are crossed that this proposal works, because we've already had to go most of the summer without being able to use the emoji that the world so clearly needs. After this, can we work on a rosé emoji? Just an idea.