A white school resource officer allegedly tackled a 14-year-old black girl to the ground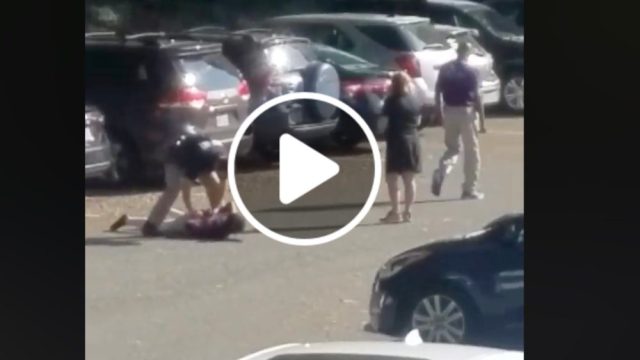 Amid (the many) recent reports of racial profiling and brutality in police arrests, yet another incident is currently capturing national attention. A school resource officer in Winston-Salem, North Carolina, has come under fire for his aggressive arrest of a 14-year-old black female student.
According to the Winston-Salem Journal, white officer Tyler McCormick arrested Hanes Magnet Middle School student Rockell Baldwin on October 5th. Baldwin told local NBC affiliate WXII 12 News that she had asked for a hall pass to call her mother because she wasn't feeling well. McCormick saw her in the hallway, asked where she was going, and followed her outside. Baldwin claimed that once they left the building, McCormick tackled her to the ground, holding her face against the pavement.
Police told WXII that McCormick had been investigating a report of disorderly conduct and he was wearing a body camera at the time. But the Associated Press notes that body camera footage is not available to the public under North Carolina law.
A man named George Timbers, who, according to WXII, lives near the school, recorded part of the incident and posted it to Facebook. The video depicts the officer handcuffing Baldwin as she is pressed to the ground. It does not clearly show McCormick tackling Baldwin, but she can be seen falling to the pavement at the start of the clip.
The Winston-Salem Journal notes that the Winston-Salem Ministers Conference, the president of the Winston-Salem Urban League, and Baldwin's mother, Tamkea McLean, have called for McCormick to be fired.
"We are unambiguously clear that this would not have happened to a young white middle-school girl," the Ministers' Conference said in a news release, according to the Journal. 
The Journal reports that at an October 10th news conference, Winston-Salem Police Chief Catrina Thompson defended McCormick, saying that he does not have a record of using excessive force. McCormick was hired by the Winston-Salem Police Department in January 2012 and became a school resource officer in February 2016.
"I am comfortable that his selection as a School Resource Officer was appropriate at the time of his selection, and that his assignment to Hanes Magnet Middle School was also appropriate," Thompson said during the conference, according to the Journal. 
Winston-Salem/Forsyth County Schools Superintendent Beverly Emory said in a statement to the Journal that, although the district could not investigate the incident, it would offer support to Baldwin's family.
"It is critically important that no matter what the circumstances, our students feel they are cared for in our schools" her statement read. "District staff have connected with this family to provide support services and educational options. We will continue to work to support them and ensure there are safety nets in place at the school level."
No 14-year-old should have to endure such a violent encounter—especially while at school at the hands of an employee there to protect. We hope this is dealt with swiftly and justly, and that incidents like this soon become a thing of the past.