This black teen was shot at by a white man when he knocked on his door to ask for directions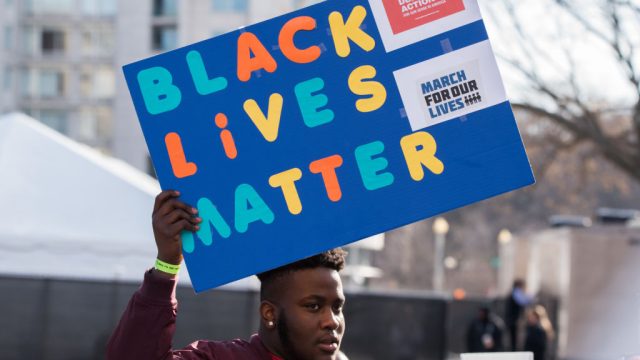 Yesterday, April 12th, a teenager was nearly shot in the latest instance of violence against an unarmed Black person. Brennan Walker, a high school student in Michigan, faced a white man aiming a gun at him when he knocked on the man's house to ask for directions.
Walker, a 14-year-old student at Rochester High School in Rochester Hills, Michigan, had reportedly missed his bus and decided to walk to school. When the teen got lost, he decided to ask for directions (you know, a normal thing to do). Walker knocked on the door of one home, and the woman who answered said she feared he was trying to break into her house.
"I knocked on the door, stepped back, knocked, stepped back, and then a lady came downstairs yelling at me," Walker told Click On Detroit. "She asked me, 'Why are you trying to break into my house?' and I told her I was just looking for directions to Rochester High."
According to Rochester Patch, Walker then saw a man come down the stairs with a gun. The man aimed at Walker and shot at him as he ran away. Walker was not hit, and the 53-year-old man was taken into custody by Oakland County Police, where he has been charged with assault with intent to murder.
https://www.youtube.com/watch?v=Hde9VLNTCuw?feature=oembed
Walker's mother, Lisa Wright, told Fox 29 that she suspected the incident was an act of racism. She said that security footage from that morning revealed that the woman had asked "Why did these people choose my home?" before calling 911.
"If I have a question, I should be able to turn to my village and knock on a door and ask a question," Wright told the local news station. "I shouldn't be fearful of a child, let alone a skin tone."
Oakland County Sheriff Michael Bouchard told ABC affiliate WXYZ that the man would face charges for his actions.
"If someone is running from your house and chase them outside and shoot at them, you're going to have criminal charges coming from us," Bouchard told the news outlet.
This attack against Walker is reprehensible. As Wright said, everyone should feel safe knocking on a door in their neighborhood to ask for directions. But the fact is that racism and its devastating effects are still festering in the United States. We need to put a stop to it — and gun violence — now.