'The White Lotus' Season 2 Memes Prove Jennifer Coolidge's One-Liners are Here to Stay
From Portia's fashion (non)sense, to Tanya's operatic performance, we promise there aren't *too* many spoilers.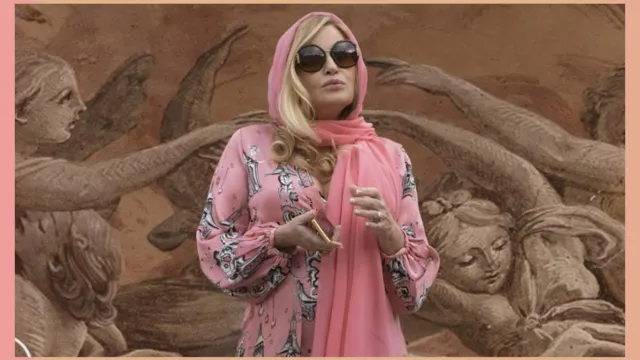 The latest TV obsession, The White Lotus, has just finished its second season, and fans are still processing the highs, lows, murders, and more.
After a successful first season set in Hawaii, the show took on a darker approach to its plot line, and sprinkled in some real life lessons that have people rethinking the positive sides of greed, exploitation, and cheating.
We won't give away too much, but already the memes for this latest season have us pumped for the next one. The real questions are, where will it take place, and who will be the next to die?
RELATED: 20 Best Date Night Movies to Watch With Your Partner
That banger of a theme song
The show's theme song is considerably sexier in Season 2. Don't be surprised if the DJ drops it at the office holiday party and everyone loses their minds.
Portia's poor fashion choices
A true source of contention came down to the mishmash of a wardrobe owned by Portia (played by Haley Lu Richardson), the Gen Z-ish personal assistant of Tanya, who either didn't make enough to buy better clothing, or just didn't care.
Lucia slaying the patriarchy
We have no idea how the Sicilian escort (played by Simona Tabasco) plans to spend her $50,000, but we definitely love her vibe in the last scene of the finale.
Valentina's improv'd line
Sabrina Impacciatore, the fiery but lovable hotel manager, revealed in an interview for Access Hollywood that her Peppa Pig line was not part of the script, and we love her for it.
Mia snagging her dream job
While she's quite possibly the sweetest, least dramatic character on the show, Mia (Beatrice Grannò) can't get away without getting meme'd after somehow sleeping her way into singing in the hotel lobby — twice.
Daphne soaking up the sun on someone else's dime
People cheat — and Daphne (Meghann Fahy), the wife of a sleezy rich dude, knows there could be worse things in life. Her stance on life makes her the most chill of all the characters this season.
Tanya's fate
It's no question that folks did not see the ending coming the way it did. And while we have no idea how show creator Mike White will redeem himself, at least we have some great one-liners from the show's beloved vacation queen played by acting legend Jennifer Coolidge.
The Rich People are not okay
You can seemingly "have it all" in terms of wealth, but there's always going to be someone out there richer than you.
Where will Season 3 take place???
Daphne and Cameron dropped a hint at the possible Season 3 location for The White Lotus, but nothing has been confirmed other than a Season 3 will indeed happen. Who knows? Maybe it will ended up in your own backyard…
Kat is a born and raised New Yorker exploring the world as she writes, eats, and everything in between.
Read more