The White House responded to Hillary Clinton's Grammys appearance, and you won't like what they have to say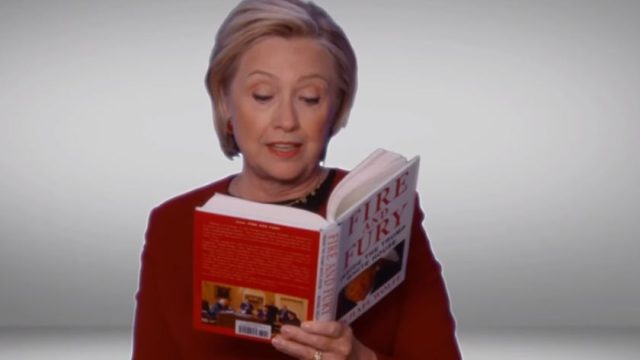 In one of the most memorable moments of the 2018 Grammys on January 28th, host James Corden featured a skit where celebrities, including former presidential nominee Hillary Clinton, "auditioned" to record the audiobook of Michael Wolff's Fire and Fury: Inside the Trump White House. And, while many found the skit hilarious, the White House was less amused with Clinton's Grammys appearance.
White House spokesman Raj Shah issued a statement today, January 29th, disavowing Clinton's cameo as "out of touch."
"When I see Hillary Clinton and other liberal politicians join forces with celebrities or try to show America how in touch they are, I don't take it all that seriously," Shah said on Fox & Friends. "You know, the left and the elite centers of America are frankly out of touch with what's going on in this country and all the great work that this president is doing."
Donald Trump, Jr. also panned the skit on Twitter, describing Clinton's cameo as a "great consolation prize for losing the presidency" and writing that after seeing her on TV, voters should be glad to have President Donald Trump in office.
U.N. Ambassador Nikki Haley was another member of the administration to criticize the skit, tweeting, "Don't ruin great music with trash." Wolff has spread rumors that Haley had an affair with Trump, which Haley has emphatically denied.
The publication of Fire and Fury, with its depiction of Trump as incompetent and in over his head, inspired swift backlash from the White House. After excerpts of the book were released in early January, Trump issued a cease-and-desist letter to Wolff and his publisher, claiming that the information presented in the book was slanderous. But Trump's attempt to stop the book's publication failed, and the demand for Fire and Fury skyrocketed.
The White House might not be happy with Clinton's Grammys appearance, but we have to admit, the former secretary of state gave a great read.
https://www.youtube.com/watch?v=DjbysQgJ64Y?feature=oembed
By dismissing criticism of the Trump administration as "out-of-touch," Shah and other White House officials demonstrate their own ignorance of reality. Trump's approval rating is currently less than 40 percent, suggesting that the elites of the U.S. aren't the only people who are unhappy with the president's performance. The White House needs to address the reasons voters are so unhappy rather than dismiss them. But until then, we'll keep on enjoying Clinton's performance and others like it.