Here's Where You Can Stream This Year's Oscar Nominees for Best Picture
It's the perfect excuse to spend a night in watching movies.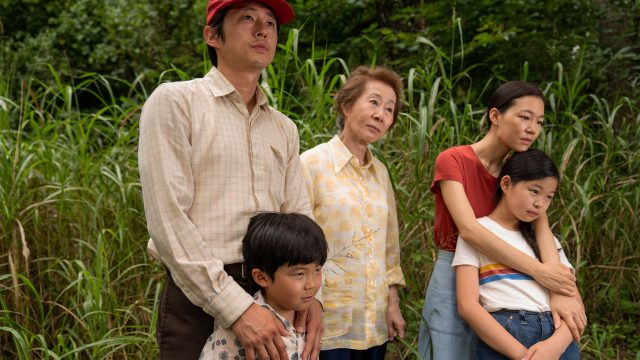 On April 25th, 2021, the 93rd Academy Awards will be taking place in Los Angeles. But unlike the Golden Globes and Grammys that already took place earlier this year, there will be no Zoom element in this ceremony. Instead, reports say it will be an intimate, outdoor evening with all of the nominees. "We are going to great lengths to provide a safe and ENJOYABLE evening for all of you in person, as well as for all the millions of film fans around the world," read the letter outlining the details of the event from the Oscars telecast. "We feel the virtual thing will diminish those efforts."
The highly anticipated event will be honoring movies produced between January 1st, 2020, and February 28th, 2021, which means there is a lot to catch up on. Of course, we're eager to find out which movie will take home the Academy Award for Best Picture. So, grab your popcorn, because we're sharing where you can stream these nominations before the big night. 
Amazon Prime
The Father
Based on the 2012 play, Le Père by Florian Zeller, The Father stars Academy Award-winning actor Anthony Hopkins as an 80-year-old with dementia who refuses the help of his daughter, played by Olivia Colman. His battle with the illness causes strain on his relationships as he begins to lose his sense of reality. The heart-tugging drama can be streamed on Amazon Prime for $19.99.
Judas and the Black Messiah
Inspired by true events, this historical drama features LaKeith Stanfield, who plays a Black FBI informant who goes undercover to infiltrate and subdue the Black Panther Party. His mission doesn't go as planned when he begins to fall in love with the revolutionary movement led by Black Panther star Daniel Kaluuya and must decide whether he should continue to keep tabs on the Black Panthers or join the movement. You can stream it now on Amazon Prime for $19.99.
Minari
Minari follows the life of a Korean American family living in Arkansas during the 1980s. The tender family drama highlights the challenges the family faces in hopes of achieving the American dream. It's a sweet reminder of the unbreakable bond between family. It's available now on Amazon Prime for $19.99.
Sound of Metal
All you need is an Amazon Prime subscription to watch this drama about a talented drummer, played by Riz Ahmed, whose entire world begins to change when he suddenly loses his hearing.
Promising Young Woman
If you love a good thriller with a sprinkle of dark comedy, Promising Young Woman won't disappoint. Cassie, played by Carey Mulligan, is a young woman who's out for revenge on those who have wronged her—and her best friend—in the past. You can stream it on Amazon Prime for $5.99.
Netflix
Mank
Herman Mankiewicz (aka Mank) is an alcoholic screenwriter in the 1930s who is trying to finish the screenplay Citizen Kane for famous actor Orson Welles, played by Tom Burke. You can exclusively stream this film on Netflix.
The Trial Of The Chicago 7
Follow the trail of seven anti-Vietnam War protesters who were charged with conspiracy and inciting riots at the Democratic National Convention in Chicago during 1968. The historical drama based on a true story is now available on Netflix.
Hulu
Nomadland
Available with a Hulu subscription, this film is about a woman who travels across the American West after losing everything in the Great Recession. It's also available on Amazon Prime for $14.99.
Make sure to watch all the Oscar nominees before April 25th so you know who's who when the trophies are being handed out!