Give Your Old Clothes a New Life by Donating Them to These 5 Charitable Organizations
Plus, find out where to find the drop-off locations nearest you.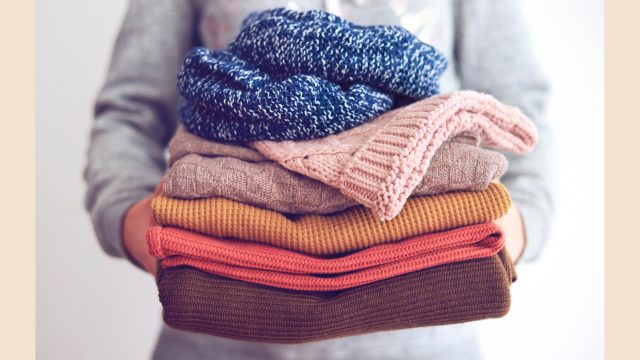 Realistically, we could all stand to clean out our closets more often. That T-shirt you wore to a football game back in college? You probably don't need it. Those jeans that no longer fit? You can likely get rid of them. According to data from the Environmental Protection Agency, the average American throws away a whopping 80 pounds of used clothing per year, which costs cities a national average of $45 per ton to dispose of. This totals hundreds of millions of dollars a year for the U.S.—a cost that is influenced heavily by the upkeep of landfills.
So while, yes, you definitely should get rid of clothing items that you don't use, it's much more economical and eco-friendly to donate those items instead of throwing them out. By donating your clothes instead, you can help reduce the amount of clothing that ends up landfills, limit the resource demand for new clothing production, and make a conscious effort to have fashion be more sustainable in this country. According to PlanetAid, an organization that collects and recycles used textiles, dropping off a 10-pound bag of clothing can help prevent 30 to 40 pounds of CO2 gases from polluting the atmosphere and save about 14,000 gallons of water. 
Here are some options for where to donate your clothes the next time you get on a cleaning kick. These organizations not only cut down on clothing waste, they also give back to those in need, so you can feel good knowing that the clothes you no longer want could make someone else's day. You know what they say: Your trash is someone else's treasure. 
Where to donate clothes:
1. Goodwill
Goodwill is often top of mind for people when it comes to looking for places to donate clothes, and for good reason. Not only are there thousands of local organizations nationwide, but it is a nonprofit aimed at helping others. Goodwill provides job training, employment placement services, and other community-based programs for people who have barriers that are preventing them from obtaining a job.
What kind of clothes can be donated? Any gently used clothing, including children's clothes, can be donated. Goodwill also accepts accessories like shoes, handbags, and jewelry.
How to donate: Goodwill accepts donations at any of its locations. According to the website, simply load the clothing you wish to donate into a bag, box, or vehicle and head to the Goodwill donation center nearest you. A donor greeter will meet you and take your unwanted items off your hands. If you choose a drive-up-and-drop-off option, your experience can be contactless, too.
2. American Red Cross
The American Red Cross provides emergency assistance and disaster relief, both in the United States and internationally, and is a highly reputable charitable organization. Unlike Goodwill, the American Red Cross does not sell their donated items to raise funds for their organization, so if you're looking for somewhere to donate your clothes where you know they won't be resold, this is a good option for you. Instead, the Red Cross will give the items directly to those most in need.
What kind of clothes can be donated? Almost any kind of gently used item is accepted by the Red Cross, including T-shirts, shoes, jackets, ties, dresses, sweaters, hats, gloves, handbags, coats, bathing suits, sleepwear, and even formal wear.
How to donate: Through a partnership with GreenDrop, the American Red Cross will pick up clothing from your home. You can also drop old clothes off at a GreenDrop donation center. In both cases, you'll be given a tax receipt from the organization as proof of your charitable donation.
3. Dress for Success
Dress for Success is an international nonprofit that empowers low-income women by providing them with professional clothing as they seek and maintain employment. You can contribute to their honorable mission of dressing over a million women by donating work-appropriate women's clothing to their cause.
What kind of clothes can be donated? Any business attire that has been laundered, dry-cleaned, and is in good condition—including suits, dresses, pants, skirts, blazers, medical scrubs, undergarments, and accessories like handbags, closed-toe pumps, and jewelry.
How to donate: Search this list for Dress for Success drop-off locations in your area and call to coordinate a donation appointment.
4. One Warm Coat
One Warm Coat is the only national organization supporting coat drives. They believe in the basic right to protection from the cold and aim to help the nearly 1,500 people that die in the U.S. each year from exposure to the cold. Their mission is to provide adequate outerwear for those in need by coordinating countless coat drives across the country.
What kind of clothes can be donated? Clean, gently used coats of any size (women's, men's, and kid's) that are in good condition (no holes or stains).
How to donate: Search this map for active coat drives in your area that are accepting new and gently worn coats. Usually these are held in the fall and winter months, during which there is the most need. However, if there are not any active coat drives in your area, you can check out their Nonprofit Locator Map to search for nonprofit partners in your community.
5. Salvation Army
The Salvation Army is a reputable charitable organization that meets local needs through various programs including job training, help for domestic abuse, after-school programs, and more. When you donate goods, such as clothing, to The Salvation Army, those items are sold at the organization's various thrift store locations nationwide. The proceeds of the sales are then used to fund The Salvation Army's Adult Rehabilitation Centers, where people struggling with addiction are provided help, hope, and a second chance at life. 
What kind of clothes can be donated? Any clothing items—including jackets, sweaters, dresses, blouses, undergarments, bathing suits, formal wear, and more—can be donated to The Salvation Army, in addition to accessories like shoes and bags. 
How to donate: To make a donation, find a drop-off location or schedule an at-home pickup.