Where is Griffith Observatory, the place that live-streamed the super blue blood moon?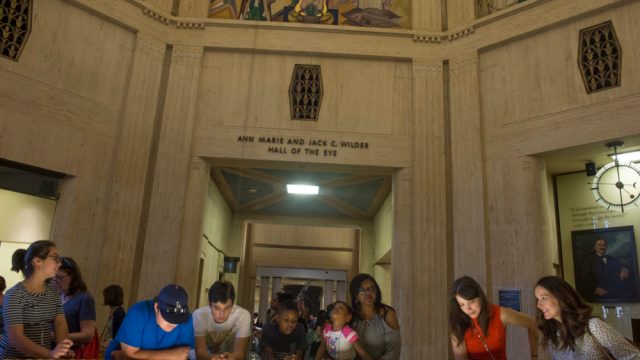 Early this morning, January 31st, hundreds of people gathered at the Griffith Observatory to look up at the sky — but they weren't there to simply gaze at the stars. For the first time in more than 150 years, the Western Hemisphere was able to see a super blue blood moon and lunar eclipse, and it was all happening during a live-stream at the Griffith Observatory.
But where is the Griffith Observatory, home of the prime viewing spot for the epic, once-in-a-lifetime astral phenomenon that combined three lunar events — a super moon, a blue moon, and a blood moon? Ryan Gosling fans will recognize the iconic landmark as the spot where he danced his heart out with Emma Stone in La La Land,
At 1,134 feet above sea level, the Observatory is one of the highest points in Los Angeles, offering sweeping views of the L.A. skyline, including what many say is the best view of the Hollywood sign. It's also free and open to the public, making it one of the most popular (and historic) attractions in all of the real-life La La Land.
Griffith Observatory is also the perfect spot for stargazing (or, as it were today, blue moon-gazing), which is why so many gathered in person and online to check it out in all its glory.
Of course, the live-stream has since ended, but you can still check out tons of pics online. And if you're ever in the city of angels, you should be sure to drop in and give it a Gosling-style twirl. The Griffith Observatory is located in the Los Feliz neighborhood of L.A., and is by all accounts a legendary landmark.