Where is Coachella held? Here's the scoop on the festival's location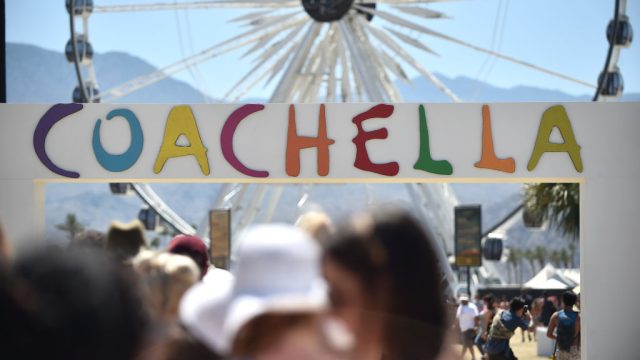 The 2018 Coachella lineup was just announced, and now everybody is extra amped for the annual music and arts festival that draws celebrities, diehard music fans, and flower crown-wearing hipsters alike.
If Coachella isn't already on your bucket list, it should be. Not only does the music fest book A-list music acts like Lady Gaga, Beyoncé, and others, it's also a fashion destination for lovers of fringe and denim shorts. Since Coachella takes place in a desert climate, it's the perfect warm-weather spring destination that can offer a nice reprieve from cold and snow.
Coachella takes place April 13th-22nd this year. And for many, it's one of spring's can't-miss events. However, for Coachella newbies and those who have no clue where Coachella is located (or whether it's even a feasible trip), here's the scoop on Coachella's location, including where to stay and how to get there.
Location:
via giphy
Coachella Valley Music and Arts Festival takes place every April in Southern California's Coachella Valley, hence the name of the festival. Although there is a Coachella, California, the festival actually takes place at the Empire Polo Grounds in Indio, California. Indio is a small town in California's Colorado Desert area, about 2.5 hours east of Los Angeles. Considering how many celebs live in LA, it's no wonder that Coachella always draws a famous crowd. The town also hosts the annual Stagecoach country music festival, which takes place after Coachella.
Places to stay:
While Coachella offers the option to camp overnight at the festival itself, many prefer to stay at hotels in the nearby town of Palm Springs. A favorite vacation destination for stars like Frank Sinatra and Dean Martin, who owned homes there in the 1950s and '60s, the swanky desert town has seen resurgence in recent years. And if you've ever had to deal with LA traffic, you can totally understand why they might appreciate a quiet respite to relax and hang by the pool.
Speaking of which, Palm Springs' hotel pool parties during Coachella are legendary. Places like the Ace Hotel & Swim Club and the Arrive Hotel typically host all-day DJ pool parties, making them fun places to stay during the festival weekends. Nearby towns of Palm Desert and La Quinta also have a range of hotels and motels that would be convenient to stay during the festival. Considering temperatures can reach up to 88 degrees during the month of April in Indio, the air-conditioning might be worth it.
How to get to Coachella:
The easiest way to get to Coachella is to drive or rent a car, due to the festival's remote location. If you're flying to Coachella, landing at LAX airport (2.5 hours away) or the San Diego Airport (also about 2.5 hours away) may be your best bet. However, there is also a small airport in nearby Palm Springs that has a limited number of direct flights to and from cities like New York, Minneapolis, Denver, and others.
If you don't drive, Coachella also offers a variety of shuttles from LAX to the festival's camp grounds, as well as local hotels.
You may also want to consider other options, like Uber or the ride-share service Tesloop that offers rides between LA and Palm Springs inside a Tesla SUV.
So even if you don't live in Southern California, 2018 might just be the year that you visit Coachella for your first time.
Happy Coachella-ing!