This website figured out where all the Game of Thrones characters would live if they existed in modern-day America
In the world of Game of Thrones, home and family are the bedrocks of society—valued above all else. But over the course of the series, many of our favorite characters have been forced to flee their places of origin, trekking all over Westeros, the Free Cities, and beyond in the quest for the Iron Throne. And in honor of the beloved series' long-awaited return for its final season on April 14th, Homes.com has imagined where each of our favorite characters would live if they were house-hunting today in the continental United States.
Enjoy the below "insights."
Jon Snow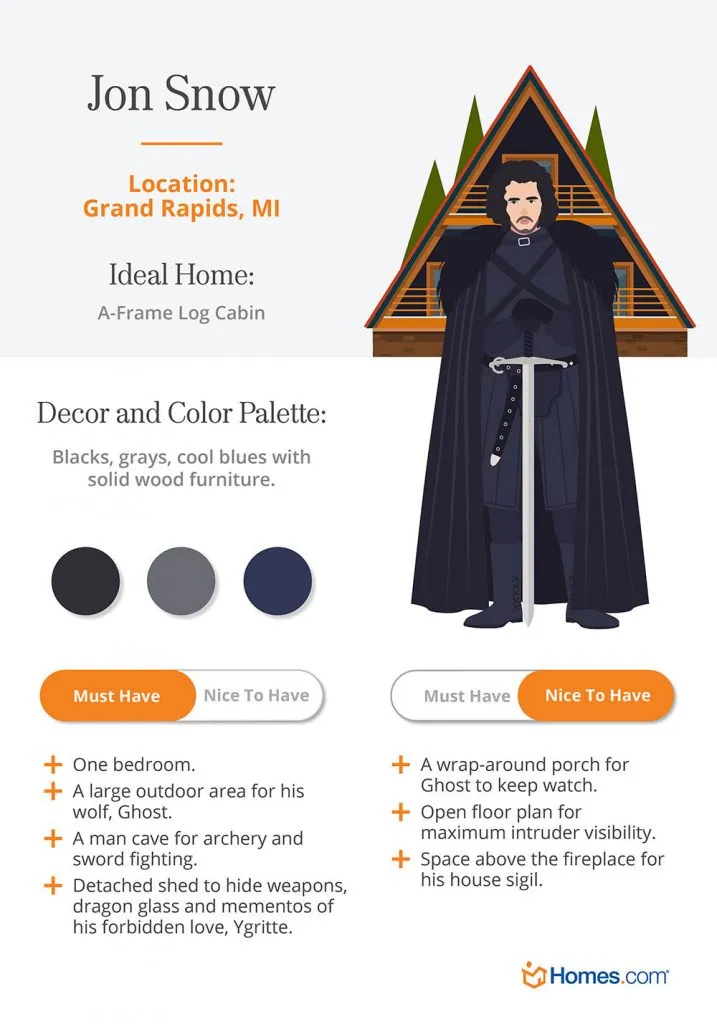 He may not be a member of the Night's Watch or truly be a Stark, but Jon's heart lies in the north. So it's truly fitting that Homes.com has Jon settling down in Grand Rapids, Michigan.
Daenerys Targaryen
The Mother of Dragons' ancestral home of Dragonstone may be a dark, strong fortress on the coast, but Homes.com is honoring Daenerys' time in the deserts of the Free Cities with an earthy home in Santa Fe. Her house must be fit for a queen…and her Dothraki and Unsullied armies, and her dragons.
Sansa Stark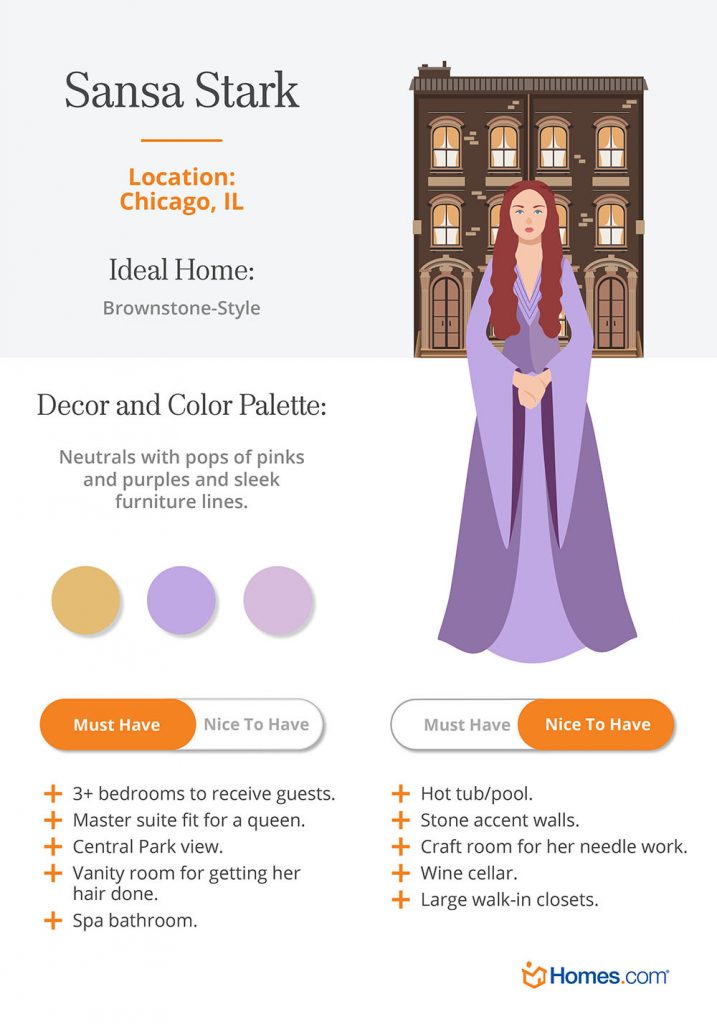 As Sansa steadily rules the north as Lady of Winterfell, Homes.com has placed the underrated power player in a Chicago brownstone.
Cersei and Jaime Lannister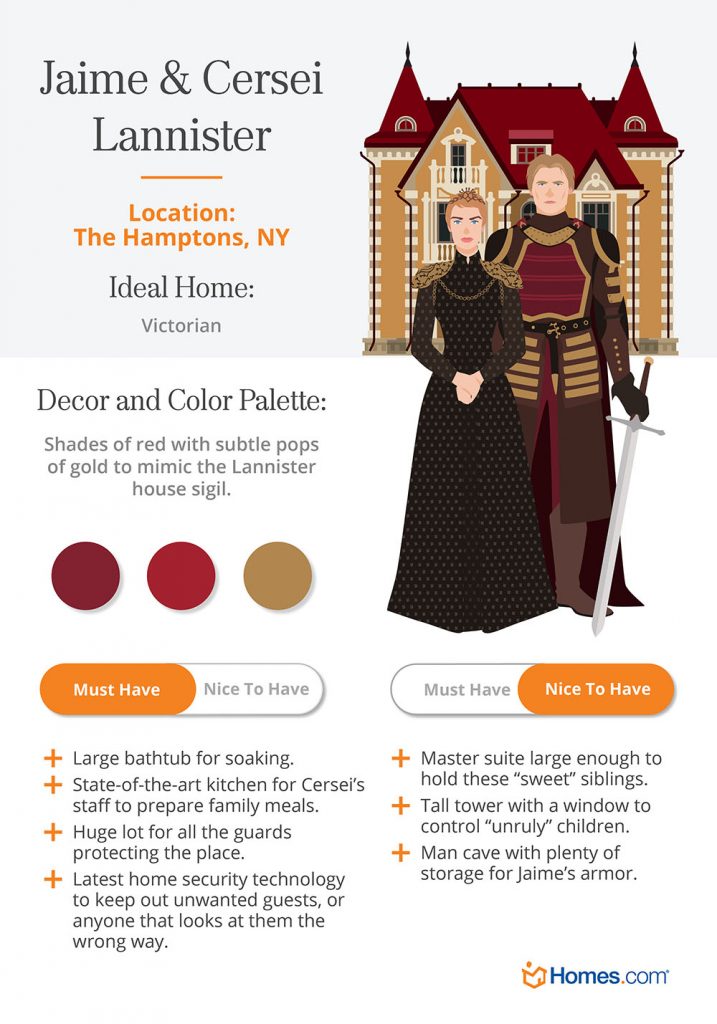 The pair may currently be on the outs, but in the teeny chance the sibling-lovers are able to work things out, Homes.com has the Lannister siblings settling in a posh victorian mansion in The Hamptons. It may not contain the same level of status as the Red Keep, but a sprawling estate would allow the couple to live comfortably (and inconspicuously) in a place not unlike their ancestral home of Casterly Rock.
Arya Stark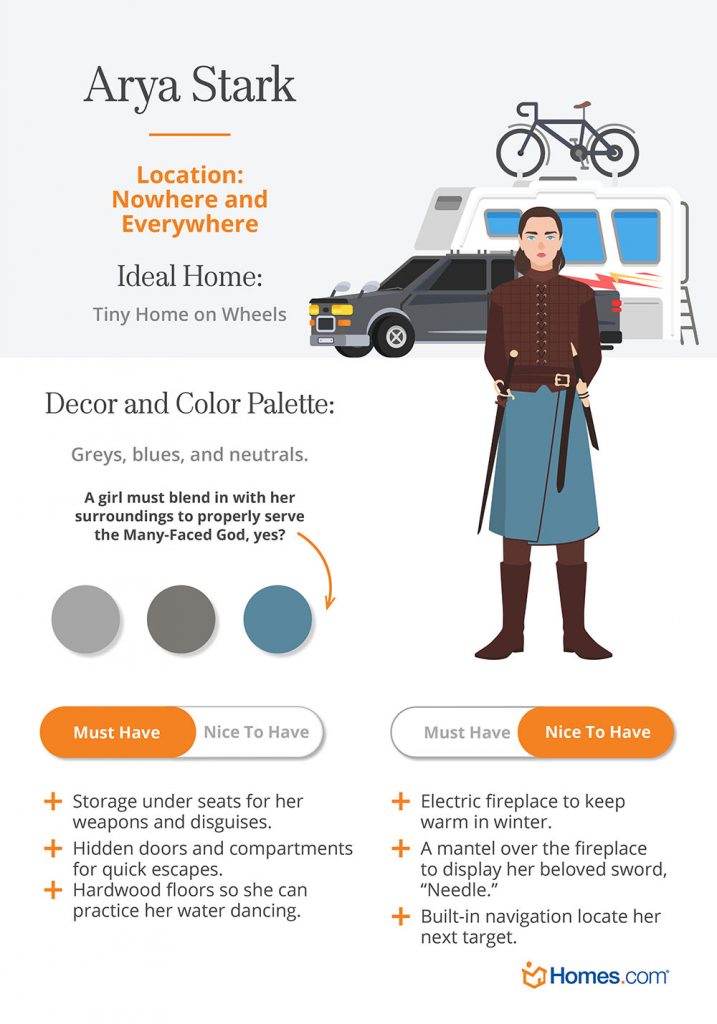 She may finally be back at Winterfell, but no Stark knows a life on the road better than Arya. Having spent the last several seasons as a nomad, trekking through Westeros and Braavos, Homes.com has chosen a home on wheels for the roving warrior. It allows her to travel in comfort while crossing the remaining names off her list.
Tyrion Lannister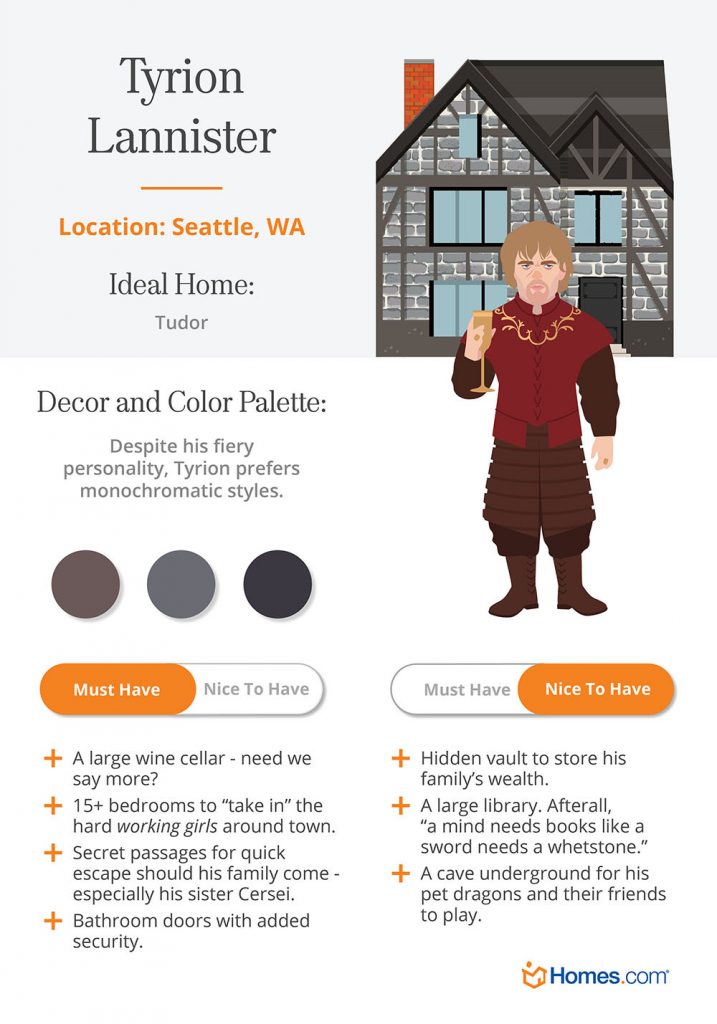 It's only right that Tyrion's home contains a wine cellar fit for a Lannister. Considering his erm, fraught relationship with his sister, Cersei, Homes.com has placed the youngest Lannister on the opposite coast, landing him in Seattle.
The Night King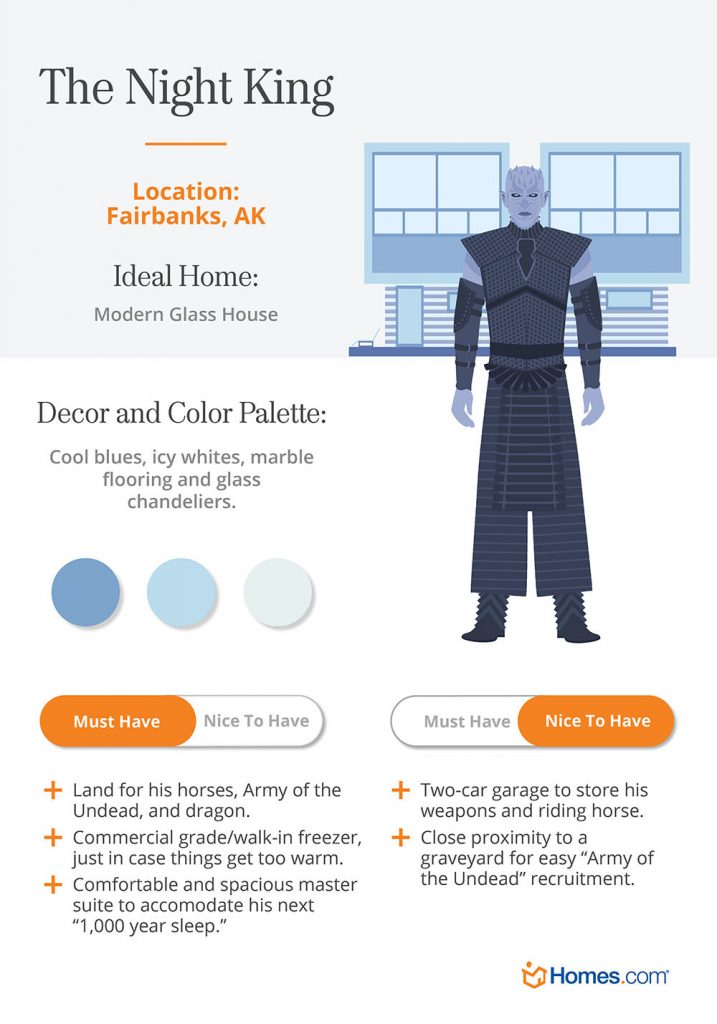 He may be a non-living entity on a mission to kill all Westrosi people, but even the Night King needs a home. Keeping true with his icy roots beyond the Wall, Homes.com has found the perfect place for him in Fairbanks, Alaska.
The final season of Game of Thrones is currently airing on HBO, Sunday nights at 9 p.m. ET.