The new moon in Pisces wants you to focus on your dreams—here's what the means for your zodiac sign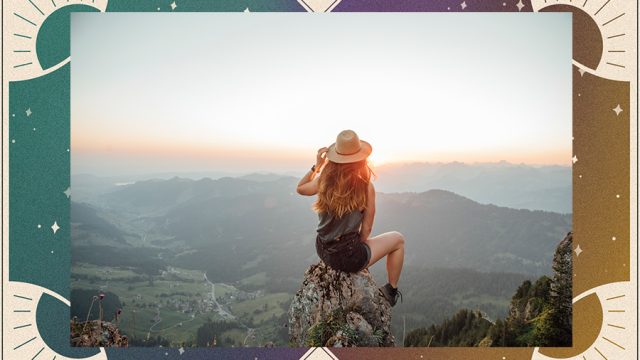 On Sunday, February 23rd, the new moon will occur and will it be an interesting one, as it will form a bright conjunction to Mercury, which is currently in retrograde in Pisces.
However, this new moon is about dreams, fantasies, and romantic ideals. What's interesting about this new moon is that on one hand, we have extremely dreamy and idealistic energies going on, while on the other hand, we have much more grounded and realistic energies happening, too. This allows us to put our heads in the clouds and keep our feet on the ground at the same time. And because of this, you're able to make your dreams become a reality by acting as a bridge between the clouds and the ground.
But make sure you don't censor yourself. While you want to allow dreams, fantasies, and impossible ideals to be played over and over again in your head, you also don't want to forget to ask yourself how you can make these dreams happen in the real world. The solution? Commit to micro-goals that can get you closer to your wildest dreams. Even if they seem out of reach, you can still commit to the process.
Let's check out how the new moon will affect your zodiac sign. Don't forget your rising sign, too. 
 ARIES
Beware of miscommunication, Aries. This new moon could highlight where you have blind spots. Now is not the time to make assumptions or jump the gun. Instead, take the time to ask and double-check what people mean—you might end up happily surprised with what you find!
 TAURUS
Now is a great time to formulate wishes and ask yourself what it is you truly want—you might end up surprised with how quickly your dreams materialize. Try to spend more time forming connections and friendships with other people this week. The key to your success resides in human relationships.
 GEMINI
Your focus is on family and long-term relationships for the next couple of weeks, Gemini. You might feel compelled to redefine long-standing situations and long-term goals. It's good to remember that although you could feel tempted to make strong decisions, now is not the time to move forward with these impulses as Mercury retrograde invites us to repair, revisit, and reassess our choices versus moving forward with them.
 CANCER
You're ready for new adventures, Cancer. Your spirit is youthful, your point of view is fresh, but your patience is short. Go on a vacation, a retreat, or simply approach life from a new perspective this week. While Mercury is retrograde, you're ready for a new beginning.
 LEO
This week is about connecting with yourself, your emotions, and reflecting on what makes you feel truly happy, loved, and connected with your intimate partners and loved ones. While you may feel somewhat disconnected with them, be aware that this is only a temporary vibe that is meant to help you dig a little deeper in your emotions.
 VIRGO
While last week was a little difficult for you or may have triggered some conflict to occur, this week is about recovering from that emotional hardship by letting it go and healing your little heart. If you want, shift your focus from personal relationships to work or your health and routine. This is time you should redefine your habits. 
 LIBRA
This week could bring lots of surprises and changes your way, especially if you're looking for a new house or lover—you never know, you might find both! You may also feel inclined to connect more deeply with your desires, emotions, and needs. During this time, you'll need an equal amount of alone time and time with friends to truly recharge and discover your own needs. 
 SCORPIO
Time to reap the rewards for your efforts, Scorpio. If you've been waiting on closure or a sense of completion on a long-standing situation, you may finally get it. There's also a lot of movement for you this week. You could be traveling, on the road a lot, or you may even communicate or receive news more frequently, especially positive news. What you've been waiting for is finally going to come your way. 
 SAGITTARIUS
While you're not one to commit easily to things, this week is all about reflecting on what you truly value and believe in, making commitments accordingly. You will have to make choices that align with your values—and if possible, that align with the values and traditions that run in your family/community. Either way, your personal values and beliefs will have the upper hand this week. 
 CAPRICORN
The energy is quite hectic for you, Capricorn. If you've experienced hardship recently, then this week is about re-establishing balance and getting the power back in your camp. However, if you've been smooth sailing up to this point, you may struggle and experience more conflict than usual. The point is, no matter what your circumstances are, you have the energy and dedication to overcome whatever comes your way. My advice? Use that extra energy to go to the gym! 
 AQUARIUS
This is a positive week for you. However, you still have the ability to stand in your own way if you second-guess or doubt your thoughts. Because there's a tendency for you to be indecisive this week (which is normal since Mercury is retrograde), just try to cultivate patience and allow for this process to unfold. If you don't rush ahead out of frustration, you'll be able to find the answers you seek.
 PISCES
You're making executive decisions this week, Pisces. Mercury is retrograde in your sign—but you already know how to navigate these blurry energies. However, because of this retrograde, you could thrive and feel more grounded and logical than usual while the rest of us are confused.