When is the 2018 National School Walkout happening? The date is significant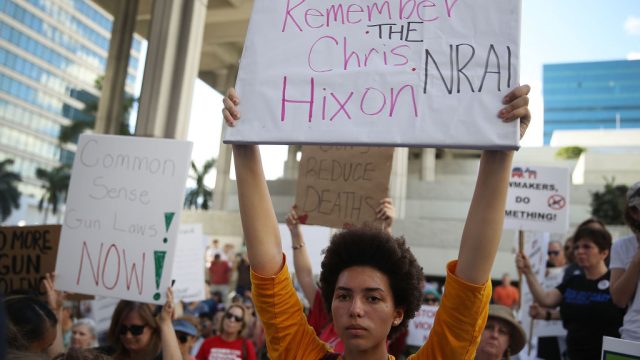 The tragic school shooting at Marjory Stoneman Douglas High School in Parkland, Florida has left survivors, parents, and thousands of others frustrated about our current gun control regulations. And people are taking action. The organizers of the Women's March are planning a National School Walkout Day to protest gun violence. Many have spent the last few days rallying and delivering powerful speeches, and it's clear that action is what is wanted (and needed) most. So, when is the 2018 national school walkout happening? It's coming up soon.
The national school walkout will take place on Wednesday, March 14th — one month after the Florida school shooting. Women's March Youth EMPOWER is calling for students and allies around the country to participate in a 17-minute walkout. The news of the walkout began to circulate Twitter on Friday, February 16th, followed by a Facebook event with the full details.
"Women's March Youth EMPOWER is calling for students, teachers, school administrators, parents and allies to take part in a #NationalSchoolWalkout for 17 minutes at 10am across every time zone on March 14, 2018 to protest Congress' inaction to do more than tweet thoughts and prayers in response to the gun violence plaguing our schools and neighborhoods," the Facebook event reads. "We need action. Students and allies are organizing the national school walkout to demand Congress pass legislation to keep us safe from gun violence at our schools, on our streets and in our homes and places of worship."
The Facebook event goes on to detail how both students and faculty have the right to teach and learn in a safe environment, while parents should not have to worry about sending their children off to school.
"We are not safe at school. We are not safe in our cities and towns. Congress must take meaningful action to keep us safe and pass federal gun reform legislation that address the public health crisis of gun violence. We want Congress to pay attention and take note: many of us will vote this November and many others will join in 2020."
Survivors from the shooting also announced that they will lead a nationwide March For Our Lives on March 24th.
The March For Our Lives will take place in the streets of Washington, D.C. and call for action on gun control while addressing the U.S. government directly.
It's evident that the Parkland community is not letting anyone forget about this mass tragedy.
Their actions will hopefully lead to the change from our leaders. It's time to go beyond thoughts and prayers.