When does Mercury Retrograde end? Please tell us the end is nigh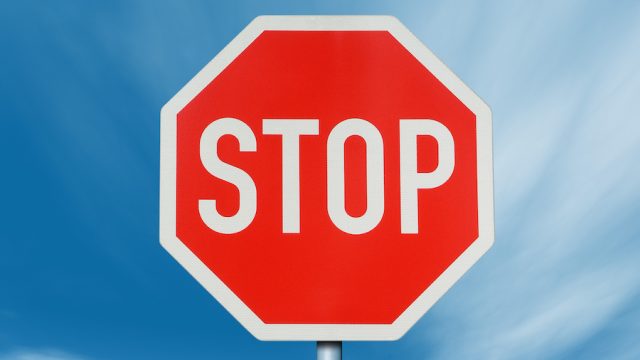 If you've been making silly mistakes and feeling like things haven't been working out for you the last few weeks, you're not imagining things: Mercury Retrograde began on March 23rd, right after the Spring Equinox. Mercury Retrograde is known for throwing things out of whack, causing weird communication and tech mishaps, and generally making things a lot harder than they need to be. The good news? It has stop at some point. So when does Mercury retrograde end this spring? While it's not exactly around the corner, we are getting close to the finish line.
Mercury Retrograde refers to the astrological phenomenon of Mercury spinning faster than planet Earth. Because it's spinning so fast, it looks like it's actually spinning backwards — although it definitely isn't. That's why it's called Mercury Retrograde.
And what does that have to do with you? The planet Mercury rules communication, travel, and technology. When Mercury Retrograde is going on, these things can seem backwards, if you will. You may experience weird conversations where you can't seem to get someone to understand your point, or communication mishaps where you keep saying the wrong thing. Mercury Retrograde can screw up travel as well, making it easier to get lost or experience delays in some way. It can even affect technology! It's very frustrating.
At this point, you're probably more than ready for it end, and the good news is that you don't have to wait too much longer. Mercury Retrograde ends on April 15th, meaning you can ease into a more relaxed time when you don't have to avoid big changes and can just kind of chill out. You can wake up on April 16th and breathe a huge sigh of relief knowing that the planets are back to normal…sort of.
To get through the rest of Mercury Retrograde, just try to avoid making any huge decisions or big changes.
Make sure you always have a back-up plan in case something goes wrong, no matter what you're doing. You might not want to have a serious conversation if it's something you can put off for a week or two. This is a great time to reflect on the past, so do that and allow it to help you pave the way for a better spring moving forward.
After Mercury Retrograde ends on April 15th, you can look forward to a few months without worrying about it…until it returns on July 25th. Good luck out there!