This is what you need to pay attention to when shopping for true organic beauty products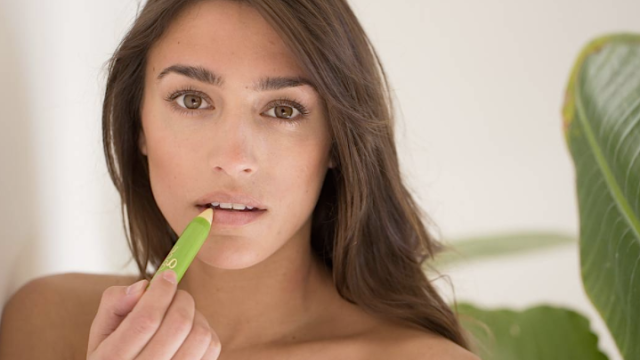 Without a doubt, one of the most positive beauty trends in the past few years has been the mainstream pull towards the merits of organic beauty and skin care products, a message that green beauty lovers have been preaching for years. While the concept of natural and organic beauty products sounds pleasant to most of us, there comes a point where many of us feel confused about what these words even mean.
In order to get the real inside scoop on what it means to be organic skin care, HelloGiggles chatted with Abbott Stark, the co-founder of Ogee about what it means to be truly organic. He said one of the keys way to find out if a brand is legit, is by checking if they're organic certified, and not merely using the word organic. Abbott explained:
"It is very important to look for an organic certification because the organic certifier does the homework. Organic certification, takes a stringent approach. It requires that maximum organic content is utilized and allows only certain natural ingredients be used in formulations, with a very strict set of standards in place. Ogee is certified to the NSF organic standard, which examines every ingredient from the field where it is grown."
In his email to HelloGiggles, Abbott went on to explain what exactly is required to meet the NSF organic standard,
"The organic standards ensure that no GMOs have been used, that our ingredients are not extracted or reacted with petroleum ingredients, that toxic pesticides have not been used, and that formaldehyde is not used – in addition to all of the basics about being totally free of synthetic fragrances, dyes, silicones and parabens!"
For Ogee in particular, a lot of their products feature the all-star ingredient Jojoba oil, which, according to Abbott, has been raved about in various studies,
"There have not only been several clinical studies on the benefits of Jojoba Oil, but the research has confirmed that it really is the best oil for all skin types. That makes sense because over the last 50 years, studies of Jojoba Oil have revealed its molecular similarity to the building block oils of human skin. It has been proven to repair the top layer of the skin, which helps prevent fine lines and wrinkles from forming over time."
For newcomers to organic skin care, and more specifically the Ogee brand, Abbott recommends the Sculpted Lip Oil, which has peppermint for plumping properties with the moisturizing goodness of jojoba.
Another one of our favorite organic skin care brands is Nourish Organic, who have a full-fledged line up of  USDA certified organic products. They stand out even more then some brands because of their products are not only organic, but also vegan and cruelty free.
Their site shares,
"In addition to being completely natural and organic, our products are also cruelty-free, gluten-free, and mostly vegan. We display all of the following badges with pride on all of our packaging, so you can be sure that no product you buy is kinder to your skin, and to the earth and the animals with which we share it."
For those feeling confused about the differences between vegan, natural, organic and cruelty-free, this is the breakdown.
Natural products don't use synthetic ingredients; organic products are required to fulfill certified organic standards (as stated above); cruelty-free products aren't tested on animals; and vegan skin care is free of animal products.
While it seems like all of these would overlap (and they often do), in most cases, products aren't all of these at once.
However, the connection between organic skin care and general goodwill towards the environment does tend to run strong. The brand Promise Organic (which is both organic and natural) donates 1% of their profit to the Nature Conservancy. So you can feel ethical in a few ways when you purchase their Coconut Milk Hand Creme. Balanced Guru is another certified organic beauty brand that supports non-profit groups like Terrawatu and Connected Warriors.
Certainly, in the last few years more new brands have formed and jumped on the organic skin care train. But cult classics such as Dr. Bronner's have been playing the game long before it was popular in the mainstream. The brand was first started in 1948 and has touted impressively progressive values for decades, with all of their products certified organic and cruelty-free, and everything except their lip balm is certified vegan (there is beeswax in the lip balm).
Dr. Bronner's is also also certified fair trade, so the mildly spiritual labels about loving the earth and other human beings truly represent the company.
Beyond the comfort of knowing organic skin care is free of GMOs, held to a higher standard, and in many cases better for the environment, there are also just a lot of really beautiful and effective products.
One of our favorites is the Nourishing Orange Flower Night Creme from Neal's Yard Remedies, which is a certified organic and vegan night creme that will make your skin feel like a soft baby flower. It combines the properties of neroli oil with orange blossoms, rosehip, sea buckthorn and pomegranate to treat your skin to nature's decadent nourishment.
One thing we've learned is, besides being held to higher certification standards, organic skin care has a lot of truly exquisite options.