What you should never do to your hair, according to professional hair stylists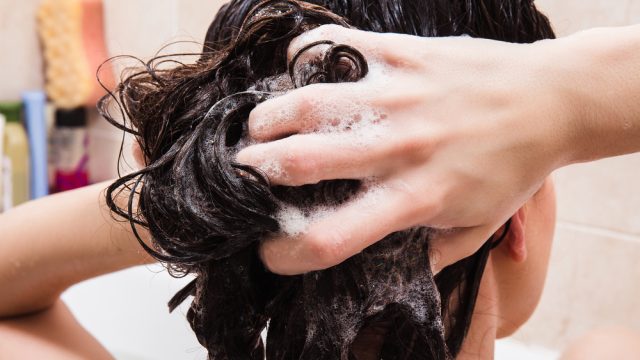 We've all got our daily hair routines, whether they involve frequent washing, daily flat-ironing, or just brushing and going. But if you're anything like us, you've probably wondered what your hairstylist thinks you should never do to your hair (because what's better than insider secrets?!)
Well, we've got some good/bad news: A group of celebrity hairstylists have shared the absolute worst things people do to their hair, so the good news is now you know, but the bad news is, uh, you've been messing up your hair for the last decade (sorry!)
First up, we learn all about washing and conditioning. Get ready to take notes!
According to Rihanna's stylist, Yusef, we need to stop washing our hair every day. "This can strip your hair of its natural nutrients and oils," he says.
"And when you do shampoo, I always recommend using a moisturizing shampoo with natural ingredients like MOP's C-System Hydrating Shampoo, which smells amazing." It'll run you about $30 a bottle.
Amy Adams and Emily Blunt's stylist Laini Reeves says she encourages her clients to read the ingredients on their shampoo bottles.
"There are a lot of shampoos that have harmful ingredients in them that are not only awful for your hair, but for your body," says Reeves. "That's why I trust products like ABBA pure performance's sulfate- and paraben-free color protection line, which helps protect your hair while leaving it softer and shinier."
For LeAnn Rimes and Jewel's stylist Brian O'Connor, the worst hair offense is assuming any shampoo will work on color-treated hair.
"Don't use just any type of shampoo on color treated hair," he says. "Always use a sulfate-free shampoo as sulfates strip your color."
Last but not least, Paloma Picasso's hair guru Melissa Peverini says that leaving rinse-out conditioner in your hair for long periods is a big no-no. "Some contain proteins that can do more harm than good, making hair weaker and frizzier [and] throwing off the moisture balance."
https://www.instagram.com/p/BLraTg5AklJ
She also says that the cardinal rule of hair washing is brush first: "Don't get in the shower without brushing your hair. Your products will not distribute evenly and can leave your hair a tangled mess. Try a brush specifically for detangling, such as Cricket Co. Ultra Smooth Detangling Brush."
On to the experts' top styling tips…
When it comes to drying, Peverini says it's important to always point the blow dryer down to avoid creating frizz.
"Don't dry your hair sections with the hair dryer pointing upward on the strands," she says. "Point downward to keep the cuticle closed and smooth."
O'Connor cautions against wearing slicked-back ponytails on a regular basis. "This tends to create stress points around your hairline, causing breakage and giving you those frustrating fly-away baby hairs that annoy us when styling," he says. "Instead, try doing a low, loose ponytail."
Yusef's advice is plain and simple: "Avoid using heat tools on a daily basis, this is SUPER damaging to hair."
Reeves has some advice for bang-wearers everywhere: Don't cut your bangs extra-short just to make the cut last longer.