What is the Women's March? Here's everything you need to know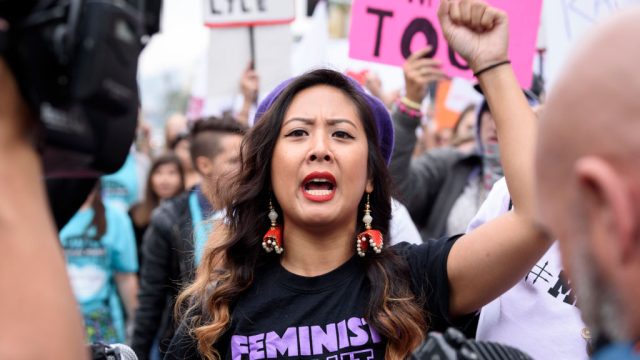 On January 21st, 2017, the day after Donald Trump's presidential inauguration, the first annual Women's March took place. Over five million people worldwide marched for equality, justice, and human rights in what seems to be the largest single-day protest in American history. It's hard to believe that it's been a full year since then, but the second Women's March is just around the corner. It will be happening on January 20th and 21st across the country. Yet, what exactly is the Women's March? Despite what the name may make it sound like, it's about a lot more than fighting for women's rights.
The idea for the Women's March grew out of feelings of anger and frustration after Trump was elected president. It was a protest of Trump's first official day in office, and was a way for many women and men to remember the power they have while trying to take it back. According to the official Women's March website, it's mission "is to harness the political power of diverse women and their communities to create transformative social change."
This year's march is about defending basic human rights and standing up for those who are unhappy with the Trump administration. The Facebook page for the New York City Women's March explains the mission:
"Over the past year, basic rights for women, immigrants, LGBTQ+, people with disabilities, the religious and nonreligious, people of color and even Mother Earth have struggled to survive under the weight of the current administration. America's First Amendment has been challenged and healthcare for millions has been threatened. We must stand together to demand and defend our rights."
The protest might be a women-led movement, but it is open to anyone who wants to challenge the work of the Trump administration. Last year's march saw women, men, and children walking the streets with signs displaying powerful messages to combat racism, gender inequality, and much more.
The Women's March was originally organized by a woman named Teresa Shook from Hawaii, who created a Facebook event for a march on Washington in protest of Trump.
The event gained steam, and soon more began popping up. The Facebook pages were eventually consolidated into one huge, official Women's March on Washington. Planned Parenthood ended up partnering with the Women's March, providing staff to help out, and similar marches were organized in other countries. The first march exceeded expectations and grew into something much larger than the organizers could have ever imagined.
In many places, the Women's March is taking place on January 20th. On January 21st, the Women's March: #PowerToThePolls protest is happening in Las Vegas, Nevada. According to the website, this is a year-long "voter registration and mobilization tour" that will work to register voters and increase support for women and progressive candidates. The tour is aimed specifically towards swing states in America, which is why it's in Nevada (a swing state with the potential to turn blue in the midterm elections).
Co-president of the Women's March, Tamika D. Mallory, says on the website,
"In 2018, we must turn our work into action ahead of the midterms. This new initiative will address voter registration and voter suppression head on. We marched for justice in DC, we created our plan in Detroit and now we're bringing the power of the polls to Nevada."
If you don't already have plans for the weekend of January 20th, you might want to consider joining in on a protest near you.