Harry and Meghan revealed what went wrong at the royal wedding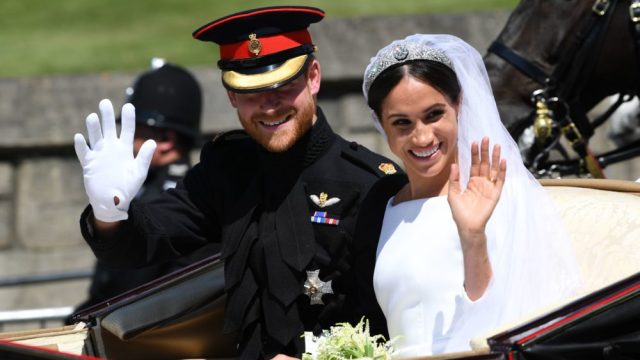 No wedding is completely perfect, but Prince Harry and Meghan Markle's royal nuptials in May came pretty close. However, it turns out that one thing didn't go exactly as planned, and Harry and Meghan have opened up about the wedding mishap for the first time.
Vanity Fair's royal correspondent Katie Nicholl reports that Harry and Meghan spoke about the 2018 royal wedding in a taped interview for the Windsor Castle exhibit "A Royal Wedding: The Duke and Duchess of Sussex." In the interview, the couple recalled that a spring cold snap threw a wrench in their plans for the wedding bouquet. The duchess said that she and Harry originally planned to use flowers from their garden at Kensington Palace to make her bouquet.
"We have a very small garden here that we had been planting things in the fall [...]. and what was really special, I think, was that the morning of the wedding Harry went in and he picked some flowers to go into my bouquet, which was really beautiful and something that makes it sentimental and really meaningful," she said in the interview.
But Harry jumped in to add that this plan didn't work out quite as they'd hoped:
"We didn't have as many flowers in our little garden as we had hoped for because I think it snowed at Easter! That kind of ruined the whole thing!"
Even with this slight hiccup in Markle and Harry's wedding plans, the ceremony was still gorgeous. Though it was small, Markle's bouquet was an elegant mix of sweet pea, lily of the valley, astilbe, jasmine, astrantia, and other flowers from the couple's garden, as Harper's Bazaar notes.
Thankfully, the duke and duchess said that the rest of their royal wedding went smoothly. There were no problems with Markle's tiara or her regal Givenchy wedding dress (which is currently on display at the exhibit).
Harry was especially pleased with the song he chose to accompany his bride's walk down the aisle. He said in the interview that he found the piece, Handel's "Eternal Source of Light Divine," when he was looking for a different song. He said that the piece "epitomizes the whole day, the whole feeling that I have for her."
"A Royal Wedding: The Duke and Duchess of Sussex" opens at Windsor Castle today, October 26th and will run through January 6th, 2019.