What you need to know about the 2018 Nasty Women Unite Fest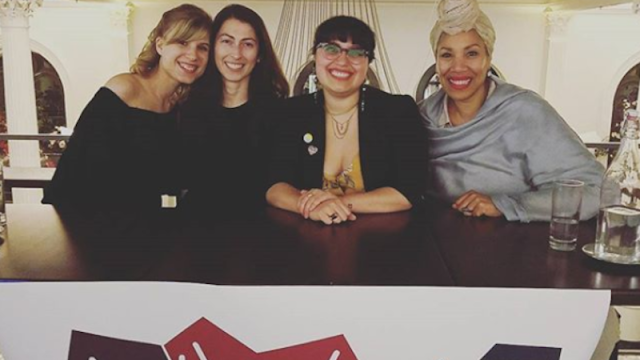 One of the few good things that came out of the hellish campaign cycle of 2016 is the solidarity that marginalized individuals found in resistance. Even insults like "nasty woman" became a battle cry for those disregarded by the misogynist nature of our society.
It's in that spirit that the first annual Nasty Women Unite Fest was born. A multi-day festival, this gathering is aimed at amplifying those underrepresented voices — creating a platform for individuals who identify as women, femmes, and non-binary from all backgrounds.
Now in its second year, the Nasty Women Unite Fest — in association with Fractured Atlas — is looking for submissions for this year's event.
If you're a performer, filmmaker, dancer, comedian, actor, musician, artist, or spoken word performer, NWUF is looking to showcase your talents. For this year's event, the four day-long fest ais being split into different themes — "Belonging," "Attachment," "Strive," and "Being." Chosen submissions will be incorporated into those categories, making for four thematic events. You can find more information on how to submit here.
Last year, 40 artists and performers were showcased from across several genres. Filmmaker Poppy Liu, movement artist and active organizer of the Women's March Convention, Nikita Chaudry, founders of the Trans Literacy Project, Lauren Ashley Rodgers and Maybe Burke, and Boston-based comedian Srilatha Rajamani are just some of the talented contributors from the 2017 lineup.
Additionally, NWUF also features panels focusing on topics such as health and empowerment, intersectional feminism, and challenging stigma — issues that substantially impact women today.
Here the curators of the festival — Allison Brzezinski, Kate Moran, Rebecca Aparicio, Katlin Nemeth, Christine Schisano, Sara Chan, Sohalila Mahjour, and Regina Hoyles — talk about what "Nasty Woman" means to them in this video.
https://www.youtube.com/watch?v=SYJvyKEE3ws?feature=oembed
Kate Moran, the Vice President of the Nasty Women Unite Fest, shared the organization's reason for reclaiming the "Nasty Woman" moniker:
"'Social Justice Warriors' (which I proudly consider myself) may be mocked for using loaded and heady vernacular, but for those of us who are fighting for equal rights, visibility, and to be heard, we must reclaim and repurpose a language that was never created with our existence in mind. Being a Nasty Woman is many things - it's a state of being, it's a movement - it's inclusive, supportive, and everything that we at NWUF embrace and celebrate.
This year's NWUF is being held on June 5th-6th at artistic laboratory TheatreLab in NYC and June 7th-8th at independent film studio StoneStreet Studios in NYC. If you'd like to submit, applications close on April 16th.