What time is "Jesus Christ Superstar Live" tonight? You don't want to miss a minute of it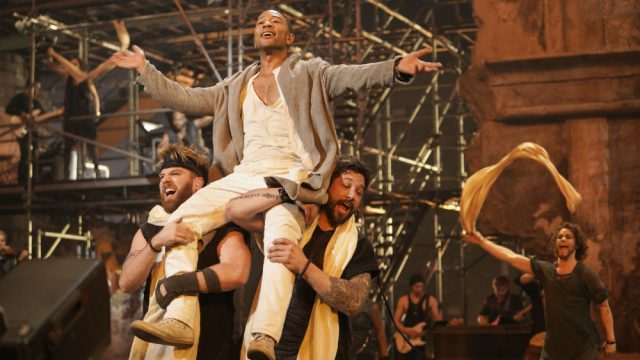 Easter Sunday means lots of chocolate, colorful eggs, and baskets of candy everywhere. But let's not forget the real reason we're celebrating today: For Christians, it's the holiest day of the year. And if you're looking to make the religious part of the holiday even more exciting, you need to set aside some time to watch Jesus Christ Superstar Live, NBC's next live musical show. It's going to be amazing and trust us: You don't want to miss out. So, what time is Jesus Christ Superstar Live? And where can you watch it? We've got all the details so you can fully take part in the fun.
Here's what you can expect tonight: Jesus Christ Superstar began as a hit concept album in 1970 and debuted on Broadway in 1971. It was a Tony-nominated rock opera done by Andrew Lloyd Webber and Tim Rice, who are executive producers of the live performance that is airing today. (So, basically, you know it's going to be good.) The play is about Jesus' last week of life and is told from the point of view of Judas, who was one of Jesus' twelve disciples and one who ultimately betrayed him.
NBC's Jesus Christ Superstar Live isn't going to be a fancier, splashier version of the old play. It's sticking to the basics and just focusing on the story of Jesus Christ and his last few days on Earth.
John Legend will play Jesus Christ, which you definitely know if you follow Chrissy Teigen on social media.
Hamilton's Brandon Victor Dixon will play Judas, Sara Bareilles will play Mary Magdalene, and Alice Cooper will play King Herod. It's directed by David Leveaux.
The live show is going to be broadcast from the Marcy Armory in Williamsburg, Brooklyn.
So even if you live far, far away, you can still enjoy it in all of its live glory. What time is Jesus Christ Superstar Live? It will air from 8 p.m. until 10:15 p.m. on NBC. It will also be streamed through Hulu and NBC.
The show includes a great cast and is expected to be really enjoyable to watch. This is one of the biggest stories ever, and it's such an important part of the Easter holiday. If you're celebrating, this really is one you don't want to miss. Enjoy!