Here's what presidents loved to snack on, including cottage cheese with ketchup and peanut butter waffles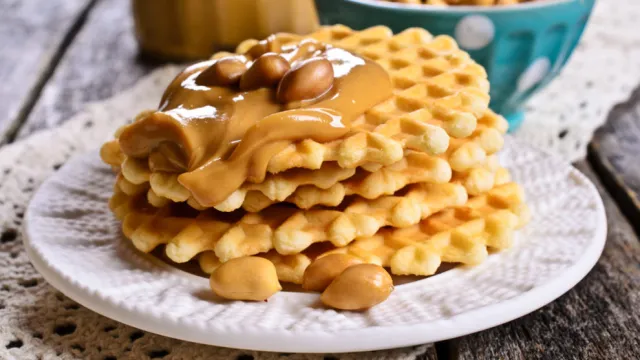 Do presidents have particular presidential tastes, or everyday ones like us? After all, we all have certain snacks and foods we love, or combos of food we love (french fries dipped in yogurt, anyone?!). Well, we're happy to learn that we're not the only ones. It turns out that presidents have favorite snacks, too, some of them more surprising than others.
Here are a few examples.
George H.W. Bush
When he was on the presidential campaign trail in 1988, George H.W. Bush said he liked salty, crunchy pork rinds, reported Vogue. What happened next? Sales increased and Bush was dubbed "Skin Man of the Year."
Bill Clinton
When he was the governor of Arkansas, Bill Clinton loved going to Doe's Eat Place in Little Rock for a greasy jalapeño cheeseburger, reported Today. Then, as POTUS, he loved McDonald's. People became aware, including SNL.
Clinton later had heart-related surgeries, eventually becoming a vegan in 2011.
Ronald Reagan
According to Time, Ronald Reagan ~loved~ jelly beans, as in we're surprised he didn't open up his own jelly bean factory. But Reagan didn't love just any jelly bean. His fave? Jelly Belly, formerly known as the Herman Goelitz Co. When Reagan was the governor of California, he and his guests went through two dozen 1-lb bags per month (aka 10,200 beans!).
But that's nothing compared to when Reagan was in office at the White House. Then, he had 720 bags of beans on hand per month — for the White House, Capitol Hill, and other federal buildings. Approximately how many beans is that? Only 306,070 (!).
Richard Nixon
Nixon's daily lunch? Cottage cheese with ketchup, according to Vogue. Interesting, amirite?!
Jimmy Carter
Jimmy Carter sounds like our kind of guy — basically, back in the day, he loved peanut butter-anything, according to Vogue. From peanut butter cornbread (!) to breakfast foods, like peanut butter pancakes, waffles, and French toast (all with peanut butter, of course).
After all, before becoming president, Carter was a peanut farmer. So, it makes a ~ton~ of sense that he loved all of the above. Our only question is: Does he still today?!
Barack Obama
President Obama is into a salty-sweet treat — Fran's Smoked Salt Caramels, reported Today. Yep, they're like they sound, buttery caramels with milk chocolate and smoked sea salt. Um — does anyone else need to go on a chocolate run rn, or is it just us?