This is the one object Maisie Williams kept from the set of Game of Thrones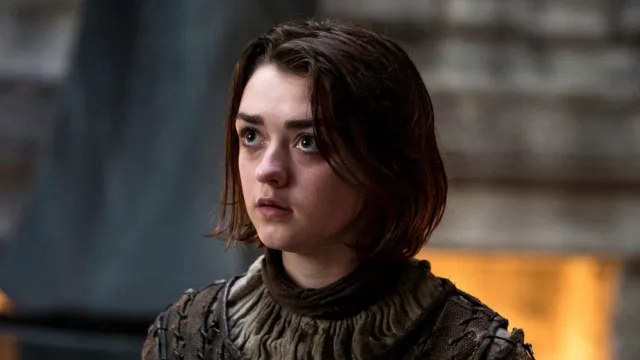 It's been a bittersweet year for Game of Thrones fans. On the one hand, we are now less than a year away from seeing the undeniably EPIC final season. But on the other, we have to slowly prepare for the end—like, ahem, winter is finally here—of the HBO series. Sigh.
We teared up when we read Emilia Clarke's touching goodbye post to Game of Thrones on Instagram. We wept when we heard Kit Harrington's emotional farewell to the show during a BBC interview. And now, we have a whole new reason to cry: HBO is sending Maisie Williams an incredible Arya Stark keepsake that couldn't be more perfect. Pass the tissues, please.
Bustle reports that a GoT costumer is sending Williams Arya's brown leather jacket. It's the double jacket that made her look more like her pops, Ned Stark. This one here:
During an appearance on The Radio 1 Breakfast Show with Nick Grimshaw, Williams hilariously recounted her glee about the thoughtful gift.
"I can imagine it being something that I'm like, 'Oh, I was on this show once upon a time and this was the jacket I wore.' And my grandkids being like, 'Please stop.'"
The jacket is truly the perfect way for Williams to remember her fierce character. It encapsulates Arya's character arc to a T, from lone wolf assassin to familial warrior. And, let's be real: How could anyone's grandkids not think it's cool to see their grandma fighting off bad guys on TV?
Aside from Arya's jacket, Williams says she didn't take anything from set.
"I didn't take anything. Other than a lot of dirt in my hair and under my fingernails."
The jacket might help with Williams's sadness about leaving the show behind, which she compared to "cutting an arm off."
"I cried a lot," Williams told Grimshaw about her final day on set. "I bawled and I tried to do a speech…I got back to my trailer and I was like, 'I can't even remember what I just said.' I probably just whittled on for, like, half an hour."
We're glad that Williams is slowly getting some closure as her once-in-a-lifetime experience comes to an end.