What, exactly, has James Franco been accused of?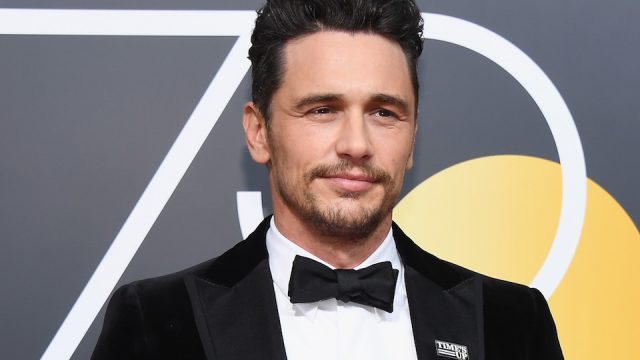 After winning Best Actor in a Musical or Comedy Motion Picture at the 2018 Golden Globes, you'd think James Franco would be riding high. However, the actor and director of The Disaster Artist has been accused of sexual misconduct by multiple women on social media in the wake of the Globes. While Franco has denied the allegations made by Sarah Tither-Kaplan and Violet Paley on The Late Show with Stephen Colbert, that's not going to be the end of it. The #MeToo and #TimesUp movements are in full force and women are demanding the accountability they deserve.
On January 7th and January 8th, respectively, Tither-Kaplan and Paley accused Franco on Twitter. In response, during the January 9th episode, James Franco told Colbert:
"The things that I heard that were on Twitter are not accurate, but I completely support people coming out and being able to have a voice because they didn't have a voice for so long. So I don't want to shut them down in any way. I think it's a good thing and I support it."
Colbert not only called Franco out, he also gave Franco a chance to defend himself. Yet neither Franco nor Colbert stated what exactly the accusations against Franco are during his late-night appearance.
https://www.youtube.com/watch?v=GpEuHHMy-Z8?feature=oembed
It only takes going to Twitter to find out what these two women are saying. Filmmaker and actor Tither-Kaplan wrote:
"Hey James Franco, nice #timesup pin at the #GoldenGlobes , remember a few weeks ago when you told me the full nudity you had me do in two of your movies for $100/day wasn't exploitative because I signed a contract to do it? Times up on that!"
https://twitter.com/udfredirect/status/950165990213496832
According to Tither-Kaplan's IMDb page, she recently worked on the upcoming movie The Long Home, which stars and is directed by Franco. She was also in the 2017 films Blood Theatre, which Franco wrote, and Actors Anonymous, which stars Franco and was based on his novel of the same name. So Tither-Kaplan could be referring to two of these three films in her tweet. (She's also worked professionally with him in Making a Scene with James Franco.)
Tither-Kaplan has received criticism since writing that she signed a contract, but responded saying: "[I] one hundred percent did not feel like I had a choice to say no."
https://twitter.com/udfredirect/status/950254472923508736
She also wrote that her nude scenes were improvised, which is not standard practice for the film industry.
https://twitter.com/udfredirect/status/950258649984741376
The other accusation comes from Paley, another actress and filmmaker. Like Tither-Kaplan, Paley seemed to come forward after she saw Franco wearing a Time's Up pin during the Golden Globes. The Time's Up pins were worn to show solidarity with women and for the new legal fund created by women in entertainment to stop sexual harassment, sexual assault, and inequality in the workplace. Yet unlike Tither-Kaplan, Paley's alleged experience seems to be sexual abuse outside the workplace. Paley wrote:
"Cute #TIMESUP pin James Franco. Remember the time you pushed my head down in a car towards your exposed penis & that other time you told my friend to come to your hotel when she was 17? After you had already been caught doing that to a different 17 year old?"
She clarified on Twitter that she was not 17 years old when this alleged event took place. However, she does say he invited her 17-year-old friend to his hotel. Paley stated that "a lot more details" about the incident in the car will be revealed soon.
And the "different" 17-year-old she refers to could very well be the one that Franco admitted to pursuing after pictures of their text conversation surfaced online back in 2014.
Paley also tweeted that she had a consensual relationship with Franco, which made it more difficult to come forward about the alleged incident in the car.
Although her tweets have since been deleted, another woman who came forward about potential inappropriate behavior from Franco was actress Ally Sheedy, who is best known for starring in The Breakfast Club. Franco directed Sheedy in an Off Broadway play in 2014 and during the 2018 Globes, she tweeted:
"James Franco just won. Please never ever ask me why I left the film/tv business."
"I have no idea what I did to Ally Sheedy," Franco told Colbert. "I had nothing but a great time with her."
While Sheedy's accusations were not clear, they seemed to have to do with sexual misconduct in Hollywood, too, since she wrote before he won, "Why is a man hosting? Why is James Franco allowed in?"
As for Paley's experience, she claims that Franco "offered me & a few other girls an overdue, annoyed, convenient phone 'apology'" a couple weeks before the Globes. She suggested he could donate his earnings from The Disaster Artist to the Rape, Abuse & Incest National Network (RAINN).
Although there are bound to be more details if Paley has anything to say about it, Franco has now been accused of sexual assault in his personal life and sexual harassment in his professional life. And Franco is going to have to do a lot more than say these accusations aren't "accurate" if he wants to prove he's truly a supporter of the Time's Up movement.