What it's like to run an all-romance bookstore in Los Angeles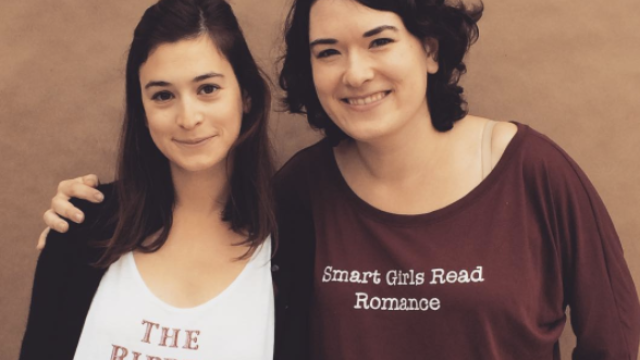 Meet Bea and Leah Koch, sisters and owners of The Ripped Bodice, the only exclusively romance brick-and-mortar bookstore in the ENTIRE United States. Based in the Culver City neighborhood of Los Angeles (though they also have an online store!), Bea and Leah opened up this dream bookstore in 2016 after raising more than $90,000 in funds on Kickstarter. Now, their thriving and powerfully feminist shop is home to a bookclub, constant events with incredible authors from the romance genre, and packed book signings.
Read on for Bea and Leah's respective diaries. You'll see how they work together as sisters (with help from their ever present dog, Fitz), deal with condescending "customers" (mansplainers), and create an empowering, beloved space for book lovers.
Bea's Diary
Day 1
5:30 a.m.: It's International Women's Day, motherfuckers. I am an early riser. It just happens naturally, so now I don't fight it and go to bed very early so I can make use of these early morning hours. I spend some time snuggling with my dog Fitzwilliam, my life partner, and then I make coffee and we head out on a walk.
6:30 a.m.: Back home and catching up on the news of the day. I am a political news junkie, so I check the headlines on New York Times, Washington Post, Politico, and the Tribune, and listen to the new episode of Pod Save America.
7:30 a.m.: Leah is leaving for her first vacation since we opened the store. She comes to say goodbye to me and Fitz, and reminds me that I will need to post a sign explaining our decision about the women's strike. After much agonizing (and checking in with our sounding board, i.e., our sister-in-law) we've decided to close early at 3 p.m.. We want to honor the idea of the day, but also, we don't work for men…it was a tough call.
9:30 a.m.: I pick up coffee on the way into work, where Fitz receives his first treat of the day (a puppucinno) and some adulation. Walking around with this dog is like walking around with a rockstar. People literally point and stare in excitement.
10:40 a.m.: I deal with email first thing. Nothing too urgent, so I check our social media channels. I have a very complicated relationship with social media. I take things very personally. So I try and limit my time spent on them, especially  Twitter.
11:30 a.m.: I do enjoy Instagram, and spend a lot of time staging our pictures for the store's Instagram. I spend even more time on Fitzwilliam's personal Instagram (@fitzwilliamwaffles). Honestly, dogs bring out the best in people, so his Instagram page is sheer joy and positivity. I love that. Fitz also has a very specific voice, a kind of wry bemusement at the life he's found himself leading.
12 p.m.: It's a pretty quiet day around here so I pull out my manuscript. Oy. I've wanted to be a writer since I was a little girl, but I've since learned that that is similar to saying, "oh I've always wanted to be an astronaut." IT'S FUCKING HARD. (You can always tell me and Leah apart because I swear like something worse than a sailor). I start on a scene and get completely distracted by a small research question about French cooking in the 19th century, and lose an hour to that.
3 p.m.: I remember at the last second (there's a theme here, it's that I have the memory of a goldfish) to hang the sign about closing, Tweet to remind people, and head out for the day.
3:30 p.m.: First stop is the dog park. It's crazy dusty today and very crowded, so we just hang out for a few minutes. Fitz isn't one for socializing, but he does enjoy running around a tree several times. We leave when he tries to pee on a pug.
5 p.m.: What do I do with a rare afternoon off? Give my dog a bath. I know how to party.
6 p.m.: I check in with Leah again, and we go over a few emails that need tending to. We also discuss the logistics of an enormous shipment of books on its way for a conference.
7 p.m.: I'm currently reading a series sent to me by Sarah Wendell from Smart Bitches Trashy Books, The Dark Days Club by Alison Goodman.  (Also, since Sarah is a total idol of mine, it is literally insane to me that we have a relationship now. I have to control the fangirl crazy when I talk to her, but it bubbles up. There are so many smart, talented women in this industry and I just admire Sarah so much for the community she has built.) It has so many things I love: smart heroines, magic, history. I am enjoying it thoroughly.
Day 2
11:02 a.m.: Holy crap, it's an eventful morning. A local nursing home brought over several ladies, and we had so much fun finding some of their old favorites in our used book room. But approximately one million things go wrong in this hour:
So many emails that need immediate answering, phone calls pouring in about a book signing next weekend, the dog won't stop barking, and finally, one of the many amazing book mobiles Leah has built decides to take a death spiral and fall apart. I am not handy, nor am I allowed on ladders, so we decide Leah will fix it when she gets home.
12:25 p.m.: A friend from college stops by. She just moved here to write on a TV show and is working right down the street! We make plans to get drinks and catch up soon. This is a very fun, very random part about working in a bookstore. People know where you are and can appear and surprise you at any time.
2 p.m.: Lunch rush! Some regulars stop by, and an amazing librarian we follow on social media is visiting from New York.
3 p.m.: I arrange for a dog walker from Wag to come and get Fitz for a mid-day break. He's usually fine hanging in the bookstore with me all day, but he's a little antsy today.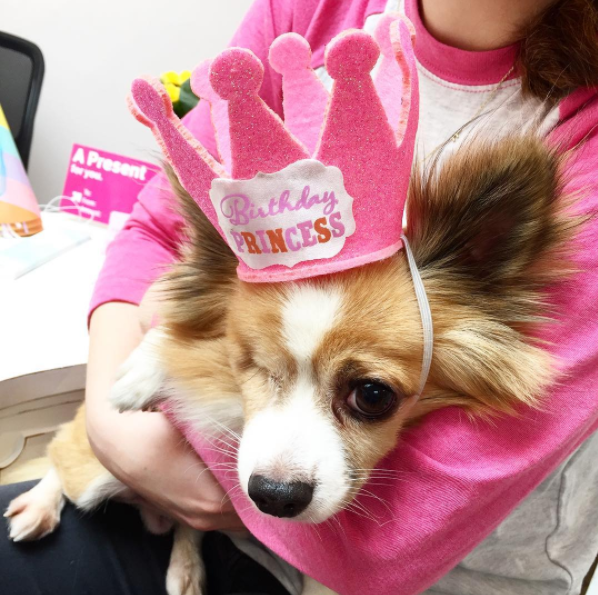 4 p.m.: I turn my attention the massive amount of boxes which have been arriving all day. They're books for several different events and an offsite conference, i.e. a massive headache. I try and make sense of it for a while, but basically just feel like I'm moving stacks of books back and forth with very little accomplished.
4:45 p.m.: Each customer is a little different. A young girl wanders in, and says she doesn't need any help, but after looking around she comes to the front desk for guidance. She just graduated from college, and hasn't really read for pleasure. I give her a tour, explaining all the different sub-genres. She's overwhelmed, so she ends up going with a "Blind Date with a Book" (a wrapped book with just a few words for the description written on the front) — which is a fun option if you're just dipping your toes into the water of romance. She tells me she's just moved to the area, so I encourage her to join our bookclub (or girl gang, as we call it). She buys the book (A Promise of Fire) and seems excited about the prospect!
5:20 p.m.: A romance reader with failing sight calls to chat about how she can continue to read the books she loves. Luckily, we have an amazing advocate for the visually impaired in the romance community, and she's shared all her resources with us.
7:05 p.m.: Back to computer stuff. I am typing this with one hand because my dog is being a drama queen and acting like he's never gotten a belly rub in his life. (This is false. He spends 90% of the day receiving belly rubs.)
7:45 p.m.: I'm counting down the minutes until we close because my brain is dead, but our last customers turn out to be an adorable little girl who is so thrilled by our free coloring book that I end up staying late and talking about middle school books with her dad — he is desperate to get his older daughter to enjoy reading.
Day 3
10am: There's a man waiting outside when I arrive. He walks in right past me when I open the door without saying anything, walks around the entire store chuckling to himself, and then plants himself in front of the desk to "ask me some questions." Sigh.
We get this with some regularity, though it's died down since we opened. It's (almost) always men, and they seem to get some perverse pleasure out of demanding that I justify why I and my business exist. I've got a few quick ways to shut them down, but they all piss me off in different ways. I usually start with my academic credentials and that's enough — but I shouldn't have had to go to a fancy school to impress you until you believe my business is viable. This guys blows right past, so I try Leah's favorite line next, "How many comic bookstores are there?" — and voila, we have our "acceptable" answer. He moves on.
11:30 a.m.: I call Leah to go through our emails, and then spend an hour responding and working on a schedule for the LA Times Festival of Books, where we'll have a booth this year.
12 p.m.: The romance novelists who usually spend a few hours a day in the store arrive, and we catch up. (I haven't seen them in two days, which is extremely rare.) This is one of those things I never thought about before we opened, which has become one of the biggest perks of the store. These ladies are invaluable resources for Leah and myself to bounce ideas off of. They also keep us sane, and remind us why we're doing this.
2 p.m.: The delightful author Deanna Raybourn stops by to sign some stock. We also offered pre-orders for fans so they could get personalized copies. We chat for a bit, take a picture, and she heads out. I was a little nervous about doing this myself. Leah tends to be the calmer, more on top of things one, if we're being honest. My family likes to say I live in "Bea-land." But I'm working hard to get better at details.
4 p.m.: I'm taking tomorrow off so that I can have a little break in the middle of Leah's vacation. I find it very draining to work all day in the store. Each interaction with a customer is a big use of energy — I have no chill, and especially no chill when it comes to romance. I can, and frequently do, talk about romance until I'm blue in the face, and I love finding people the perfect book. But it does take it out of you. You kind of have to be "on" if you're working behind the desk. I'm an introvert, so I really need those days off to recharge and spend some time alone.
8:30 p.m.: After work, I'm feeling bizarrely energetic, so I pick up ice cream at Sweet Rose and my boyfriend comes over to watch a movie. We debate for an hour. No joke. We have completely opposite taste. We end up watching an episode of The Daily Show and falling asleep. Still good.
Leah's Diary
Day 1
9 a.m.: Yes, I know I am ridiculously lucky that some days I don't have to wake up till 9 a.m. I am NOT a morning person, so this is one of the best perks of owning your own business. Anywhoo, up and at 'em. Shower and dress, say goodbye to the cat, the dog, and the sister, and I'm out the door. It's a nine minute drive from home to the bookstore.
9:50 a.m.: It only takes a couple of minutes to get the store ready to open. I flip the lights, do a quick walkthrough to make sure everything is looking good — there are a few stray wine glasses left over from book club last night, and one of the books took a running leap from the new releases shelf. I end up opening a couple of minutes early because there are two women peering excitedly through the windows. I let them in, and get my music for the store set for the day. I'm starting with the "waking up happy" playlist.
10 a.m.: The first two hours of my day are usually the quietest customer-wise, so this is my administrative time. Here are some of the things I do:
— Check and start returning emails that have come in overnight.
— Print out all the internet orders that have come in.
— Check on the website that handles our event RSVPs to see how our newly announced events are filling up. A class in May is already halfway full, which is great news!
— Did I mention returning emails?
— We've got two really big events coming up later this month, one of which is doing the bookselling for an off-site conference. That means I am coordinating getting the books from 60 different authors. It's my first time handling something this size, so I've got spreadsheets on top of spreadsheets.
— Make flyers for the next bookclub meeting
— Check to make sure the coupon code for our birthday sale this weekend is ready to go
11 a.m.: Some of my morning customers are walking around the store. One of my favorite customers stops by with her baby boy to say hi on their way to Mommy and Me class. Two young women browsed the used books and chose a couple each. A man bought a card that says, "I hope you like this stupid card."
12:30 p.m.: Okay, project time! I am always working on something new in the store. I just did a big "move-stuff-around" (that's a technical term) in the backroom, so I have a new used book display to set up…which involves alphabetizing about 2,000 used books. Doesn't that sound fun? But when I go to the backroom to get started, I get kind of distracted and start cleaning like a mad person. Bea calls me because she can't get our dog to take his medication, but being on the phone with me apparently works. I head back to the desk to get some internet orders ready to ship, and check on our email and social media.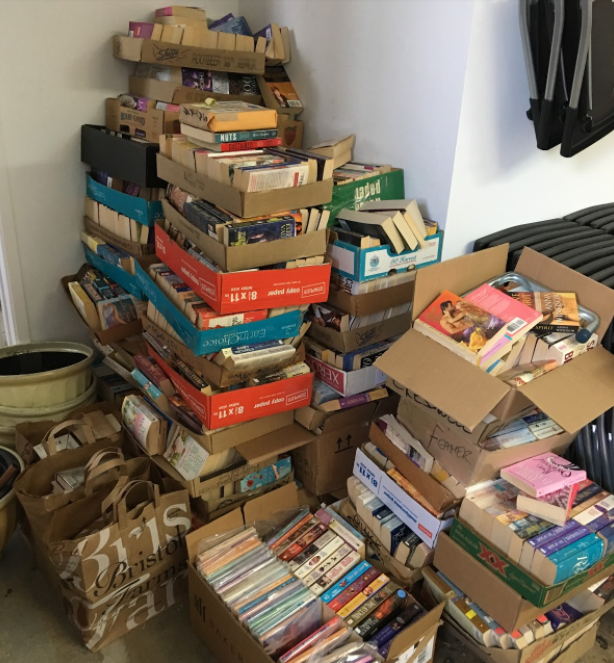 2 p.m.: Our FedEx guy arrives with all the books in the world — jk but it is, like, 10 boxes. This is going to take me a while to put away. Complicating the issue is that this shipment has books for three different events in addition to the regular books for the shelves. Everything has to be scanned in through our computer and checked off on various spreadsheets.
3 p.m.: Second call to Bea to discuss logistics for a bachelorette party stopping by the store tomorrow. We talk multiple times a day no matter where each of us are.
3:30 p.m.: I run down the street to grab my lunch. I almost always have the same thing on Fridays, a kabob plate and hummus and pita from the Mediterranean place down the street. I try to take a break when I eat, but I end up reading an article about neo-Nazis on Buzzfeed. Oh well.
After lunch, I finish putting away all the books from today's shipment.
5 p.m.: The authors for tonight's signing stopped by to say hi before going out to get some dinner. I'm getting an iPad set up for our off-site bookselling in a few weeks. In order to makes things as easy as possible for future me, I have to create products for all the books we will be selling at this conference — which is very tedious for current me. Time to get set up for tonight's author event and booksigning.
6:15 p.m.: The first people start arriving for the event while I get the cookies and wine set up.
9:30 p.m.: Whew! We had a great event, but I didn't stop moving over the past three hours! Five authors were signing at the store, and they were all sooo nice. Customers bought huge stacks of books, so I'm calling it a good night!
I head home, grab some dinner, and then watch my new television obsession, Ultimate Beastmaster on Netflix. It's basically an American Ninja Warrior rip off and I love it despite it having the most ridiculous name ever. I especially love to eat while I watch other people display insane athleticism.
11:30 p.m.: Time for sleep after a long but productive day.
Day 2
9 a.m.: It's our store's birthday!! I honestly feel more excited about the store's birthday than my own birthday. We head out a little early to stop at Party City to purchase ourselves a beautiful birthday balloon. Then we stop at McDonalds to get Bea a shamrock coffee because "it's our birthday and I can have whatever I want."
11 a.m.: Open for business! We are having a sale for our anniversary, and we only have about three sales a year so we are expecting to be very busy — and we're right!
2 p.m.: We are slammed straight till 2 p.m., when we can finally order our lunch. We always have "Sweetgreen Saturdays." Sweetgreen is our favorite local restaurant, and we only order it once a week in an effort to not go broke. So many sweet customers have brought us treats throughout the day, we have a table full of donuts and cupcakes that we're now trying to pawn off on customers. It's so nice to see so many of our regulars come by to congratulate us. One group brought us flowers! We have the nicest customers.
4 p.m.: Fitzwilliam poses in his special birthday hat for our Instagram.
8 p.m.: We had a great day! So many sweet well wishes that made us feel great about hitting one year!
Day 3
8 a.m.: Up very early for me because today is the mother of all days, a day that has taken about three months of preparation. We have a bridal shower in the morning with 50 people, then we have a book signing in the evening…that 300 people have RSVP'd for!
Bea is already at the store helping to set up the bridal shower. This is the second bridal shower we've had at the store — it's so fun! Bea texts me updates while I'm getting ready. Poor puppy has to stay home all day today, so I kiss him and head out.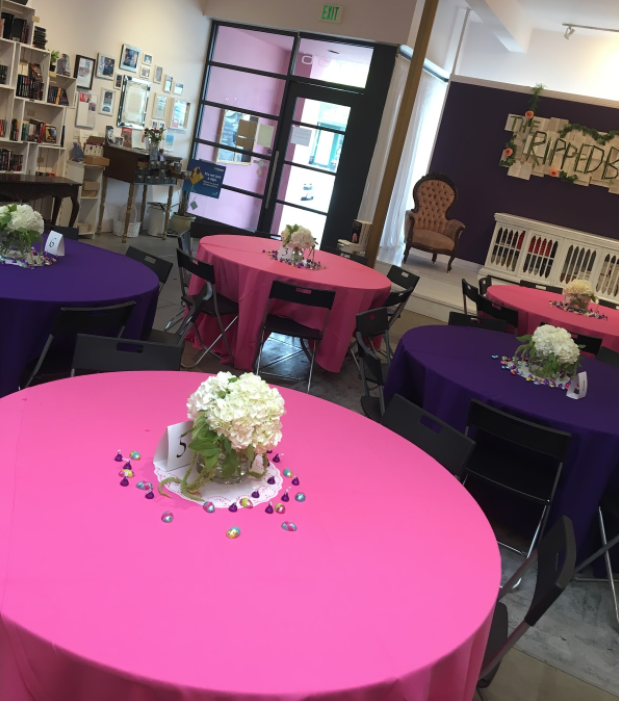 11:30 a.m.: The bridal shower was a success! It's wrapping up, and each guest gets to pick a book to go home with.
12 p.m.: Okay, we now have one hour to change the store from a bridal shower for 50 people to a book signing with 300 people. We are running around like crazy and I sweat through all my clothes, but we get it done.
1 p.m.: Doors open and people start arriving to pick up the books that they preordered for the signing. Bea and I shove some food in our mouths while we have a second.
3 p.m.: We've got a nice sized line forming. One of our publishers sent over some coloring books to give out to people, so everyone is happily coloring in line.
4:30 p.m.: The line is out the door and heading down the street! We have two extra staffers helping today to make sure everything runs smoothly — but so far so good!
7 p.m.: The last person leaves and we all collapse where we are standing. The signing was a phenomenal success. It was the biggest event we've ever had. We clean up for the last hour we're open, and then roll ourselves home.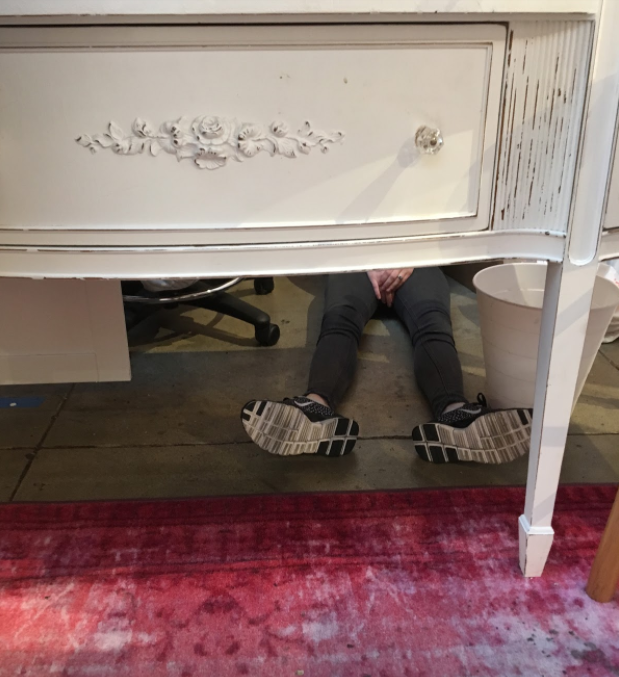 9 p.m.: zzzzzzzzzzzzz.
For more Working Girl Diaries, check out:
What it's like to be a touring musician *and* own a macaron bakery
What it's like to be a Chevrolet engineer in the male-dominated auto industry
This woman made Emo Nite a thing
And see more here…