What it's like to be a Chevrolet engineer in the male-dominated auto industry
Meet Kayla McDonell, a brilliant engineer excelling in the male-dominated auto industry. Specifically, Kayla is an exterior lighting design engineer at Chevrolet, recently working on the Chevrolet Cruze. For those of us who are less technologically informed, Kayla explains, "The exterior lights are the parts on the outside of the [car] that light up or are reflective — like the headlights and rear reflectors." So, basically, none of us could drive safely at night without Kayla's help.
So yeah, she's kind of a big deal
When Kayla isn't working for Chevy, she mentors young girls to get them interested in STEM careers, mentors women currently in the industry, works toward her Master's degree, and hits the gym every chance she gets.
Here are three days in her life.
Day 1
5:30 a.m.: Wake up, shower, and get ready for my work day. I normally work from General Motors' Technical Center in Warren, Michigan. But today I'll be spending the day at the Lordstown Assembly Plant in Lordstown, Ohio, where the Cruze is assembled, to help the team that works directly on the assembly line.

6:30 a.m.: Feed my sweet kitten, Bellatrix, and eat my cinnamon raisin English muffin and banana while browsing through my emails for any urgent work questions before heading out of the house. I need to get perked up for this four hour drive to Ohio, so I better make a peppermint tea to go.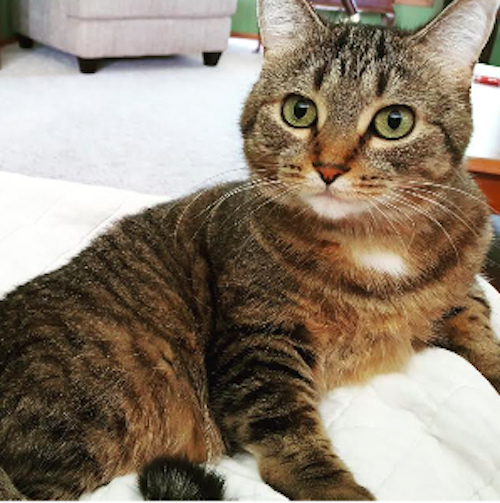 7:00 a.m.: Time to get on the road and avoid as much rush hour traffic as possible. Wish me luck going through Detroit! Right now, I am driving the company's Chevy Cruze LT for another month – a perk to my job is the opportunity to test the products we've been working on first-hand before the vehicle is for sale to the public. One of the most rewarding parts of my position is seeing our hard work come together on the road.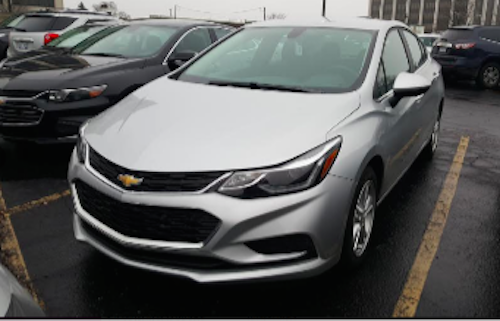 8:00 a.m.: Dial into my team meeting from the car (hands free, of course). The purpose of my call this morning is to get an update from the Cruze deck lid (better known to everyone else as a trunk) engineer on sheet metal improvements. He is great to work with; he has only been with the company a couple more years than me so we've been learning from each other along the way.
11:00 a.m.: I made it! An assembly plant has never looked as welcoming after four hours on the road early in the morning. Quick call to my boss first to let her know I arrived safely.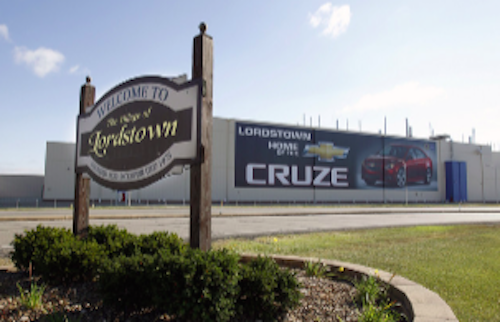 11:30 a.m.: Set up shop in one of the open offices up front and respond to a couple urgent emails. I need to suit up in my personal protective equipment before heading out to the plant floor and meeting up with my team. We're going to walk the line where the exterior lights are assembled to the vehicle, and touch base with the operators. We'll go over any questions they have and make sure everything is set. In-person visits are essential to building relationships when you're working out of multiple locations. Walking the line went very well and it was a productive meeting with the team.
Here's a picture of the tail lamp on the Cruze!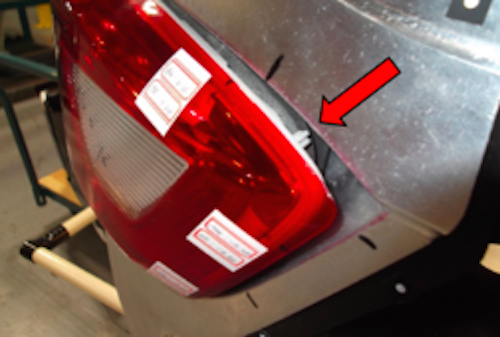 2:30 p.m.: Oh gosh, I'm hungry. Time is flying today – watching the Cruze get assembled from start to finish is fascinating! It's like watching a 3D puzzle get put together; each assembly station adds a new piece. My favorite station is when they add the headlamps (of course!). They give the car a personality – very sleek! Overall though, it's so rewarding to see my work in a bigger picture form – my parts getting assembled with the other components to create the entire vehicle and Chevy Cruzes getting shipped out to the customer.
Time to get back on the road and drive home.
4:00 p.m.: Call my boss and let her know how things went today. As usual, she reminds me that I can stop and get a hotel for the night if I am too exhausted to make the long drive home from Lordstown. She is the best!
5:00 p.m.: Call my husband, Josh, to let him know I'm still 2 hours away. He works for the company too and just got home from work. He said he would wait for me to get home so we can have dinner together — such a sweet guy.
6:00 p.m.: Final stretch. I wanted to make good use of all this time that I've been in the car so I've been brainstorming event ideas for my new role on the University Relations Team for Kettering University. I'm the pre-college program leader for Kettering's Lives Improve Through Engineering (LITE), FIRST Robotics, and Academically Interested Minds (AIM) programs. I'll be hosting events for high school students, getting them excited about engineering, Kettering University, and the prospect of working at Chevrolet — maybe even on the next vehicle.
I'm so grateful for the leadership and mentoring opportunities that are available to me through my position. I'm looking forward to the opportunity to get these kids psyched about science, technology, engineering, and mathematics over the next year. I take a lot of interest in helping young women and men interested in STEM careers understand how their learnings can help solve every day problems. It's so important to get them interested at a young age and I hope I can make a difference. It's been an incredibly rewarding experience so far!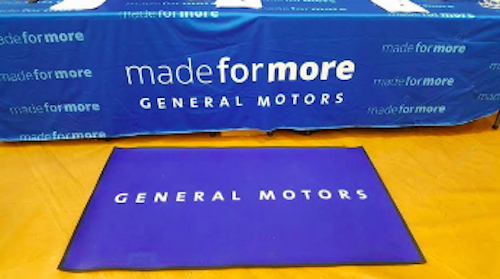 7:00 p.m.: At last – I pull into our garage. Home sweet home.
8:30 p.m.: Remember to send a note about my STEM ideas to my recruitment team leader, Hayley, and see what she thinks. It's awesome to work with her in my professional career because I was her mentor while we were at Kettering University together – our friendship goes back nearly 7 years. I value the importance of mentors, especially for women in the automotive industry. Even now I have a mentor who I meet with monthly for personal and professional guidance.
9:00 p.m.: Despite the 5,000+ steps my phone says I took today, I need to hit the gym. Luckily for me, Josh helped me create my own home gym in our basement so I don't have to leave the house to get my swole on. I created a new heavy lifting program for myself that I'm pumped (punny!) to get started. Daily work outs help me get rid of any stress from the day, clear my head, and get me energized for the next day. I think my work outs are the reason I don't drink coffee – the natural endorphins give me enough energy to get through the work day!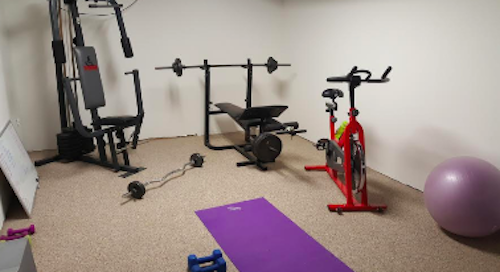 10:00 p.m.: Time to rinse off and crawl into bed. I am beat! Good night.
Day 2
5:30 a.m.: Rise and shine. Shower and get ready for a day in the office. First thing on the agenda this morning is my weekly program development team meeting. My engineering counterparts in China, Korea, Mexico, Brazil, and Germany all call in to discuss updates to the lamp designs and our overall progress on the Chevy Cruze program. I rely on them to be my eyes and ears in their respective regions, and report back to me on any concerns or questions in our other global assembly plants. I thoroughly enjoy working with engineers from all around the world and getting perspective from other cultural regions.
9:30 a.m.: Whew, my meeting ran long today but it was a high quality, productive conversation so I didn't want to cut it short.
12:00 p.m.: Lunchtime. I typically eat at my desk because all my coworkers/friends are already sitting around me. I missed out on everyone's weekend recaps while I was at the plant yesterday, so it's time to play catch up.
4:00 p.m.: Before I leave work today, I want to reply back to all the individuals who emailed me interested in volunteering for A World in Motion (AWIM). As the Recruitment and Communications Leader for our GM AWIM committee, it's my responsibility to help get everyone signed up in the next 2 weeks if they want to volunteer in the classroom this school year.
6:00 p.m.: Taco Tuesday! My husband and I love tacos. We eat them once a week, at least. This week I just happened to be making them for Tuesday dinner.
7:00 p.m.: I had too much fun this past weekend and didn't watch my recorded class for my master's program. I'm pursuing my Masters of Engineering in Global Automotive and Manufacturing Engineering from the University of Michigan – Ann Arbor. My homework is due Friday morning, and I have a volleyball game tomorrow night — so I'd better get started now. Let's get this two-and-a-half hour Systems Engineering lecture started.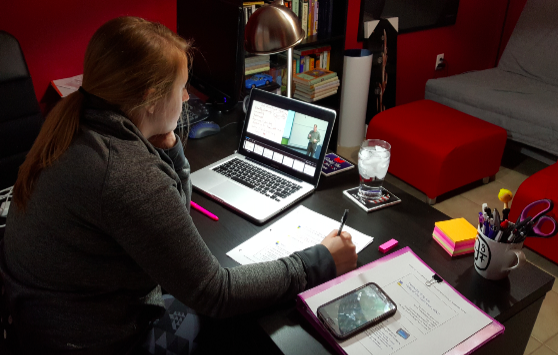 10:00 p.m.: Done! After working a full day and watching that lecture, my brain is mush. I'll save my homework for tomorrow and hit the gym for 30 minutes of lifting and 20 minutes of cardio. Today is back day!
11:00 p.m.: Rinse off and bed. Good night.
Day 3
5:30 a.m.: Wake up! I need to be at another testing facility (also called "proving grounds") by 7:45, and it's an hour drive from my house. We are testing to make sure that water can't leak through the rear lamps into the trunk, dampening the interior.
8:15 a.m.: My teammate and I caught a shuttle from the main lobby at the proving grounds over to the water booth to meet up with the technician who will be helping us with testing today. He already has a Chevy Cruze pulled into the water booth for us — it is like a mini car wash but with multiple spray nozzles 360 degrees around the vehicle. There are multiple water pressure settings so the water can come out of the nozzles as a mist, a torrential downpour, a standard rainfall, etc. Let the testing begin!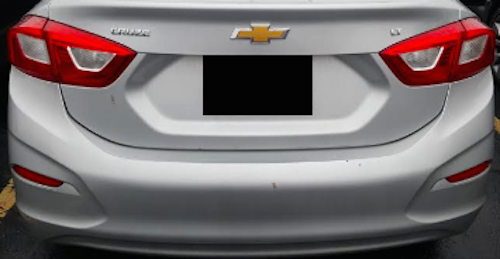 10:00 a.m.: Water booth testing completed, and I managed to stay dry. After each water cycle we examined the interior to make sure it was still dry. The Cruze lamp seals are good – no moisture inside! It's so rewarding to see that the rear lamps can withstand extreme test conditions without leaking; hard work really does pay off!
Heading back to the office now.
11:30 a.m.: I made my lunch this morning, but my coworkers invited me to Mexico City (not THE Mexico City – a restaurant) with them. They know tacos are my weakness.
2:30 p.m.: It's time to tutor my wonderful student. For the second year in a row, I signed up with TutorMate to virtually tutor a first grader in reading from the Detroit Public School system. I spend 30 minutes per week on the phone talking my student through the computer program. I am thrilled with the progress he has already made just in the couple of weeks we've been able to meet since school started. When he gets excited about pronouncing a word correctly, he starts to sing the words instead of say them. It's adorable! I can't wait to meet him at the end-of-the-school-year-party that the TutorMate organization puts together.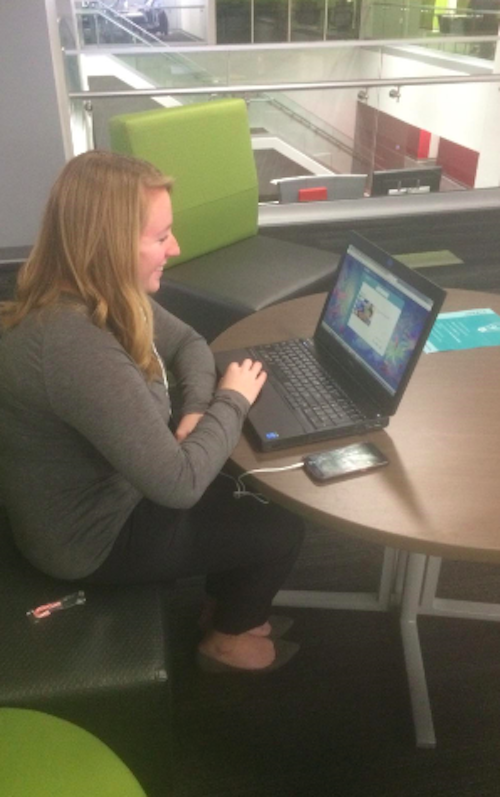 4:00 p.m.: I'm ready to get out of here and head home. My volleyball game is at 6:30, so I'll have time to grab a small snack and hit the gym before I need to leave. Today is leg day, and I'm already anticipating the soreness from squats and lunges — but I love it.
8:00 p.m.: My team won – we took all 3 games! It was a great set; the other teams' skill level matched ours well, so it was an intense game. I can't believe we've been playing together for over two years already. I remember when our captain posted on social media, looking for five other people from the company to form a competitive team. I had no idea that they would all turn out to be such great friends, and two of them also work on the Chevy Cruze program with me!
9:00 p.m.: Leftover tacos for dinner is better than trying to make spaghetti this late. Before bed, I need to prep myself to host my executive director's team meeting tomorrow — a new responsibility I have this year. It will be a great chance for me to meet the directors in my vehicle body organization and interact with them on a weekly basis. Hopefully I'll shine in this new role – I've had extraordinary opportunities while working on the Chevy Cruze program thus far.
10:00 p.m.: I should be going to bed, but Josh reminded me that we need to catch up on our shows – New Girl, Brooklyn Nine-Nine, and Agents of S.H.I.E.L.D. Definitely worth it to stay up and watch them while cuddled up on the couch. And…my homework can wait until tomorrow night. ☺
For more Working Girl Diaries, check out
This woman made Emo Nite a thing
What it's like to be a designer for Candy Crush