So, this is what "Three Billboards Outside Ebbing, Missouri" is about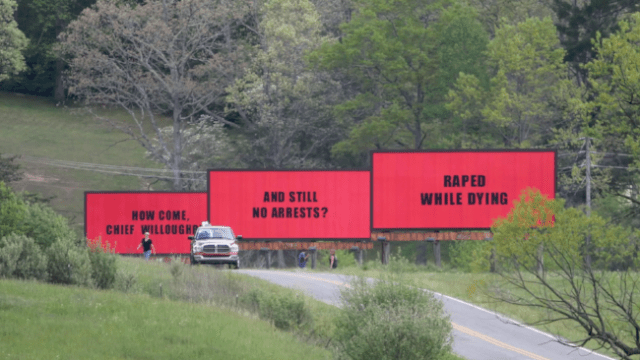 It may be hard to believe that there's any other movie to watch in theaters besides Star Wars or I,Tonya, but that's definitely not true. One that you shouldn't miss is the tragic (but somehow also hilarious) film, Three Billboards Outside, Ebbing Missouri. This dark comedy has already earned itself several awards, along with six Golden Globes nods and four Screen Actors Guild nominations. Because of the limited release, you may have missed this one, but the plot summary of Three Billboards Outside Ebbing, Missouri is so intriguing that you'll definitely want to catch up.
Three Billboards, as the film is often referred to, tells the story of a mother trying to get justice for her daughter in a small town (Ebbing, Missouri, as you can probably guess). Frances McDormand stars as Mildred Hayes, a mother who is grieving the death of her daughter, who was raped and murdered. Years have passed, yet no arrests have been made, and Hayes feels like the justice system is doing nothing about the crime.
Slowly going insane from heartbreak and the frustration of not knowing who killed her daughter, Hayes takes desperate measures to get noticed. She takes out three giant billboards along the highway, calling out the local Sheriff, Bill Willoughby (played by Woody Harrelson) and his deputy Jason Dixon (played by Sam Rockwell) for not solving the case.
Willoughby, while sympathetic to Hayes, is more than a little upset about being called out in such a public way. The billboards polarize the town, forcing people into one of two teams: the people who side with Hayes, and the people who side with Willoughby. This is made more complicated by the fact that Willoughby has recently been diagnosed with cancer, something that seemingly everyone in the town knows about.
But Hayes is counting on the attention — the reason she took the billboards out is to bring as much public attention to her daughter's case as possible. She believes that the more attention, the more likely it is for the killer to be found, and for justice to be served.
Throughout the film, Hayes grapples with a lot of issues that feel incredibly relevant in today's world. The story of Dixon as a racist cop on a power trip has sparked controversy for being a little bit too racially charged. Hayes struggles to be taken seriously as a woman, and feels that not enough attention is being paid to a rape case. It's essentially a story of female revenge against a group of men who don't seem to be hearing her.
Three Billboards quickly won over critics: It won the People's Choice Award, the top prize at the 2017 Toronto International Film Festival, and was named one of the top 10 films of the year by the American Film Institute. It's been nominated for six Golden Globes, including Best Motion Picture in Drama, Best Director, Best Actress (McDormand), Best Supporting Actor (Rockwell), Best Screenplay, and Best Original Score. McDormand's and Rockwell's performances particularly stand out, and many people think they'll snag some wins. Watch the trailer here:
https://www.youtube.com/watch?v=nefD7UOhLCo?feature=oembed
Despite its dark humor, the heart of this story is still about tragedy, so it's definitely a heavy one to watch.