People are weirdly Googling "What is the Rachel?" today, and we feel 10,000 years old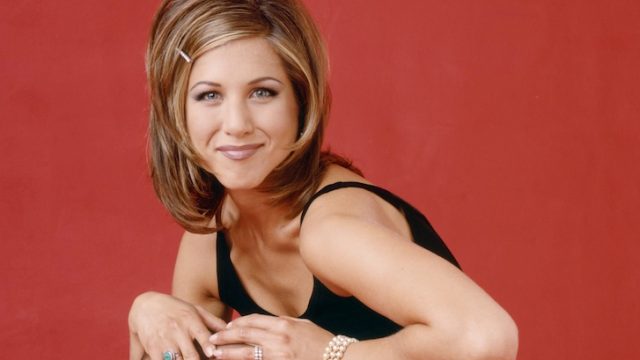 We would be hard-pressed to find a '90s girl who wasn't inspired by Rachel Green's signature brown lipstick, super-sheer tights, and impossible-to-emulate hairstyle on Friends — but as it turns out, there are people living on this planet who have never heard of "The Rachel."
In fact, judging by Google search results, there are a fair share of them. "What was the Rachel haircut?" is a trending search term today, May 4th, and it's making us feel approximately 10,000 years old. (Why is it trending? We wish we could tell you. However, we suspect it might have to do with a recent Jeopardy question since another trending term is, "Popular in the 1990s, what is The Rachel?"…though we can't confirm.)
If you weren't a Friends superfan, "The Rachel" was a coveted haircut in the 1990s popularized by Jennifer Aniston's fashion forward character Rachel Green. It was super layered, and, according to Aniston herself, super difficult to maintain.
"I had to see [my hair stylist] every six weeks to keep this darn thing up," she explained in an interview. "It was a pain in the butt, to be honest, one of the hardest hairstyles to maintain... I've got very thick, full hair so it would take on a shape of its own that I didn't always want."
Also, despite inspiring tens of thousands of teen girls (and even Hailey Baldwin circa 2016) to make a trip to the salon with her photo in tow, Aniston wasn't in love with the cut.
"I don't think I looked very good with it...I look back on Farah Fawcett's legendary hairdo and think, that was beautiful," she said. "But 'The Rachel'? Ugh, not so much.
While it's difficult to fathom people not knowing about "The Rachel," it's also cool that even 14 years after Friends ended, the hairstyle still has the power to dominate search results. After all, as the resurgence of denim miniskirts and black chokers proves, the '90s will never really leave us.