What is Sterling K. Brown's middle name? It's definitely not Kathleen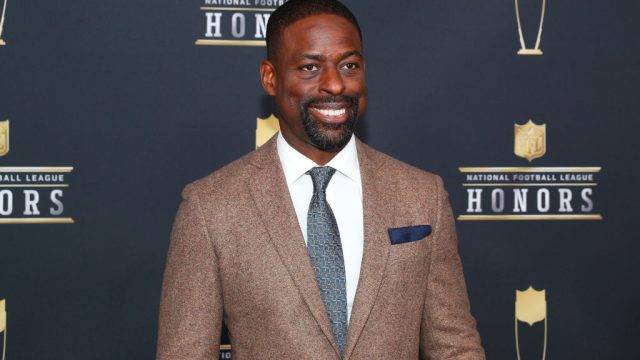 You've seen Black Panther and you've watched This Is Us, but you still want more Sterling K. Brown. We totally get it, because we do too. Thankfully, we got a healthy dose of SKB when he hosted Saturday Night Live on Saturday, March 10th. His sketches are already instant classics, and his SNL monologue did NOT disappoint.
The opening monologue sets the tone for the rest of the show. And, unsurprisingly, Brown's was funny, positive, and relevant — three things that make for a bang-up SNL bit. He even cracked a couple of jokes about his mysterious middle initial, which he kept referring to as Kathleen. Haha, we thought. Kathleen. Good one. But wait. It got us wondering: What is Sterling K. Brown's middle name, anyway?
After a little bit of research, we found out that the "K" stands for Kelby. And when Brown was young, he actually went by Kelby up until he was 16 years old, then changed his name as a teenager. Brown told the story at the 2016 Emmys.
"My mom tells me this story – she was reiterating it the other day – in kindergarten I came home one day and said, 'Mom, Sterling is eight letters and Kelby is five. I'll just do Kelby and then when I turn 16, I will go by Sterling,'" Brown said, People reports. "And I don't remember that. The impetus for me is that he had been gone for some time, and I was like, 'Kelby was a little boy's name.' I felt like I was ready to become Sterling."
Brown made the change from Kelby to Sterling in order to honor his late father, who was also named Sterling.
Now if that doesn't pull at your heartstrings, we don't know what will.
Watch Brown joke that the "K" stands for "Kathleen" in his SNL monologue below.
https://www.youtube.com/watch?v=xEJINSip8JU?feature=oembed
We love you, Sterling Kathleen — oops, we mean Kelby — Brown!