What is skeleton? You might not know about this sleigh sport at the 2018 Winter Olympics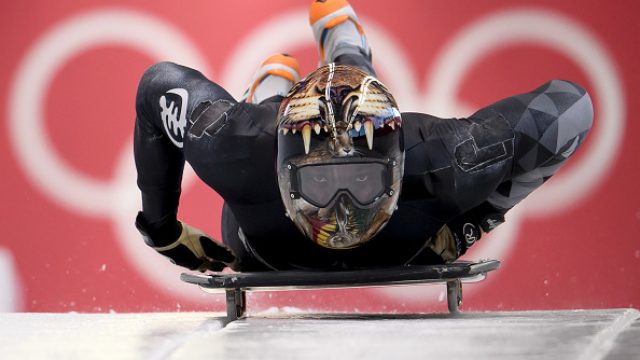 From alpine skiing to bobsleigh to luge, there are a lot of high-speed events at the 2018 Winter Olympics that thrill-seeking sports fans love to watch. Although it is considered to be the first sliding sport and is also one of the fastest events at the games, many winter sports fans still have to ask: what is skeleton racing? If you like watching luge and bobsled competitions, this Olympic event is for you.
An exciting, sleigh-based sport, skeleton racing requires brave athletes to plummet, face down and head-first, down a steep ice chute on nothing more than a tiny steel sled. Needless to say, the men and women who compete are pretty fearless.
The name "skeleton" comes from the sport's original sled, which was made of metal and resembled a human skeleton.
Today, it is considered one of the most thrilling events of the Winter Olympics, in part because of how fast riders go. Although they do not reach the same speeds as lugers, skeleton riders can go upwards of 75 mph.
Skeleton made its first appearance at the 1928 Winter Olympics in St. Moritz and then again in the 1948 games at the same location, but it was discontinued as an official event for over 50 years.
https://twitter.com/udfredirect/status/961811691192266753
In 2002, skeleton was reintroduced for both men and women, and has since been at every Winter Olympic competition, including this year's games in Pyeongchang.
There are two skeleton events at the 2018 Winter Olympics: Individual Men and Individual Women. At the 2014 games, Russia's Aleksandr Tretyakov took home the gold for the men's competition, but he was later stripped of his medal following a doping scandal. Earlier this month, his medal was restored. Great Britain's Lizzy Yarnold, who carried her country's flag at the 2018 opening ceremony, took home the gold for women.
https://twitter.com/udfredirect/status/961930775833739264
Will Yarnold be able to repeat her victory this year? The world will be watching this week to see if she does.