What is Nordic combined? This is the only all-male event at the 2018 Winter Olympics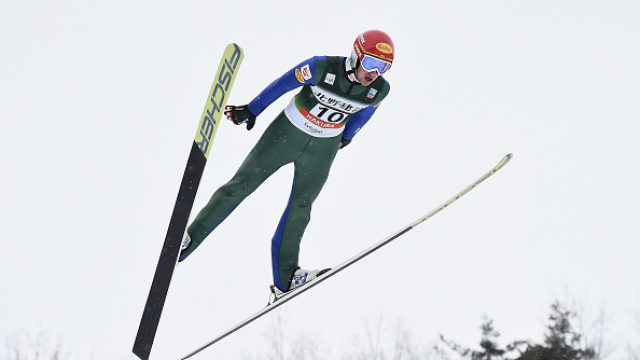 Billions of global viewers will watch Alpine skiing, figure skating, and curling because the 2018 Winter Olympics are officially underway in Pyeongchang. But what about the other niche sports that don't seem to get as much attention? With over 100 events in 15 sports, the Winter Olympics are the perfect opportunity to learn something new.
You probably know all about luge, hockey, and bobsleigh, but what is Nordic combined? If you're a fan of all things skiing, this might be your new favorite Olympic sport. That is, if you don't mind watching an all-male event.
As the name implies, Nordic combined is a highly competitive sport combining two different skiing events: ski jumping and cross country skiing.
There are various competition formats, but the Nordic combined event starts with a ski jump from the top of a large hill. Later in the day, the same athletes who successfully completed the jump then compete in a cross-country ski race. The competitor with the best jumping score starts the race at 00:00:00, and all other athletes start with time disadvantages determined by their ski jumping score. The first skier, or team of skiers, to cross the finish line wins.
A classic Norwegian sport whose history dates back to before the first famous Holmenkollen Ski Festival in 1892, Nordic combined has been a part of the Olympics since the very beginning. It was a featured event at the first Olympic Winter Games in Chamonix in 1924 and has been a staple event ever since.
Although Norway has dominated the sport in the past — even King Olav V of Norway was an accomplished jumper who competed at Holmenkollen Ski Festival in the 1920s — it is 29-year-old five-time World Cup winner and Olympic gold medalist Eric Frenzel from Germany who is favored to take home the gold.
There are three Nordic combined events at this year's Olympics, which kick off Sunday, February 11th and wrap up on Thursday, February 22nd. Nordic combined is the only sport to exclude women from the competition by remaining a men's only event. According to the Pyeongchang Winter Games website, "Since each athlete must carry out both ski jumping, which requires high technique and audacity, and cross country skiing, which takes great physical strength, it is one of the toughest ski disciplines and offers only men's competition and not one for women."
While it might be extremely frustrating that, in 2018, women are still struggling to find equality at the Olympics, the Nordic combined is a classic event viewers aren't going to want to miss this year — even if there aren't any female competitors to root for.